(15 September 2016, Hong Kong) Asia's premier green trading platform, Eco Expo Asia, will take place again at the Hong Kong's AsiaWorld-Expo from 26 – 29 October 2016. The exhibition is organised by Messe Frankfurt (HK) Ltd and the Hong Kong Trade Development Council, and co-organised by the Environment Bureau of the Government of Hong Kong Special Administrative Region. The event aims to provide in-demand green solutions for international governments, industry players and individuals to help tackle growing environmental challenges.
As the world strives to combat pollution and climate change, the expo will put forward an upgraded Green Transportation Experience Zone, occupying more than 700 sqm, to showcase the latest environmentally friendly vehicles, charging facilities and relevant green solutions to answer the needs. Visitors will have the chance to hop on board some of the hottest commercial electric vehicles (EVs) and explore the advanced charging facilities at first hand. Some of the exhibits in this zone include the 5.5-ton Pure e-Truck brought by E Tech Dynamic Technology Co Ltd, the Pure-electric Commercial Van distributed by Fortune Dragon Motors Ltd, the electric bus and electric van developed by China Dynamics (Holdings) Ltd as well as Hong Kong EV Power Ltd's newly launched Smart Ceiling EV Charger. Furthermore, for the first time, the China Council for the Promotion of International Trade, Shanghai Pudong Sub-council will bring a number of leading Shanghai companies from the new energy vehicle sector to exhibit and exchange vital market information with industry peers from Hong Kong and the overseas at the 2016 show. The Green Transportation Forum will also run concurrently with the display to offer participants a more complete view of related solutions.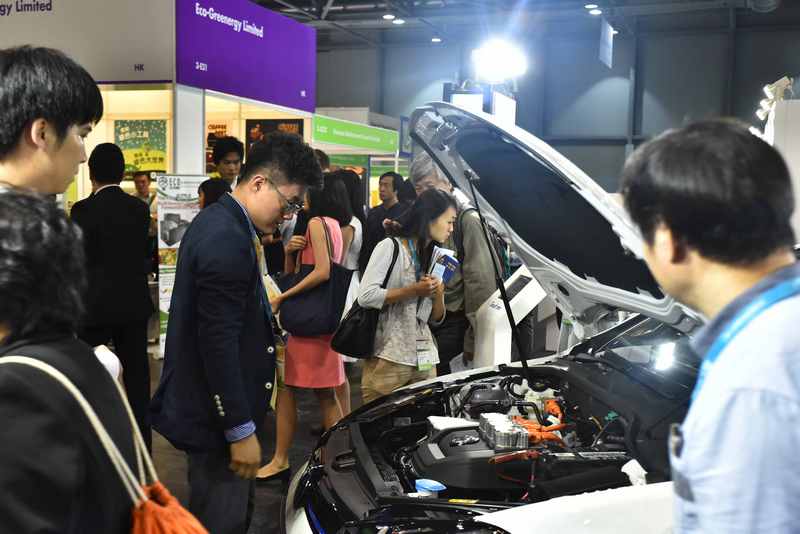 Another returning show feature is the Waste Management and Recycling Zone, which will expand to a record-breaking 500-plus sqm. Some of the confirmed exhibitors include ALBA Integrated Waste Solutions, Baguio, China Energy Conservation and Environmental Protection (Hong Kong) Investment Co Ltd, China Water Industry Group Ltd, Donasonic, EEW Energy from Waste, Envac, MOBA, SUEZ and more.
China Water Industry Group Ltd, a listed company that specialises in the investment and operation of water and solid waste management projects, is participating as a fair exhibitor two years in a row. Mr Liu Huiquan, Deputy General Manager of the company, said: "The fair is joined by more than a thousand of government officials and industry decision-makers from around the world. Access to these professionals is beneficial to our development goals. Besides running the Chinese mainland's largest landfill gas conversion project, we are also discussing potential collaboration on a glass recycling programme in Hong Kong. We hope to expand into new markets in Asia Pacific and Europe through this platform."
Finland Pavilion to debut among strong global exhibitor participation
Hosting its 11th edition, Eco Expo Asia will continue to feature a strong line-up of global exhibitors, including newcomers from Israel and Scotland. For the first time, it will see the Group Participation by Austria and the Czech Republic as well as the debut of the Finland Pavilion. Pavilions representing Canada, the Chinese mainland, Japan, Macau and Switzerland will also return to provide a comprehensive display of different green solutions.
The Finland Pavilion, which is represented by the City of Tampere, Clewer Logistics Oü, Eco Living Ltd, the Finnish Foreign Trade Association, Finpro, and Molok Oy, will showcase Finland's cutting-edge waste, water management and green building solutions. First-time exhibitor, Clewer Logistics Oü, specialises in wastewater cleaning and recycling solutions and will bring along a huge system for onsite demonstration. Mr Jouni Laine, CEO and President of the company, said: "The sewage treatment market is quickly gaining ground in Asia and Eco Expo Asia is an ideal starting point for us to explore this great market potential. Our goal here is to look for new local distributors and manufacturers in the municipal and industrial water treatment and car wash industry, as well as potential direct end-users of our services."
Having taken part in the fair since 2012, SK Kaken Co Ltd will display a wide range of green building materials from Japan this year. Their offerings will include granite-like prefabricated sheets called Granipierre, marble-like prefabricated panels named Jewelry Series, and Woody Smile, the newly modified wood-toned prefabricated materials. Ms Michelle Tsang, General Manager of the Hong Kong Branch Office, said: "We hope to promote to industry players and experts our self-developed eco-friendly building materials and technologies through this annual event."
With a number of pressing environmental challenges worldwide, Eco Expo Asia aims to serve as a holistic platform that offers greener solutions, as well as enables companies, government officials and individuals to connect. For more information, please visit www.ecoexpoasia.com, or email at [email protected] or [email protected]