Since 1999, LW Design Group has established itself as a leading figure in modern contemporary interior design across the globe. PRC spoke to founding partner and CEO, Jesper Godsk about bringing Scandinavian flair to the forefront of hospitality venues.
(按此瀏覽中文版)
As the group celebrates its 20th anniversary this year by being awarded Interior Design Firm of the Year at the Commercial Interior Design Awards 2019, it now has more than 100 staff in its offices in the UAE, Hong Kong, and most recently, Brazil.
For Godsk, the establishment of LW Design Group in Dubai was a natural progression. Having already worked in the city on developed a name for projects such as the Jumeirah Beach Hotel, he and co-founders Lars Waldenstrom and Morten Hansen saw a playground of opportunity for a plethora of projects. The winning of a competition for the design of the refurbishment of the Hyatt Regency in 2002 was perhaps the springboard needed to cement their reputation for outstanding design. The project saw the firm sky-rocket from just six people to 30, with the firm being commissioned for as many as five hotel projects at any given time.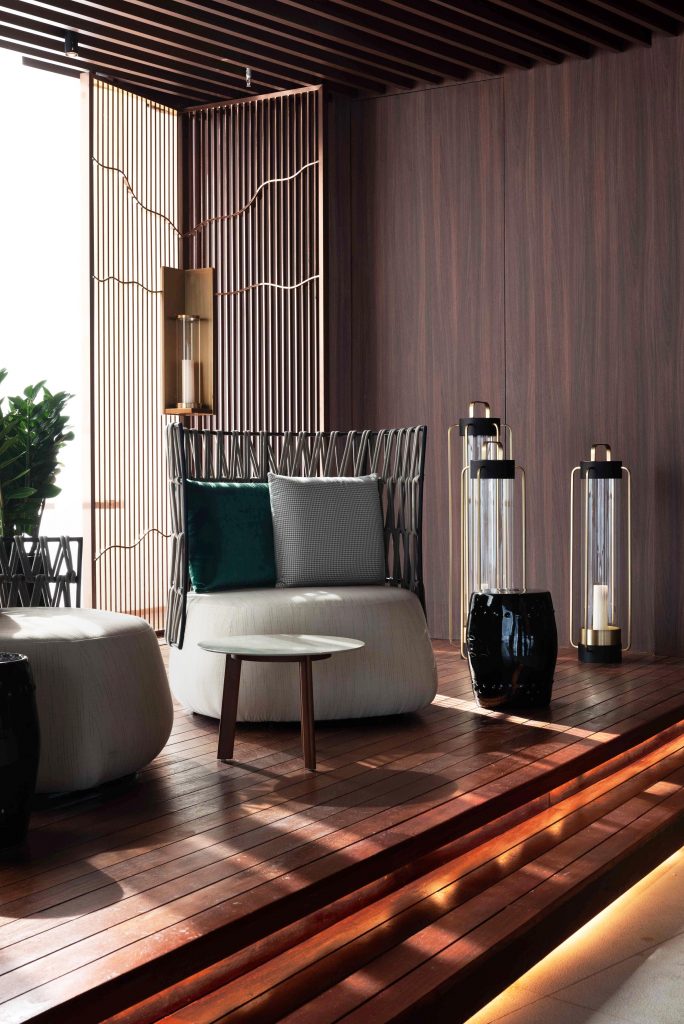 "Growth was phenomenal and very quick," reminisces Godsk. "It was also around this time that we designed our first restaurant in the city – a noodle house in Emirates Tower – and we realised our passion for bars and restaurants. This put us on the map for F&B offerings and today we are working on as many as 15-20 restaurants at any given time in the GCC region alone," he adds.
Today, with more than 80 hotels and 300 restaurants under its belt, the firm is amongst Dubai's most successful interior design firms. From the South Americaninspired Toro Toro restaurant and bar and the intricate detail of the refurbished Buddha-Bar at Grosvenor House Dubai Marina, through to the minimalist and clean lines of the Park Hyatt's Seventy Seventy bar, and the almost quirky, charismatic urban backdrop of Zabeel Houses' Pan Asian Lah Lah restaurant, LW Design's restaurant and bar portfolio is second to none when it comes to providing original and thought-provoking design. Godsk admits that like anyone, the practice struggled during the global financial crisis of 2008, but came out smiling with the opening of its Hong Kong office in Since then, the studio has worked on numerous hotels, restaurants and bars in China and Vietnam.
"We have made the move from local to global not through a complex business model, but by what I believe is a no-compromise attitude and an understanding of how to develop a brand without over designing. Our aim is to design spaces that not only look good but also operate successfully," he explains. "In this sense, it's about being able to create the spine of a hotel, bar or restaurant that works operationally for the owner whilst providing their guests with the ultimate experience.
Godsk remains very hands on when it comes to working out the overall planning and direction of a project. He likes to sit in the studio with the designers, listening to music and sketching out ideas before the hard work starts and these ideas are turned into reality.
"We ask a lot of questions of the owners and operators and work hard to project their vision. Of course, we can't ignore budgets and we are sometimes forced to become something of a mediator between reality and dreams in terms of investment, but we always deliver."
In May this year, hotel operator Accor announced the opening of Raffles Shenzhen.
For Adrian Battisby Associate Director, who worked in the Dubai office for ten years before making the leap across continents to head up LW Design's Hong Kong studio in Hong Kong in 2015, the project embodies the essence of the Raffles brand.
"When people think of Raffles, most people have a romantic notion of heritage buildings. But our job was to take the essence of Raffles luxury to a modern mixed-use tower in the heart of Shenzhen. For me, it would be wrong to design a Raffles in a new build and make it look old."
The result is a twelve-storey, 180 room boutique hotel that starts on the 34th floor of the building that embraces the future and provides a new context for historic opulence.
"The client was born and raised in Shenzhen and had seen it grow from a small fishing village to the Silicon Valley of China. It has amazing views into the mountains and out towards Shenzhen Bay. Living on the water is very intrinsic to the city, so we used light colour pallets that reflected this and connected the building visually to the view," he explains.
The Raffles brand is encapsulated through the spacious, residential feel, complete with its library and artifacts that touch on the legacy of writers who have penned their works in Raffles hotels in years gone by. And of course no Raffles room would be complete without butler service. The 70 square metre rooms are large enough to be zoned into spaces that allow for in-room dining and walk-in wardrobes, while the public spaces feature contemporary artists and thoughtfully put together furniture that provide a taste of China.
Meanwhile, the lightly coloured hotel spa and gym provides an urban oasis, complete with Chinese inspired wall coverings, timber floors and lanterns providing a space to enjoy every level of luxury.
"We want to take clients on a design journey and retain our reputation as market leaders in lifestyle, luxury properties," notes Battisby. "It's taken time for Asia to become receptive to this and lifestyle brands have only really developed in the last 18 months, but through thought leadership and innovation we are filling that white space in the market that nobody knew what to do with. Our aim is differentiate, and provide the younger demographic with an experience that goes way beyond the outdated vision of legacy hotel brands," he concludes.