(4 August 2016, Shanghai) Most markets in the region will see an improvement in rents on the back of stronger occupancies in 2017 with 14 cities expecting to post record rents. With strong leasing performance comes higher rents, this remains a recurring theme from Cushman & Wakefield's Mid-Year Outlook Report 2016 – a trend that could add further strain in this era of cost containment.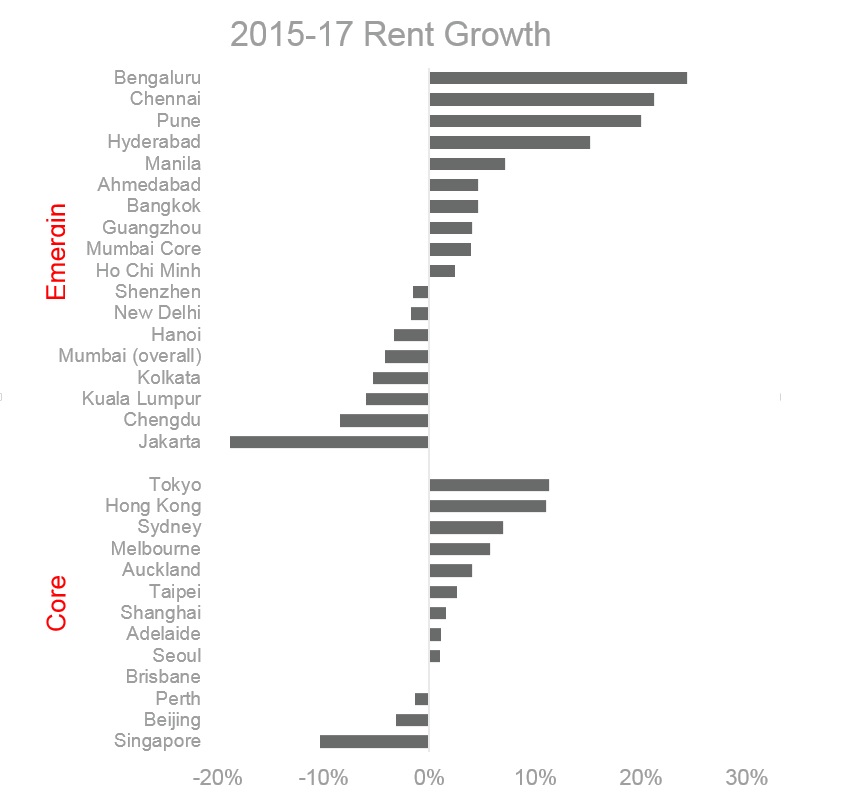 Among all locations in Asia Pacific, the chart-topping office rents in Hong Kong's Greater Central will be underpinned by the strong interest from mainland China companies, and also serves as a testament to the city's geographic constraints. Mainland Chinese demand has largely been instrumental for the recovery in Greater Central, Hong Kong's CBD, over the past two years. Grade A rents have surged close to their peaks last seen in 2011 while availabilities are at ultra-low levels, dipping below 5.0% in Greater Central through June this year. However, the pace of rental increase will slow down given softer prospects of the global and Chinese markets.
Nonetheless, major landlords are proactively locking in their largest tenants and consequently, vacancies are likely to remain at their low levels.  As such, expect rents in Greater Central to remain high and even eke out modest increases. Additionally, there are still pockets of demand strength. Insurance companies continue to expand their uptakes especially in decentralized locations; and recently, Hong Kong welcomed its first major co-working space operator in the city.
"The key engine cities of the region continue to be placed high in global rankings of occupancy cost and for corporates keen to grow in the region, presence in these cities are crucial" said Jeremy Pearson, Managing Director, Head of Tenant Advisory Group, Asia Pacific. "As such, cost containment and workplace strategies will remain high on occupiers' agenda in the region."
In contrast, Singapore will face headwinds from a combination of the looming high volume of new supply, where a record 4.0 msf will be completed by next year. Leasing activity is also moderating as international banks continue to shrink their footprints, not to mention that a slowing economy and low unemployment rate are holding back activity.
Singapore is expected to post the highest vacancy increase of 8-9 percentage points among core markets, between 2015 and 2017. Rents for Grade A properties in the CBD have already slipped more than 15.0% since the first quarter of 2015, and will likely decline another 7.0-10.0% year-on-year in 2016 before stabilizing in 2017.
"However, we view this subdued performance as transitory as new construction will moderate post-2018. Additionally, from an economic perspective, progress continues to be made on the city-state's transition to services, decreasing reliance on exports," said Sigrid Zialcita, Managing Director, Head of Research and Investment Strategy, Asia Pacific.
Despite the subdued outlook, investments in the island's offices saw a resurgence in the second quarter of 2016. Singapore has been the epicenter of landmark transactions this year. The sale of Asia Square Tower 1 to the Qatar Investment Authority for US$2.5 billion set a new record in Asia Pacific for the largest single asset transaction in the last five years; likewise, the purchase of the Straits Trading Building in Battery Road for US$2,600.00[1] per sq ft set a new record for per square foot price in the city-state.
"The lack of available assets for sale is a recurring theme for markets in the region and competition for core assets has intensified as core strategies continue to dominate investment flows, said Gary Hollis, Managing Director, Head of Capital Markets, Asia Pacific. "We can see how the pockets of opportunities emerging in Singapore coupled with more attractive pricing have conspired to propel volumes in the second quarter to a record. Similarly, we see opportunities in Hong Kong, South Korea and China resulting from corporates and developers selling their assets to pare down debt and recycle capital to draw higher investment flows."
The development cycle in the Asia Pacific office markets will peak with 140 million square feet (msf) of new office space expected this year, and 117 msf in 2017. The majority of new developments will be in emerging markets, where office stock is set to grow by nearly 30.0% next year, compared to 15.0% in core markets. However, this will matched by healthy leasing demand which will propel absorption to reach an eight-year high of 89 msf this year, and set for a higher mark of over 92 msf in 2017.
All markets will post absorption gains through 2017 except for Perth in Australia, where weak demand will sustain elevated vacancies. Falling vacancies through 2017 will favor landlords in Tokyo, Sydney, and Melbourne, where strong demand will keep Grade A vacancies hovering close to their equilibrium of 7.0%. Markets expecting a surge in new supply led by Shenzhen, Shanghai, and Beijing in China and Mumbai in India will see the most sizeable increases in absorption.
"Even with China growing at a slower pace, the continued expansion of its service sector, particularly the development of financial services and the Internet, have been fueling demand," said Miss Zialcita. "The government has made innovation and entrepreneurship a key national policy since 2014, which has led to a proliferation of technology companies across China."
Meanwhile, a majority of the emerging cities could see a resumption of modest rent growth of 1.0-2.0% through 2017; only rents in Jakarta are forecasted to fall by 10.0 % from their 2015 levels. The continued expansion in the IT/ITeS sector has been the main catalyst to the resurgence of the office sector in India. Notably, a third of the demand will continue to be in Bengaluru while the other top performing cities of Chennai, Hyderabad, and Pune are expected to post single-digit vacancies on account of solid demand. Notably, Grade A rents have already risen over 10.0% in those markets from 2015, and could climb another 10.0% next year. Similarly, Manila, another thriving hub for BPO (business process outsourcing) services in the region, is on track to achieve a record absorption rate through 2017.
"Markets in the region are influenced more by local conditions rather than global events" said Jason Whitcombe, Managing Director, Head of Global Occupier Services, Asia Pacific. "Despite the global distractions emanating from Brexit, the constant anticipation of an interest rate hike by the Fed and political succession in the west, office occupier markets in the region continue to register healthy demand on the back of strong employment growth."