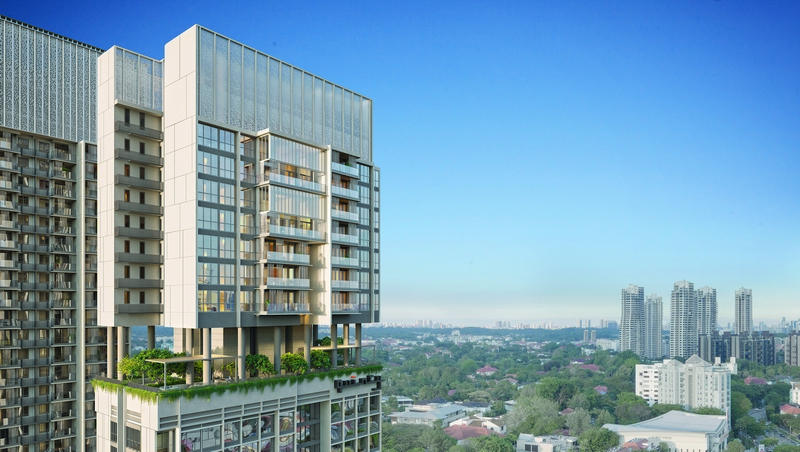 The One Holland Village Residences have launched to the public in Singapore's equivalent of Notting Hill, a neighbourhood rich with shophouses, eclectic charm and laidback ambience. Like fellow famous districts around the world, Holland Village has built a reputation for its history, stylish architecture, diverse art and culinary scene – attracting visitors and residents with a character that is not easily replicated.
(按此瀏覽中文版)
The new residential development is part of a broader mixed-use scheme, a concept that brings together private residences, serviced residences, retail, office and community spaces.
One Holland Village Residences' unique proposition is more than its inclusion within a thriving mixed-use development, however. By embracing the broader Holland Village and Chip Bee Gardens, residents and visitors are able to enjoy the wider offerings this endearing neighbourhood has to offer.
Distinctive Selection of Designs
As part of the design, One Holland Village Residences has created not one, but three distinctive offerings: Sereen, well-designed apartments that offer a tranquil space to unwind; Quincy Private Residences, an exclusive selection of luxury apartments with private lift access and concierge services at a high vantage point; and Leven, limited-edition contemporary, low-rise abodes inspired by the quaint walk-up apartments in Tiong Bahru and Chip Bee Gardens.
The wide-scale, multi-use development has been cleverly designed around a Village Green and Village Square, a cosy pocket park and outdoor market and concert space. Both located within the commercial scheme, they form a landscaped and animated zone that is separated from the private residences, ensuring that residents can still enjoy quiet and tranquillity in the comfort of their homes.
Developed by Far East Organization, together with its joint venture partners Sekisui House and Sino Group.The comprehensive One Holland Village scheme will be completed in two phases. The residential zone comprising serviced residences and One Holland Village Residences is estimated to finish by the end of 2024. The commercial zone, with its retail, office and community programming, is scheduled to be completed by the middle of 2022.