With a prime location at the junction of Cannon Street and Jaffe Road, directly adjacent to the World Trade Centre, the formerly dilapidated Central Mansions building provided an opportunity to create a new retail and lifestyle destination in the bustling heart of Causeway Bay on Hong Kong Island.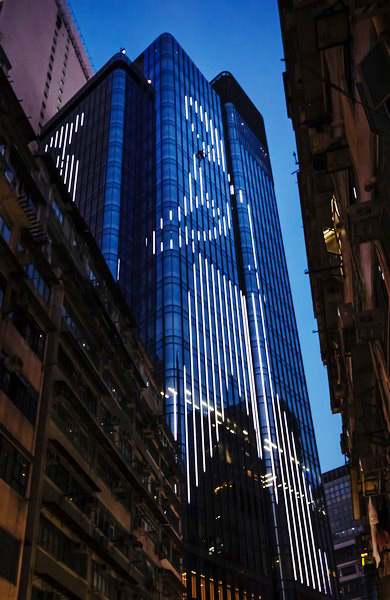 The design challenge was to optimize the property's strategic location and create a "Ginza-style" commercial development that is both a typical Class-A office building and a magnet for late-night shopping, entertainment, and dining.
Merging contemporary style and functionality in a compact vertical tower, the dramatic entry sequence welcomes visitors with a swift escalation through a void—a space clad in three-dimensionally shaped Italian silver travertine—up to the unique and elegant office lobby that includes a restaurant and café.
Multiple artworks—suspended from the ceiling above the escalator void, displayed on the Travertine flooring of the office lobby, and in the lobby-adjacent outdoor garden area—add to the visitor experience. A double-story, state-of-the-art gym, located above the office lobby, complements the retail amenities.
The elegant massing and verticality of the tower are highlighted at night via LED channels integrated into the vertical façade mullions of the glazed façade, making Tower 535 visible from Kowloon and providing further advertising opportunities as well as a canvas for electronic artwork.
At the top of the building, specialty restaurants and lounges with outdoor terraces provide a welcome respite from the city's busiest shopping district below and offer spectacular unobstructed views over Victoria Harbor and the skyline of Hong Kong.
By revitalizing the well-connected end of the World Trade Centre and Jaffe Road shopping corridor, Tower 535 is set to become a landmark in the bustling shopping district.
At the time of uploading this story final construction works are ongoing. A more detailed report will be published in PRC Magazine later in 2016.