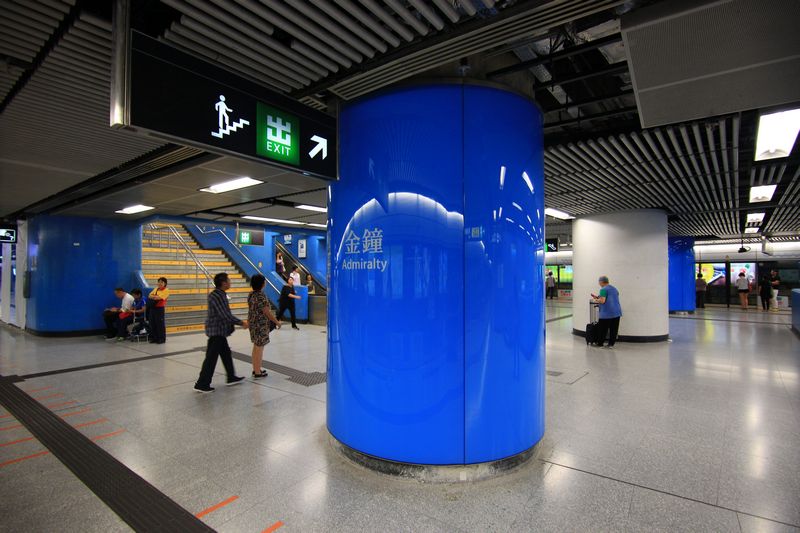 As the bustling MTR network has grown into all of Hong Kong's eighteen districts over the decades, Orientop, Asia's premier supplier of decorative glass can now be found in a growing number of stations throughout the city.
(按此瀏覽中文版)
These stations include Hung Hom, Sha Tin, Hin Keng, To Kwa Wan, Admiralty, Causeway Bay, Central, HKU, Sai Ying Pun, Kennedy Town, Tsim Sha Tsui, Lei Tung, Tai Tong Road, Kowloon Tong and University stations, where every day of the year, Orientop's decorative glass installations now bring an extra bit of colour into the lives of millions of passengers passing through MTR's vast network.
The Shatin-Central Link is a strategic railway network project that traverses through several of Hong Kong's districts, connecting Tai Wai and Admiralty. The Link, which interconnects with a number of existing MTR lines, provides services to East Kowloon and strengthen the connection between the New Territories with Hong Kong Island. Since the operation began in May 2022, SCL passenger numbers have reached one million daily.
The service not only offers convenience to the citizens but station designs are also complemented with colourful new artworks. In order to deliver a better modern user experience, art pieces and murals are incorporated in many of the new station's concourses, as well as on the platforms.
With headquartered in Hong Kong, Orientop takes great pride in supplying decorative glass with vivid colours now adorning the walls, a departure from the traditional theme of mosaic walls previously used, along the platforms, enriching the visual appeals to passengers. These days, beautiful glass walls and partitions can be easily seen when traveling to different stations, like Admiralty, Hung Hom, To Kwa Wan and Shatin stations.
Outstanding visual effects
Compared to the previous use of traditional mosaics, digital printing on glass allows for more patterns to be created, meaning that more interesting designs can be placed in different areas of the stations, some of which tell nostalgic stories related to the specific neighbourhoods that individual stations serve, contributing to a more vibrant and memorable journeys for the MTR's passengers.
With two factories in mainland China, managed by its in-house team that follow strict quality assurance, Orientop has been providing high-quality products that are well received by its customers, with safety being a particular priority. Due to the high level of traffic in which the products are placed, the selection of materials must pass through specific quality control procedures during manufacture. The glass panels used, for example, are all tempered, less likely to break, anti-scratch, easy to clean and have passed the heat-soak and safety tests required by the Buildings Department and the MTR Corporation.
Not only does Orientop produce flat decorative glass, they also supplied the tempered glass cylinders around the pillars on the platforms at Admiralty station (crystal glass of 15mm thickness and radius R980mm). Despite the difficulty of creating curved, tempered glass, especially glass with such great curvatures, Orientop rose to the challenge. With its own design team, the company is meticulous when managing designs and colours. This professionalism dedication to their craft, is yet another reason why the MTR Corporation opts to work with Orientop.

Interior large-scale glass facilities manufacturing
Providing decorative glass aside, Orientop has created a four and a half meters high crystal glass structure by putting multiple large glass panels together at Terminal One of the Hong Kong International Airport. Measuring six square meters, the giant new glass house is used as the entryway to the new food court.
In addition to providing glass products in these mega projects, Orientop has also overseen the challenging installation process of assembling glass panels of over 1500 lbs per piece. Due to many spatial limitations and constraints of the nature of the site, the installation could only take place in the early hours when the terminal is free of travellers. As a leader of the glass industry, Orientop came prepared and worked together with the different teams using various machinery and equipment to meet the challenge, creating practical and aesthetically pleasing artworks that are modern and fitting for one of the world's busiest international air hubs. Orientop is committed to providing the world with high-quality indoor decorative glass and is honoured to serve the city's world-class rail and aviation sectors.