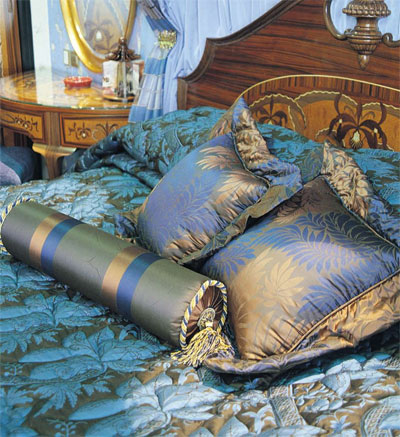 Any designer will tell you that the ability of the supplier to translate their ideas can make or break a project. The ability of the supplier to understand the designer is paramount and Kaleidoscope Fabrics, based in Central, Hong Kong, are at the top of their league.
Walking into the showroom is like entering an Aladdin's cave. Silks, cottons, linens and leathers jump out in every texture and shade to inspire.
"When I work with designers I like to help them feel relaxed. I think of my shop as more of a workshop than a retail space, that allows designers and private customers alike, a sense of freedom to communicate their ideas", says owner Rugy.
From a designer's point of view, it's a simple equation. "It's a pleasure to work with suppliers who get excited by hearing something new, can understand my language and deliver", says renowned Hong Kong-based designer, Peggy Paik.
"Working with a supplier who exudes a positive attitude whilst providing feedback that let's you know that you have been able to communicate your design concept is a pleasure", she adds.
Reflecting on the fifth year anniversary of the opening of the Lisboa Hotel and Casino in Macau, a project which Kaleidoscope Fabrics played the role of trusted supplier to Peggy, casts out images of over-the-top European style and opulent luxury. The vision was achieved through the use of luxurious and textural fabrics, many of which were sourced by Kaleidoscope.
"I was working against what everyone else was doing at the time and the suppliers I was using back then needed to keep up with me. Almost seven years on I'm still working with those same suppliers. They now know me and know my sense of demand, my personality and my colours. Rugy and I dance well together. We have developed our designer/supplier relationship such that we understand each other's language and are able to cut down on unnecessary communication and deliver the final goods more quickly.
"Rugy is a charming supplier and is very straightforward to work with. She never projects her voice and knows my style. With Rugy there is never any battle. She is loyal and knows how to tune into my bizarre new ideas and enjoys working with my new concepts", she comments.
In one concept, Peggy recalls how she was using US$1000/metre silk and needed to change the components to allow the hotel to use a more durable and washable material. Rugy was able to come up with an alternative that would not compromise the designer's style.
For Rugy, Kaleidoscope Fabrics represents a stream of never ending orders for hotels and private homes, in locations as far afield as Australia, Dubai, London, Singapore, as well as Hong Kong.
"I could spend my entire year just going to fairs", she says. "The battle is about staying ahead of the game, understanding the trends for the season, together with the new technologies".
"Fire retardant fabrics have come along way in the last few years, and it's an important consideration that designers and the customers direct do not need to bother themselves with. They know what they want and it's my job to deliver on time and within budget. If I know what I want to give and the manufacturers are out of stock, it's up to me to find an alternative".
Kaleidoscope Fabrics have recently located to:
Suite 201, 2/F Lucky Building, 39 Wellington Street, Central, Hong Kong
Tel: +852 2851 7877 Fax: +852 2851 7033 info.kaleidoscopefabrics.com