(5 Dec 2023, Hong Kong) TOWNPLACE WEST KOWLOON, the ground-breaking flagship project of TOWNPLACE, a premium residential leasing brand under Sun Hung Kai Properties (SHKP) (0016), has today (5th) announced the official launch of its 53,000-square-foot, four-storey plus rooftop TP SOCIAL CLUB.
(按此瀏覽中文版)
As Hong Kong's largest premium flagship project, TOWNPLACE WEST KOWLOON has pioneered the Aparthotel model—featuring a mix of short and long-term hotel rentals, catering to the flexible needs of today's premium young talents. This project integrates TP SOCIAL CLUB with the novel development concept of TOWNPLACE Community to create a living space equipped with a wide assortment of amenities. By building a platform for high quality, cross-industry community events, and creating a "home away from home" that enables an unique "Bleisure Lifestyle", premium young talents can explore new possibilities, mingling in an upscale circle where all lifestyle, business and networking needs are well taken care of.
A collection of mixed-use spaces, offering peace of mind and the WOW factor
TP SOCIAL CLUB features an area of 53,000 sq. ft. covering four levels of indoor and outdoor space, a rooftop and a waterfront promenade pier, as well as seven zones equipped with a full range of amenities and professional equipment, including SKYBOUND POOL, BEAST STUDIO, MINDFUL, THINK TANK, FLAVOUR LOUNGE, HIGH BAR, FURRY LANE and ROOF GLAMPSITE, offering a dream lifestyle, tailor-made for premium young talents .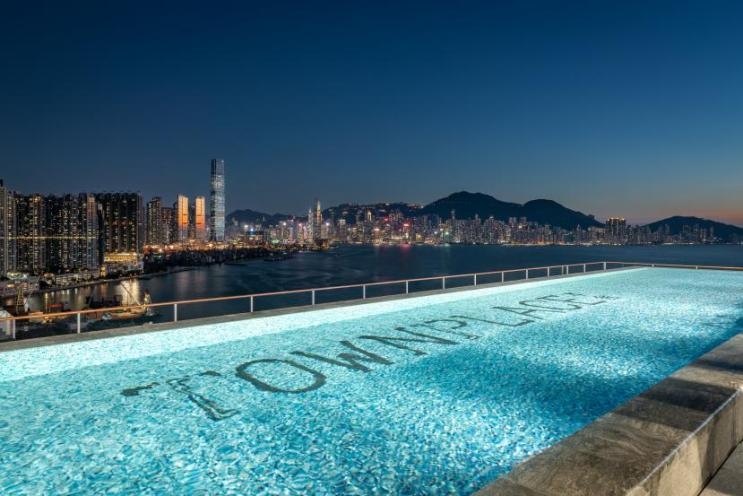 SKYBOUND POOL & PIER & PROMENADE: an ocean-front panorama for everyday living
Situated by Victoria Harbour, TP SOCIAL CLUB introduces the beauty of the waterfront into daily life, allowing residents to enjoy the healing powers of the ocean in their living space. The SKYBOUND POOL on the 26th floor is equipped with a Jacuzzi and a cold-water bath, where premium young talents can relax and soothe their muscles while taking in the breathtaking sea view and the starry sky. Also on the ground floor, guests have access to a panorama of the PIER & PROMENADE on their doorstep and are welcome to take a stroll along the walkway, immersing themselves in the sea breeze and the sound of waves.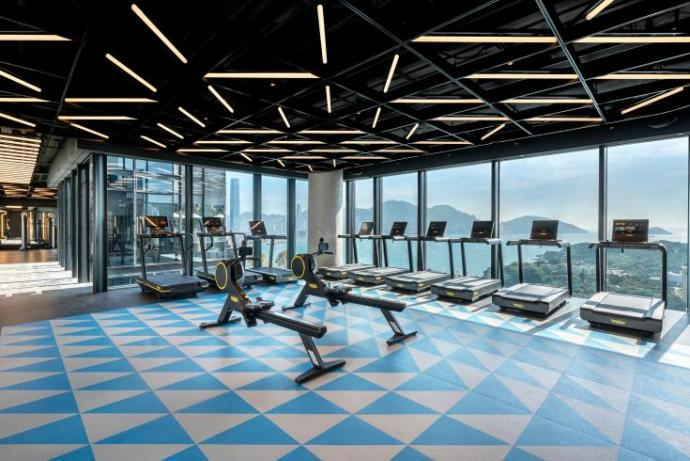 BEAST STUDIO & MINDFUL: Train like an athlete without leaving home
Catering to premium young talents' individual quest for fitness and science-based work-out routines, TP SOCIAL CLUB has set up two fitness spaces, BEAST STUDIO and MINDFUL, on the 26th floor, covering an area of 10,000 sq. ft. The BEAST STUDIO is complete with all commercial grade equipment to meet the needs of fitness fanatics. The MINDFUL is designed for those looking to maintain their health and well-being, and features a cozy timber- based decor with a chic spiral staircase, creating a tranquil indoor ambience. In addition, the two fitness zones offer a panoramic view of Victoria Harbor, providing a calming sensory experience for residents and attending the diverse needs of all fitness aficionados.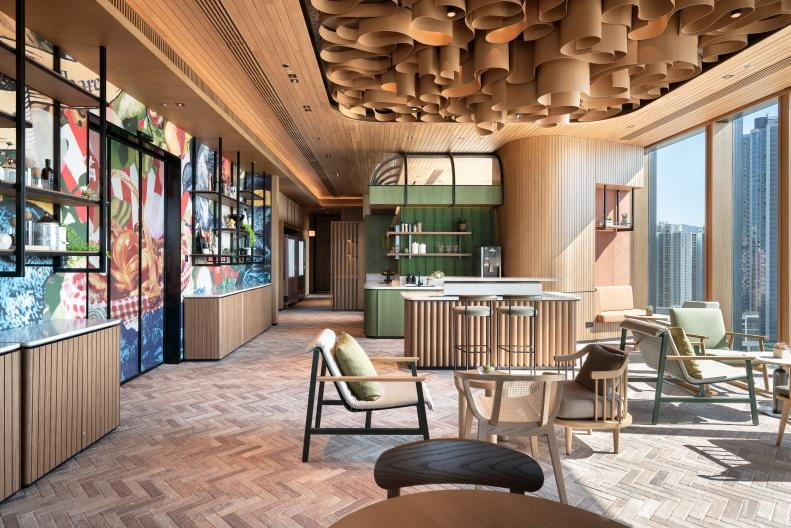 THINK TANK & FLAVOUR LOUNGE & HIGH BAR: Value-added shared open spaces for business, networking and leisure
The 25th floor of TP SOCIAL CLUB is dedicated to THINK TANK, HIGH BAR and FLAVOUR LOUNGE, providing a one-stop solution for business, networking and leisure. The THINK TANK comes complete with open-plan work environments and office facilities, as well as CREATOR STUDIO, new media and other professional and technical tools to satisfy a wide range of office requirements. The switch from work to private time is achieved by a swift move to the FLAVOUR LOUNGE on the same floor, with multi-functional cooking utensils and well thought-out event space, accommodating both high-profile culinary events and drinks parties. The neighboring HIGH BAR also brings together people looking to socialize, with self-service beer dispensers, allowing guests to meet and drink with friends in the lounge seats or have a drink on the outdoor patio.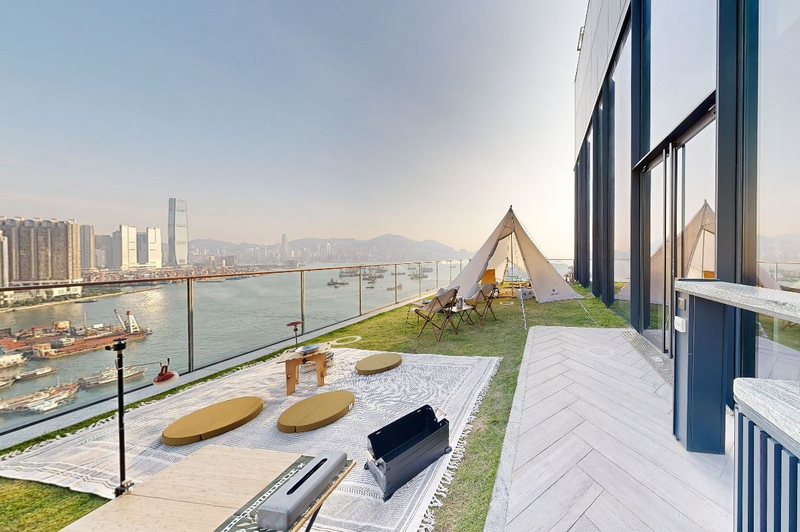 FURRY LANE & ROOF GLAMPSITE: A breath of fresh air to heal body and mind
TP SOCIAL CLUB also features a number of outdoor areas, including FURRY LANE, SHOWSPACE, FIT PARK and ROOF GLAMPSITE , which offers an invigorating and expansive experience to heal body and mind. Located on the 23rd floor are the FURRY LANE, SHOWSPACE and FIT PARK, offering a lush green environment and pet-friendly facilities, while the ROOF GLAMPSITE has something for picnic lovers, where they are welcome to gather under canvas to admire the constellations.
Upscale networking opportunity integrating leisure, business and socializing: Unlocking fresh opportunities for collaborative endeavors
Addressing the current nature of rental demand and development planning, TOWNPLACE WEST KOWLOON creates a "Bleisure Lifestyle" rental experience by integrating work, living and social activity, while leveraging the full collection of premium amenities and services of TP SOCIAL CLUB and the unique concept of TP Community. The TP Community team, leveraging our network of upmarket brands, organizes exhilarating community events, not only providing exclusive brand privileges to premium young talents but also helping them build up a quality cross-industry social platform, where they can unlock career opportunities, develop business prospects and establish new partnerships in a welcoming community living space.
For more information, please visit TOWNPLACE WEST KOWLOON at
Website: westkowloon.townplace.com.hk
Address: 10 Lai Ying Street, West Kowloon