BUILT TO DELIVER A BETTER WORLD AECOM's aspiration is to design and deliver better cities. It's a big goal. In Asia, the need for a company like this is particularly acute, because it is here in the complex, growing cities of our region where we best understand what the urban century is all about.
We all know the numbers and images of an ever-dizzier urbanization – the huge need for housing and infrastructure – but we are also reaching a maturation point in Asia. The Chinese economy has slowed down, there is an aging population and even while there has been a swelling of the cities with the great rural-to-urban migration in China, many of these cities are facing the pressures of growing up – the need to upgrade transport, invest in social infrastructure and restore fragile environments.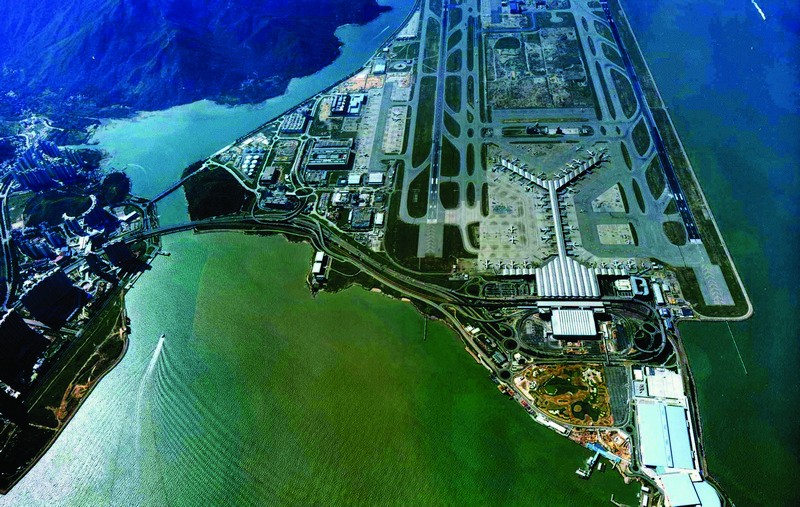 Hong Kong International Airport
Learning from Hong Kong
AECOM's work in the region began in Hong Kong where the company played a crucial role in the development of its new towns. Over the decades, these have been shaped by AECOM engineers and planners, and their indelible mark on the character and urban nature of Hong Kong society cannot be denied. The lessons learned from this experience provide a good foundation in compact city-building. In these projects, the multi-modal transport system – from MTR to walking – is integrated into the fabric of the new towns and the wider city with development clustered around key nodes, big enough to accommodate a diverse mix of uses. It means fewer than 10% of commutes are by private automobile. This helps to keep Hong Kong's per capita carbon footprint among the lowest of major world cities.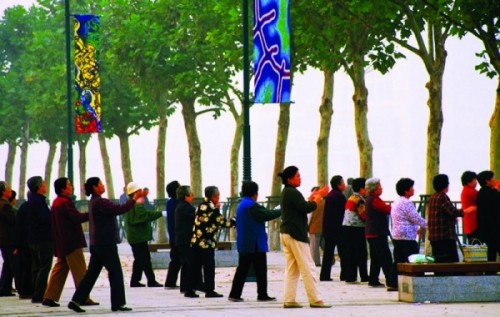 Today, AECOM is helping to shape Hong Kong's new generation of urban development areas and new development areas, applying these lessons learned but bringing them into the twenty-first century. High densities are maintained, but the developments will be more inclusive and people-centred in their design, accommodating different ways of working, local merchants, cycling and street-level pedestrianism, shared streets, inter-generational living, more green space and urban agriculture.
Looking to further reduce carbon footprints, these new developments will have district cooling, sustainable solid waste management, sustainable urban drainage and rainwater management and photovoltaic solar roofing and climate resiliency.
There will be more visual interest in the architecture with lighter colour materials, and larger windows, sky gardens and variance of building height will be incorporated into residential blocks to improve the overall character. It's no small feat – these buildings will provide thousands of much needed homes. In a city facing mounting pressure among its emerging generation, this will be a key investment in Hong Kong's future and its sustainable urban development. Getting it right, and doing it intelligently, is the only option.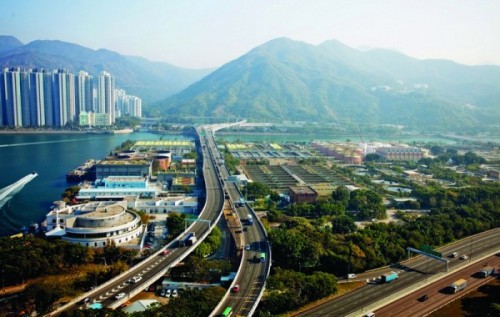 Built to deliver a better world 
"We believe that no one discipline has all the answers," writes Sean Chiao, AECOM's Asia Pacific President in the company's new book Jigsaw City.
An architect by training, Sean leads a 13,000-person multi-disciplinary team. It's a wide and deep group bringing together engineers and program managers, economists and environmental scientists, landscape architects and city planners. If a city were a puzzle, they are the ones who can put the pieces together.
Over the years, Sean has led cross-disciplinary teams on large, complex urban projects; typically these have been high-density masterplans for new towns and regeneration of urban landscapes, and all of his work has drawn heavily on sustainable themes. Today, Sean is shaping the business in its fastest growing geography. His work takes him across the region, from Suzhou to Sydney.
"It's really quite stimulating seeing all the different kinds of work we're doing," says Sean, "whether it's developing cutting edge temporary housing in Australia to restoring habitats on the urban fringes of Chinese cities." AECOM, which recently merged with fellow engineering and construction giant URS, feels this is an important moment for the built environment professions. The forces that influence the industry are significant, global and often interconnected; and they are increasingly urban, which is why cities and the urban agenda are central to the company's strategy. "Our cities are at the epicentre of world challenges such as climate change and economic disruption. For us it is not only in the design and building of cities, but also in the operating and even funding of critical projects within cities, where we believe AECOM can play a game-changing role," says Sean.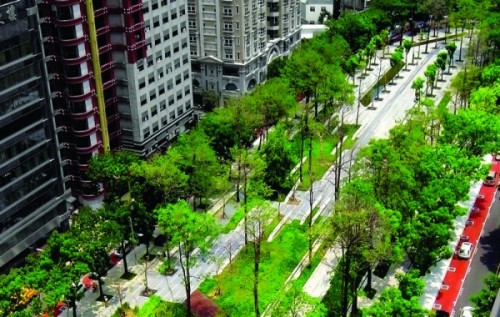 The winds of change 
Despite the slowing economy in the mainland which is a sign of maturation, AECOM is across the ample foreign direct investment (FDI) emanating from China. The USA is a significant destination of what is expected to be nearly $22 billion in global Chinese FDI in 2015.
AECOM, headquartered in Los Angeles, is in a natural position to advance this. Chinese-funded developments, such as Oceanwide Holdings' plans for twin skyscrapers in San Francisco, are becoming important urban regenerators in Western cities. The company is working with developers such as Greenland to help them advance projects on the ground in the USA, UK and Australia and New Zealand. Of note, AECOM is providing construction management services at Metropolis – a $1.1 billion mixed-use precinct in the heart of Downtown LA, itself an urban area undergoing its own transformation. 
Lifestyles are changing too. Take a project like the Singapore Sports Hub, which opened earlier this year. On a prominent site in the middle of the city, the Hub literally brings sport into the landscape. It has two uses here. Firstly, is to be a sports and events venue. But secondly, it is there to do more, to inspire Singaporeans to take up sport and adopt healthier, active lifestyles. As Singaporean society ages, it must focus on keeping its population fit and healthy, so this cross-sector initiative has not only delivered a 55,000-seat national stadium but there are three arenas, an aquatic centre, a water sports centre and generous open spaces for outdoor exercise.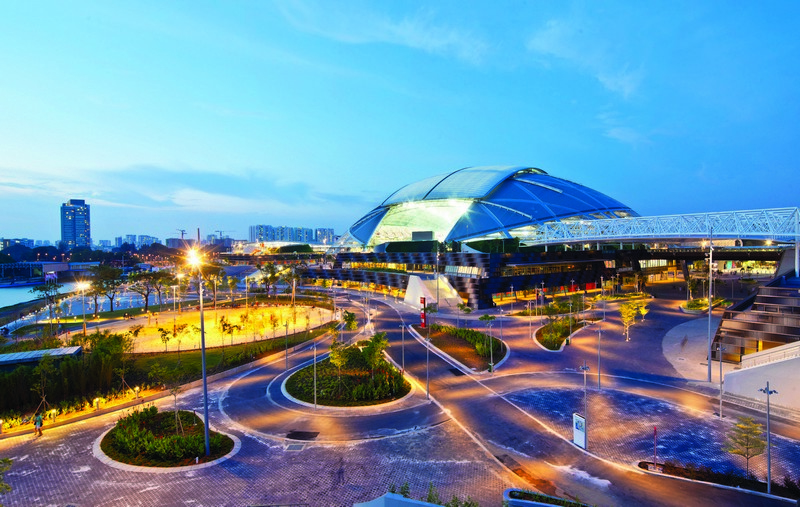 Singapore Sports Hub
Masterplanned by AECOM, the entire site is walkable, has a sports promenade that provides a fully accessible exercise area and event plazas that help to make it a 24/7 destination. It's the region's first integrated sports and lifestyle destination and helps Singapore achieve its goal of creating a more sustainable, healthy and active society. Singapore too is a leader in this regard with developments such as Jurong Lake, Marina Bay and the Greater Southern Bay Waterfront, projects with which we have been closely involved. In cities in China, our work on improving the public realm reflects the changing lifestyles of industrialised cities as cities are faced with providing public amenity and restoring damaged environments. Much of this work has involved the creation of new landscapes, which bring ecological, social and economic benefits into cities such as Bengbu, Datong, Suzhou, Wuxi, Tianjin and Taiyuan.
Transformative projects
Now more than ever is the time to connect people, ideas and processes as part of a whole-systems approach – to enhance the existence of us all and build a better world.
Rather than just engineering or serving as the construction manager, we bring the full multidisciplinary suite of capabilities to deliver projects from concept to completion, or major pieces in between.
This is typified by transformative projects across sectors and in diverse contexts:
Iconic urban projects: Shanghai IFC
We undertook several roles for the Shanghai IFC complex, including as structural engineer for two super-high-rise towers and landscape architect for the general public realm, for Sun Hung Kai Properties. 
Restoring fragile habitats: Weishan Wetland National Park
Winner of a coveted design award from the American Society of Landscape Architects (ASLA), AECOM restored nearly 50km2 of diversified habitat consisting of woodland, farmland and wetland in an area in Shandong Province that had been impacted by the south-to-north water diversion project.
Record-breaking infrastructure: Second Penang Bridge
24km long, connecting Penang to peninsular Malaysia, this is the longest bridge in Southeast Asia. We played a key role in partnering with the contractor to deliver an innovative structure designed to withstand the severe seismic stress of a once-every-2,500-year earthquake.
Restoring fragile ecosystems: Shenzhen River
The Shenzhen River suffered from deteriorating water quality and sediment quality. We were appointed by both the HKSAR and Shenzhen Municipal Government to develop long-term remediation strategies for the 33km long Shenzhen River, which provides the natural border between Hong Kong and Shenzhen
Transforming cities: River of Life
Located in the most densely populated area in Kuala Lumpur, AECOM's ambitious redevelopment of the Klang River will transform 100% of the waterfront area for public use and future development, adding 1 million m2 of new commercial space and increasing public transport usage up from 15% to 60%.
Beautiful places: Yanqi Lake
Designed by AECOM, site of the 2014 APEC Conference, and now managed by Kempinski Hotels and Resorts, this property is located on Yanqi Island, surrounded by the magnificent views of Yanshan Mountain and within sight of the Great Wall. The buildings and landscapes integrate traditional Chinese design and bold, angular contemporary aesthetics, to create a soothing retreat that is among the leading destinations in all of China.
Connecting to the world: Hong Kong International Airport
Working with the Airport Authority for more nearly 20 years on numerous consultancies, AECOM was the lead consultant for the Master Plan 2030 Study which has created the roadmap for significant expansion of the city's airport capacity. The company is currently expanding Terminal 2 at the airport island.
The AECOM Way For a continent that is home to 100 of the world's 200 largest growing cities, AECOM's whole systems approach offers unparalleled opportunity. Take long-term energy reduction for example – it is impacted by multiple facets of the city. No one discipline has the answer, but in putting them together the results can be powerful. Architects and building engineers can design buildings to use less and become smarter. Urban planners can densify urban centres and bring different uses of the city closer together. Then there is low carbon transport, productive landscapes, more effective energy grids and disaster-resistant infrastructure. Each of these require the specialist skills of civil engineers, environmental planners, master planning, landscape architects, policymakers, economists and more. All these elements of the city need to be designed well, built intelligently, financed and operated for the long-term. They need to be able to sustain shocks and stresses while also providing a means for social and ecological benefit. None of these should be done in isolation of one another, but instead they should be conceived and delivered in a way that is deeply interconnected, where boundaries between disciplines, high design and construction, aspiration and practicality are blurred in order to create the best outcome. This is the AECOM way.