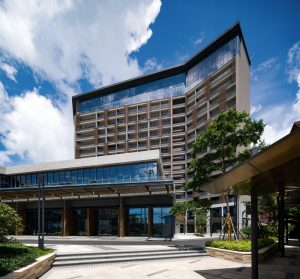 (28 June 2017, China) Shishi Gold Coast Project is located along the southeast coast of Shishi city in China, facing the Taiwan Strait. Designed by Aedas, this mixed-commercial development comprises hotel, SOHO, large-scale restaurants and featured retail facilities.
It is envisioned to be the largest modern, sustainable coastal international community which integrates leisure, culture, hospitality, travel and commercial components in the west coast of the Taiwan Strait. Phase 1's boutique hotels and large-scale food-and-beverage outlets are completed.
The zig-zag hotel roof creates an interesting skyline along the coast. The hotel façade adopts an open-corridor circulation system which improves natural lighting and ventilation in corridors, eliminating the cloistered and disorienting nature of typical hotel corridors. Wooden-textured aluminum fins in random intervals on the façade add organic touch to the buildings. The food-and-beverage blocks are strategically placed at the waterfront for spectacular views, with the hotels as articulated backdrops.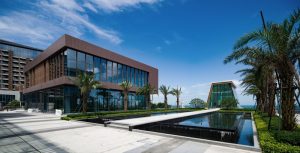 Two 'spines' are introduced to articulate scenic spectacles with architectural spaces – the vista spine stretches from the main entrance of the site to the seaside to create a feel of grandeur for arriving guests; while the commercial spine with linear water feature marks the central axis of the courtyard between the food-and-beverage units and the hotel. At the end of the commercial spine stands a glass pavilion with wooden-textured aluminum panels and curtain wall, serving as popular wedding and event venue in front of the beach.