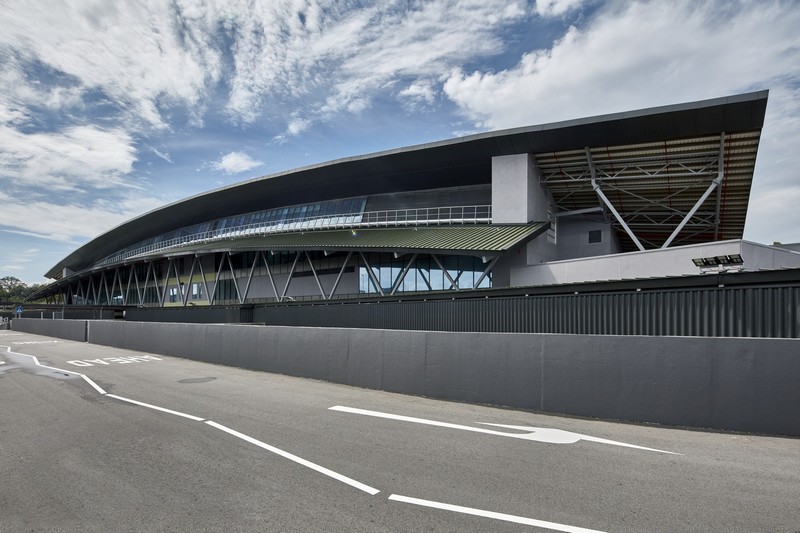 Singapore Woodlands Station and Mandai Rail & Bus Depot win the Best Design Rail/Road Infrastructure – Project Partner award under the Infrastructure and Development category at the Land Transport Excellence Awards (LTEA 2022). The former is a creation of collaboration between Arup and Aedas; while the latter is between T.Y.Lin International, Aedas and our key planning partner, DBEC.
Spanning 43 km in length, Singapore's Thomson-East Coast Line (TEL) stretches from the Marina Bay CBD area to the city's northern border and along the east coastline to Changi Airport. Aedas is involved in three packages of the entire transit line; Package A comprises 3 new underground stations, Package D comprises 6 new underground stations and the new Mandai Rail& Bus Depot. The Woodlands MRT Station, part of TEL Package A, is an interchange station for MRT lines to the North, South and East of Singapore; and the 140,000 sq m Mandai Rail and Bus Depot.
Adjacent to Causeway Point in Woodlands Singapore, the Woodlands MRT Station is inspired by vistas of tropical Pará rubber trees. The design incorporates soft tonal hues of brown and grey with streaks of muted green to accent the grilles and vertical façade. The design integrates skylight for illumination and natural ventilation for passenger comfort as well as energy saving into its structure. Direct and seamless links with banks of escalators and stairs connecting passengers to the station's concourse are created to enable internal visual transparency while facilitating public interconnection with future adjoining commercial developments.
"The design focused on the clear and legible arrangement of architecture spaces to create a seamless journey for passengers. Spatial order, use of daylight, common materials are all implemented to create a coherent station line-wide architectural design language, striking a balance between function and a sense of delight and timelessness," states Alen Nikolovski, Aedas Singapore Executive Principal and Design Director of the station.
"Arup closely collaborated with Aedas to deliver this project that is enhancing 'car-lite' rail transportation and providing better connectivity for businesses and the community. Dedicated to sustainable development, Arup will continue to build on our team's successes of this project to deliver more socially impactful and innovative solutions," says Tan Yoong Heng, Principal at Arup and Project Director of the station.
The Mandai Rail & Bus Depot facility includes provisions for an Operation Control Centre (OCC), a Depot Control Centre (DCC), administration buildings, storage warehouses, and a host of ancillary facilities for the safe functioning of the vehicle fleet and associated railway systems. A series of sustainable and Singapore Greenmark architectural design strategies are included, such as naturally ventilation and lighting applied to all major building volumes. A network of covered walkways are set across the site, elevated above the track level, to allow pedestrians and staff traverse safely and efficiently between all the Depot buildings using direct, sheltered routes. The hardwearing materials and finishes for the Depot are carefully chosen to reflect the industrial nature of the development.
"On account of its comfortable, three-dimensionally connected structure and comprehensive supporting facilities, the Mandai Depot will be the new model for national critical infrastructures." — Gruffudd Owain, Aedas Executive Principal.
"To ensure the highest quality design solution, the team enlisted relevant experience combined with a strong technical knowledge to deliver and fulfil the project brief requirements with a vivid concept vision." – Bill Tang, T.Y.Lin International Senior Vice-President.
The Land Transport Excellence Awards (LTEA) is a biennial event organised to recognise industry partners and individuals who have played a pivotal role in Singapore's endeavor towards developing a people-centred, efficient, and sustainable land transport system. The Awards aim to showcase best industry practices in Singapore's land transport system.
Visit www.aedas.com.