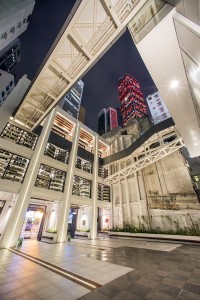 Architecture and design firm Aedas clinched claimed two major Cross-Strait Architectural Design Awards from the Hong Kong Institute of Architects (HKIA) at the end of March.
The Xi'an Jiaotong-Liverpool University Administration Information Building in Suzhou won a Gold Award in the commercial office category, and the Mallory and Burrows Street Revitalisation in Wan Chai received a Silver Award for Community, Culture, Religion and Recreational Projects. The university administration building is a reinterpretation of a Taihu stone found in Suzhou gardens. The work was designed by global board director Andy Wen.
The conservation of a Grade 2 shophouse from the 1910s in Wan Chai was led by associate director Edward Leung. A further five projects were nominated: the Centre 66 commercial project in Wuxi; Langham Place, Guangzhou; Xi'an's Land Experience Centre in the community, culture, religion and recreational projects section; The Forum, Hong Kong; and THR350, also in Hong Kong, for the low-rise residential award.