Hong Kong, June 18, 2015 – Organised by The International Academy for Design & Health, a leading global, interdisciplinary knowledge community dedicated to the stimulation and application of research concerning the interaction between design, health, science and culture.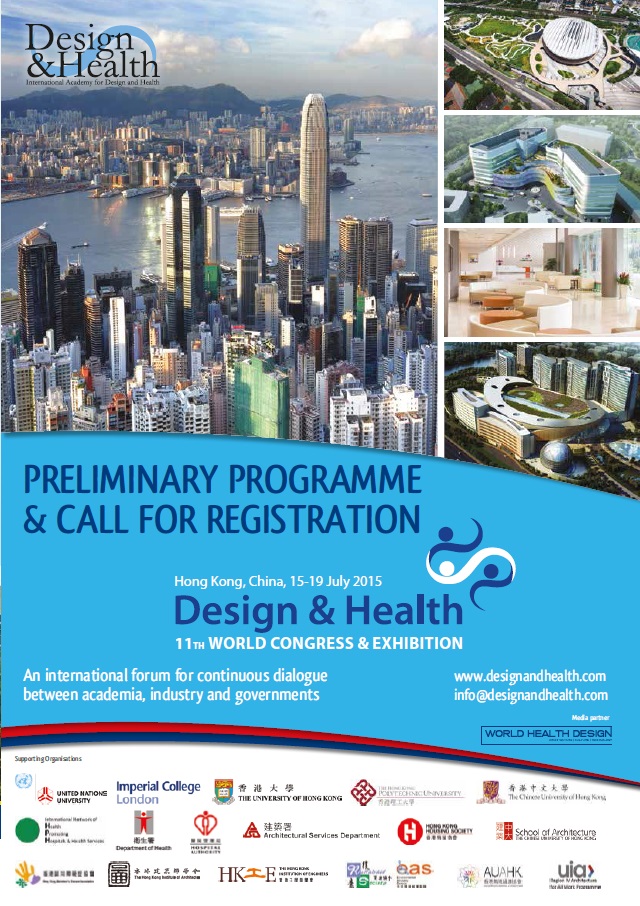 Working in close partnership with an international network of governments, universities and commercial organisations to promote human health, wellbeing and quality of life through environmental design, the Congress will provide a highly visible global forum for an ongoing exchange of research findings among scientists, designers and industry.
The centrepiece of activities is the 11th Design & Health World Congress & Exhibition, which will be held in Hong Kong on 15-19 July, 2015 at Crowne Plaza Hong Kong Kowloon East.
Design & Health is supported by the Department of Health, Architectural Services Department, Hospital Authority and the Housing Department of the Government of Hong Kong Special Administrative Region, as well as the Chinese University of Hong Kong.
The 11th World Congress comes to Hong Kong with a cutting-edge scientific programme that will help to underpin a salutogenic healthy society for the 21st century.
Please visit www.designandhealth.com/wcdh-2015 for more information.
For Event Enquiries:
Contact: Professor Alan Dilani
Design & Health
Email: [email protected]