On February 9, 2012, Asia Society Hong Kong (ASHK) will open their new headquarters in Admiralty. The day will celebrate the completed transformation of four former British military buildings into a cultural and educational hub, in addition to the opening of a brand new pavilion. A unique "z-shape" footbridge connects the transformed Historical site and the new pavilion.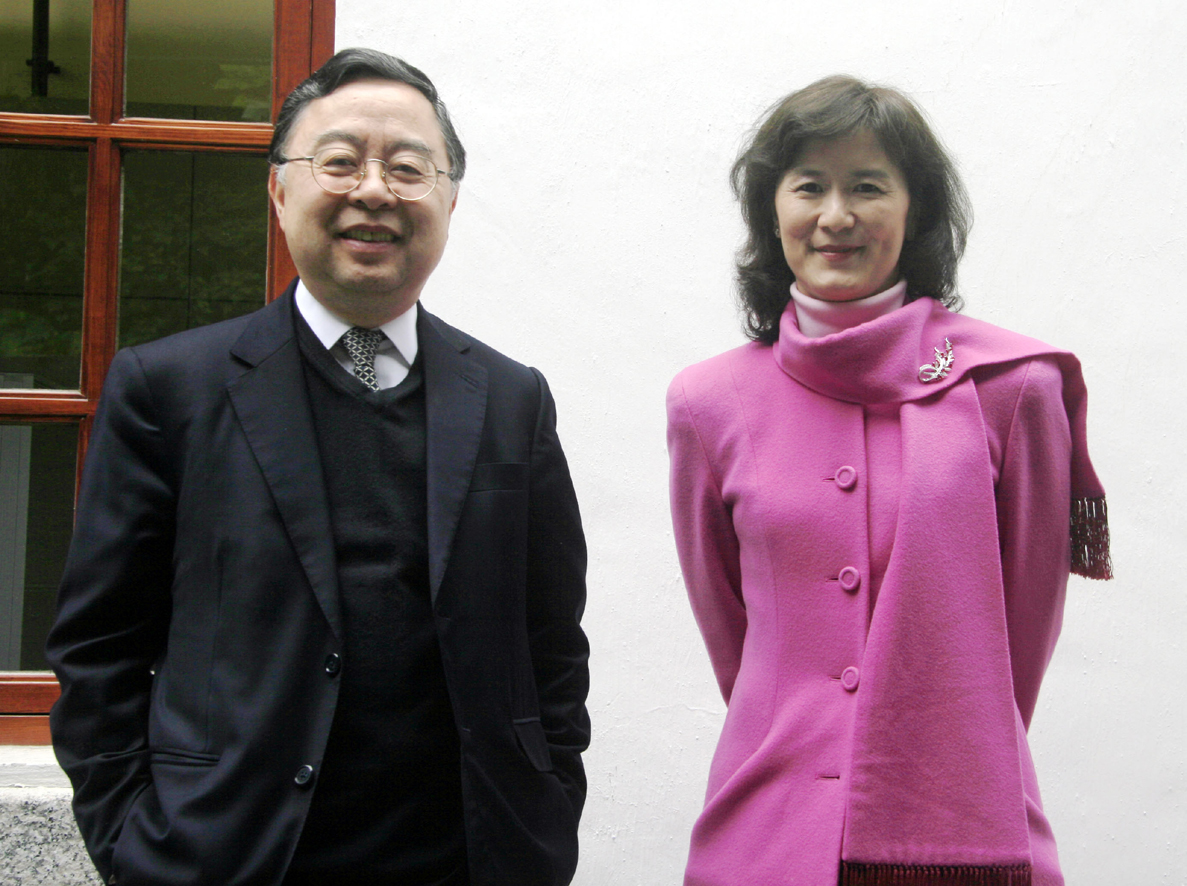 In anticipation of this landmark event, PRC Magazine had the pleasure of sitting down with Ronnie C. Chan, Chairman of Hang Lung Properties and Chairman of Asia Society Hong Kong Center, as well as Edith Ngan Chan, Executive Director of Asia Society Hong Kong Center.
Chairman, Ronnie C. Chan explained Asia Society's mission in Hong Kong, "I think it is appropriate to call Hong Kong, Asia's world city… Hong Kong is world class in many things, we have a world class airport, our transportation is world-class, information flow is world class, our business is world class, financial services as well… our aim is to help make Hong Kong world class in arts and culture."   
Left: Former Magazine B was used for storage ammunition. Right: Miller Theater (Former Magazine B)
The location, which has been dubbed a heritage site by the Hong Kong Government, has been revitalized in great part thanks to funds generously donated by The Hong Kong Jockey Club Charities Trust and other donors. 
The new center showcases the conservation, rehabilitation and adaptive reuse of the former Explosives Magazine Compound; a group of four former British military buildings, three of which are Grade 1 Historical structures.
The site is estimated to have been originally built by the British army in the mid 19th century and was left vacant in the 1980s. The Former Explosives Magazine Compound has great historical, architectural and cultural significance and is one of the last remaining structures left by British military in Hong Kong.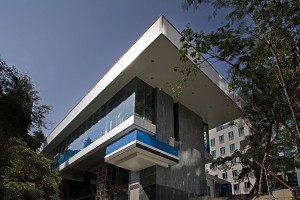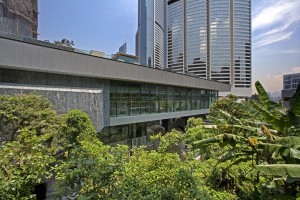 In addition to the rehabilitated Explosives Magazine historic site, Asia Society Hong Kong has completed its new headquarters with a beautiful new pavilion. The new Entry Pavilion will serve as a link between the upper and lower site while integrating new and old features into the complex. At approximately 1,300 square metres, The Entry Pavilion will be home to a significant number of activities for the Asia Society Hong Kong. All visitors to Asia Society Hong Kong will enter through this new space, which overlooks lush, green foliage. 
Mr Chan continues, "Seldom have I done a project as complicated as this, because it is a project deeply involved in conservation, we must balance between conservation, aesthetics and safety… we had to be very careful about how we preserve this place moving forward." The newly transformed center will provide a unique venue for educational programs for both students and the general public. The center boasts a diverse array of facilities including Asia Society Gallery (Former Magazine A), which will host world-class art exhibitions, a state-of-the-art performance space called Miller Theatre (Former Magazine B) and The Hong Kong Jockey Club Hall, a premier facility for conferences and lectures.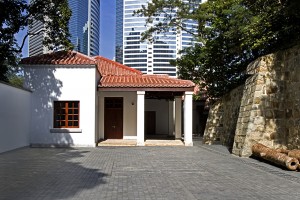 Originally founded by John D. Rockefeller 3rd in 1956, Asia Society is a not-for-profit, non-governmental educational organization whose goal was to promote American's understanding of Asian Cultures and Countries in the wake of World War II. The Asia Society Hong Kong Center was founded in 1990 by a group of Hong Kong business leaders, led by Sir Q.W. Lee, then Chairman of Hang Seng Bank. As the Asia Society's first overseas office, ASHK has since evolved into one of the community's lead forums for discussion and community affairs. 
Edith Ngan Chan, Executive Director of Asia Society Hong Kong Center expounds, "Under inspired guidance, Asia Society Hong Kong Center decided to create a permanent residence in Hong Kong, to continue the mission of Asia Society as a cross-sectorial organization to bridge the relationship between Asia and America." 
ASHK has a strong track record in Asia and around the world and an extensive international network of leaders, scholars and recognized cultural experts. Today, with 11 centers in Asia and the United States, including Hong Kong, New York, Mumbai, Los Angeles amongst others, the Asia Society is among the world leaders in regards to strengthening relationships, enhancing understanding and promoting dialogue between the two continents.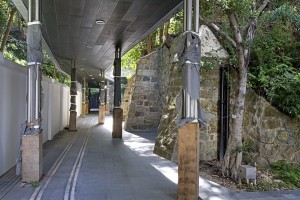 Dr. Lee Ho Yin, Programme Director of Architectural Conservation Programme at the University of Hong Kong, regarded this revitalization project as one of the best examples of heritage adaptive reuse in the territory. The project did not merely restore the original form of the heritage, it rather granted it new meaning and function. Dr. Lee Ho Yin continues, "Conservation, always over- focuses on the tangible aspects and lacks of the more important aspect which is the intangible part. In this occasion… this is a very important project that will have enormous impact on the local community. The revitalization site is not only a venue providing cultural activities for the public, but also a very good example in demonstrating how conservation should be done." 
One of the most striking architectural details of the compound is a brand new footbridge, serving as the connection between the site's upper and lower levels- between the renovated historic site and the stunning new pavilion. It is interesting to note that the footbridge's unique "z-shape" design was created with a distinct purpose.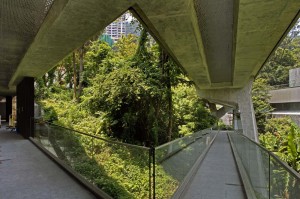 Certainly, it would have been simpler to fashion a bridge that connected the new and old sites using a straight line bridge, however a transient population of fruit bats foraging on the palm trees between the buildings would not allow this simple architectural solution. The architects and developers took great care to protect the habitat and fauna in this area. Thus, at great cost and despite unique design challenges, the team decided to create this unique bridge instead of destroying the habitat. 
New York Architects, Tod Williams and Billie Tsien led the design transformation of the former Explosives Magazine. For the renowned architects, a primary focus of the project was "adaptive reuse". Perhaps Tod Williams and Billie Tsien's greatest triumph in this project is found in their ability to restore the buildings to their original form, while inserting a complete and separate new life into them.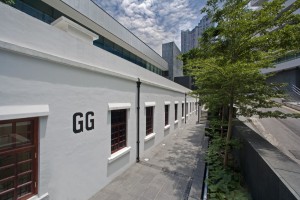 Architect Tod Williams said, "Rather than simply putting new uses into them (heritage buildings), our desire was to restore them, in as pure a way as they possibly could to their original form and yet insert a complete and separate new life into those, so that one can see the new life as distinct from the original life." 
The architects' design also demonstrates a strong sense of connectivity. A double-decker footbridge connects the upper site (Heritage Compound) and the lower site (entry pavilion). In connecting the Heritage Building to the new building, the bridge serves as an unambiguous connection between old and new. This design element resonates with Asia Society's mission of connecting the East (Asia) and the West (The United States). 
Additionally, the site exhibits strong "horizontality", a rare feature in Hong Kong. Hong Kong is a vertical city populated by tall, typically narrow buildings. In contrast, this heritage site is built along a horizontal plain in the hills of Admiralty. Rather than creating yet another skyline grabbing tower, Tod and Billie's design was chosen because it highlighted and celebrated the horizontality of the site.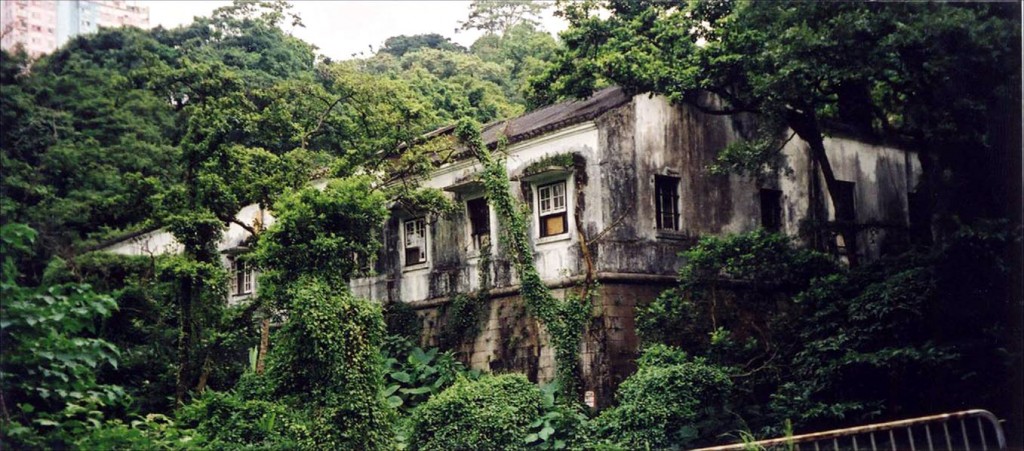 Architect Billie Tsien commented on this feature, "One of the key influences for us was the fact that Hong Kong is such a vertical city. One of the things that we wanted to do was recognize this and be different. And so, this is a very horizontal building. We call it a kind of ground scraper." 
Hong Kong Asia Society membership is open to all, as are a vast majority of their programs. ASHK has over 1,500 members from a broad cross-section of the Hong Kong community. Past speakers of note include: Hillary Rodham Clinton, Current US Secretary of State; Al Gore, Former US Vice-President; and Fareed Zakaria, Editor of Newsweek International. ASHK will commence their inaugural art exhibit on February 10, called "Transforming Minds, Buddhism in Art". 
For general inquires or more information on upcoming programs, lectures and exhibits please visit: www.asiasociety.org/hong-kong.