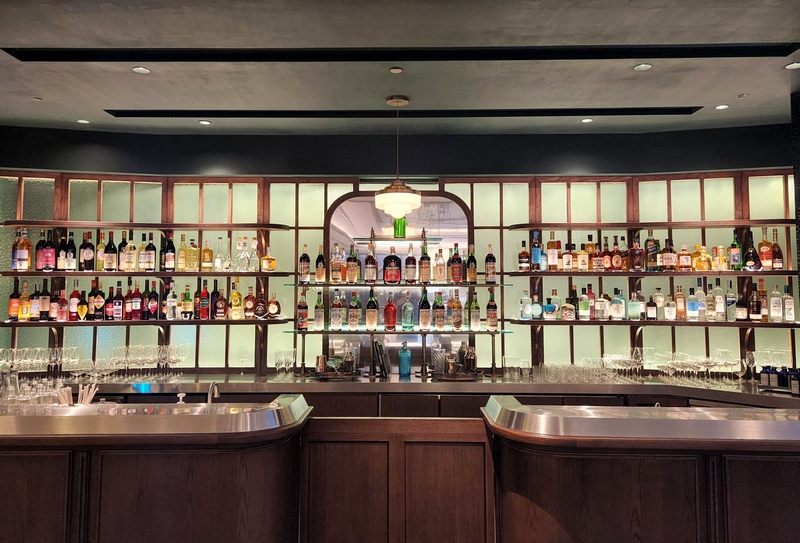 Hong Kong-based manufacturer Orientop Limited supplies innovative and sustainable interior glass solutions to clients in Asia and across the world.  PRC Magazine met with Chief Executive Officer Vitus Yiu at The Rosewood Hong Kong to see one of the firm's more recently completed projects.
(按此瀏覽中文版)
Before Vitus Yiu established Orientop Limited in 1995 he had an established textile business. However, new quotes rules brought challenges when it came to maintaining exports to Europe and the US markets. Never one to bow down to pressure, he saw a gap in the market for decorative and architectural glass. It was a solution for feature walls that offered a durable and easy-to-clean alternative to the traditional wood, tile, wallpaper and fabrics that over the next few years, become a viable and attractive option for designers and developers alike.
As a market innovator, Yiu admits that the concept took a while to catch on. But from humble beginnings, today he exports his glasses globally, supplying markets in Asia and further afield.
The company's head office in Hong Kong is not only responsible for overall operations, but is also heavily focused on design and consultation. The sales and marketing team and designers work together to create custom glass designs that go beyond the expectations of every client.
Materials are then developed in two self-owned factories in mainland China. Employing close to 400 workers who are fully trained to utilise myriad glass techniques, both are fully equipped with the latest machinery to ensure the highest quality glass.
The first was established in Xinhui in 1999 and concentrates on producing decorative glass using machinery designed to create unique and innovative patterns for club houses and other tailor-made projects using features including grooving and acid etching.
The second factory is situated in Taishan and since 2016, has been manufacturing panelled glass pieces for bulk and repeat orders for hotels, residential and other commercial projects. Here, the facilities include technologies to create fully automatic glass borders, furnaces used to temper both straight and curved glass panels, an accelerated machine used for edging during the process of handling the raw materials, and hydraulic cutters and burn furnaces. Plus, Orientop is great honor to have their own facilities for heat-soak testing to ensure safety and optimum quality monitoring which suit both Hong Kong and International Standard.
Yiu is proud of Orientop's ESG ratings – not only for the factories which operate in IS0 14001 certified environmental management system, are using recycled water and are in the process of introducing solar power – but also for the source of the materials used in its products.
For example, on the back of the glass panels, the more traditional plywood is replaced by Palm Eco board, a more sustainable and eco-friendly solution. Orientop is a distribution partner of DOWSIL™ – a Green Multiple Purpose Silicone Sealant, which has officially achieved compliance with the Assessment Standard and is rated Platinum for the CIC Green Product Certification, as well as their Diamond Fusion range, which Orientop uses to coat their glass panels. As Yiu explains, is a light metal hydrophobic, easy-to-clean metal coating that requires no chemical cleaners.
First to market 20 years ago, and always one step ahead of its competitors Orientop introduced its new SPARK range last year, a range that binds together a single sheet of glass with a lamination backing. The result, which is currently under patent, is transformational for the industry, resulting in a safer and lighter solution that requires less manpower to transport.
Yiu's enthusiasm and drive for innovation shines through. His advice: "Always be creative; always be innovative."
And alongside his dedication towards customer service, good quality, on-time delivery, and following international standards, quality control is also a top priority, with impact, motion and thermal shock tests all standard and on par for the course.
"Our job is to provide clients with the very best materials, solutions and customer service. We want to help every one of our clients to create their vision and to provide them with all the technical support they need to get there. It's never boring," he says.
Here, he cites the example of Orientop's 500-room project at Phase 3 of the Galaxy Macau, where innovation came in the form of switchable glass, which turns the glass partition between the bathroom and bedroom from clear to opaque at the flick of a switch. It is, he says, a technology targeted at the premium segment of high-end family rooms and villas, where curved glass with a radius of below R300 provides the solution to create a more spacious ambience, whilst preserving both unity and privacy.
Meanwhile in Hong Kong, the BluHouse at the Rosewood Hotel – a design by London-based interior studio Afroditi, the Italian restaurant, dining room and retail section is designed to resemble the streets of Italy. For this project, Orientop proposing a classic vintage featured glass pattern, reminiscent of 1980s Italy, produced in triple layer panels to enhance the acoustic requirements needed to optimise the partitioning between the main restaurant and private dining space.
A perfect example of Orientop's specialty glass, which makes use of different textured patterns and opacities of glass for the partitions and throughout the restaurant, the attention to detail includes frosted glass to create a sense of privacy for the diners. Not only does this allow light to pass through, but also partially separates the guests inside the private dining room with the rest of the restaurant. The stone-like textures of the patterns create a depth that contrasts with the flatness of the walls, whilst in the bar area, the texture of the glass alongside the wood features, elevates the ambience of the area and the mirrored ceiling of the private dining room helps extend the height of the room.
For Yiu, these examples show how far the industry has come since the simple glass lamination he started producing more than two decades ago. Today, technological advances such as the use of CNC machines can produce varied grooving patterns, while the limitations of digital printing are set only by the imagination. Here he highlights some of the new finishing he and his team have on offer, including Orientop's new marble series, which sees printed marble set inside a light box, laminated from two layers into one. "The future is always in design. It's up to us to create the market, not to follow the market, and we continue to do this through innovation, dedication and investment in new technologies and sustainable materials," he concludes.