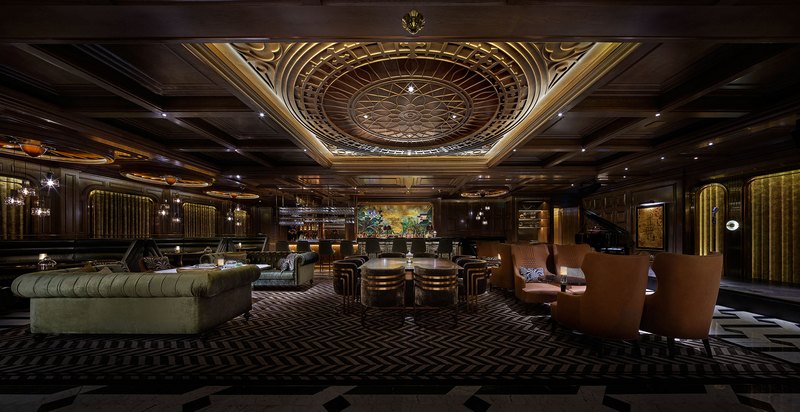 On behalf of Steve Leung Design Group (SLD), we are pleased to share news of the completion of The St. Regis Bar, Macao conceived by Steve Leung – the internationally acclaimed architect, interior and product designer. Ingeniously fashioned with Steve's aesthetics in contemporary and functional design, The St. Regis Bar, Macao situated in the heart of the vibrant Cotai Strip showcases distinctive British style and elegance, setting new standards for discerning globetrotters and culture connoisseurs. Each corner has been crafted as a sanctuary of bespoke refinement, spoiling guests with the most exquisite British design touches and detailing.
Echoing the hotel's rich lineage, The St. Regis Bar located on the second floor of The St. Regis Macao features lavish and indulgent interiors by Steve Leung. The design pays homage to the timeless elegance of British heritage and cleverly weaves in signature British elements and much-loved nostalgic details into the design, curating an understated ambiance that captures the unfading charisma of a past time.
Greeted by a wine room housing a vast selection of international wines, a striking black and white marble floor leads visitors to the main area infused with dimmed light to illuminate the sturdy beauty of oak wood panels arranged throughout the space. The central ceiling inspired by a cultural icon – The Big Ben Tower has reimagined the magnificent structure using beautifully carved wooden patterns and exudes a sense of majesty.
Venturing inside the bar, a predominant dark olive shade mirrors the color palette of Westminster Palace imbuing the velvety sofas and leather benches with a composed touch. Steve maximizes the use of open space and created a rich variety of zones and intimate seating areas: Beneath the main ceiling a robust wooden table pairs with custom-made chairs featuring metal details defining the communal area of the lounge zone; on the lateral side, the turbine-shaped ceiling lighting delineates secluded corners for gatherings to ensure utmost privacy.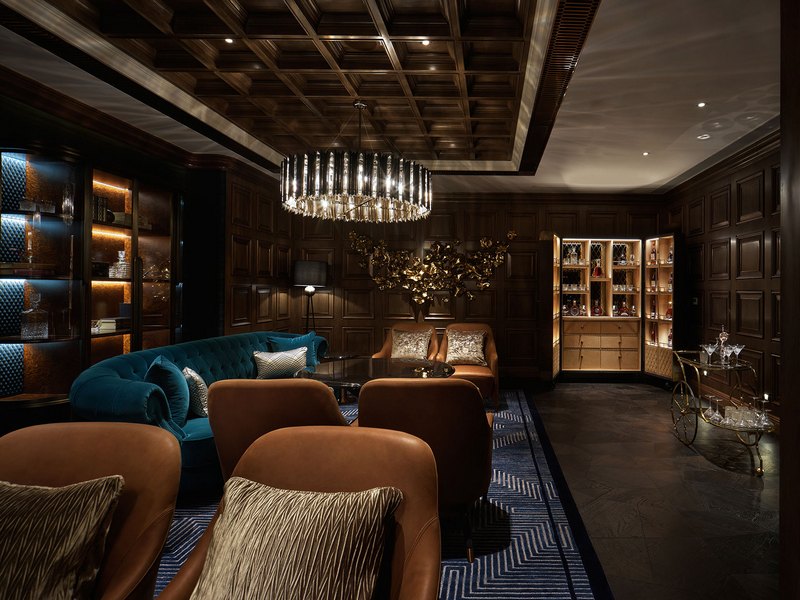 As every St. Regis hotel has a specially commissioned mural in the bar, The St. Regis Bar, Macao is identified by a vivid painting depicting lively scenarios of Macao's traditional Chino-Portuguese legacy, in sharp contrast with the intense green hue of the marble counter carved in neoclassical patterns. A classical half tail piano sets the focal point of the retro stage area where guests are invited to enjoy drinks to the accompaniment of rhythmic jazz improvisations. Interplaying the balance of colors and textures, the decanter rooms conceived as the most secluded areas are adorned with aegan blue velvets, tan leathers and rich oak veneered panels.
The St. Regis Bar, Macao takes bountiful inspiration from the heritage of the St. Regis brand and a British essence which illustrates the city's story with a series of cutting edge touches to create a quintessentially stylish venue enhanced with sophisticated refreshments and live entertainment.