(3 January 2018, Hong Kong) The Construction Industry Council (CIC) is delighted to announce that the inaugural CIC Sustainable Construction Award is launched today. Mr. TSE Chin-wan, Under Secretary for the Environment, HKSAR Government, Mr. LIU Chun-san, Under Secretary for Development, HKSAR Government, Mr. CHAN Ka-kui, Chairman of CIC, Ir Albert CHENG, Executive Director of CIC, Prof. LAM Kwan-sing and Mr. CHEUNG Hau-wai, the Panel Chairmen of the award, jointly officiated the launching ceremony.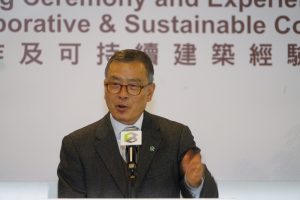 The Construction Industry Council (CIC) has been striving to provide a communication platform for the industry. The inaugural CIC Sustainable Construction Award aims to promote continuous enhancements of sustainable construction in Hong Kong, enhance the communication between project owners and contractors, as well as encourage technology adoption. This award is launched in an attempt to recognise the best practices of sustainability aspects among organisations, practitioners and young generations of the construction industry. In the welcome remarks, Mr. Chan Kai-kui, Chairman of the CIC, stated that, "With the objective to facilitate Hong Kong's Climate Action Plan 2030+, a reduction of 65% to 70% in carbon emissions is set. CIC will work with the construction industry and develop a framework for sustainable buildings, reducing carbon emissions from the industry."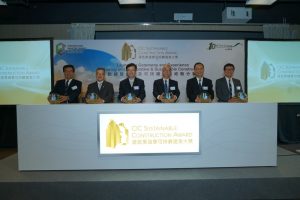 Mr. WONG Wai-lun, Michael, took a video for promoting CIC Sustainable Construction Award. He mentioned that the global climate change poses a severe challenge. Hong Kong cannot be insulated from this, which a set of carbon audit guidelines has to beproactively implemented, and an effective way is to strengthen the promotional efforts on sustainable construction. The Government has been taking a lead, issuing the Green Guide and environmental policy on government buildings, such as trying to adopt prefabrication structure to reduce construction waste. The adoption of an innovative technology, Building Information Modelling (BIM), can also reduce the project duration.
The CIC Sustainable Construction Award is divided into 2 main categories with 34 awards. Organisations Category includes project owners, developers and contractors; and Industry Practitioners Category includes construction managers, general practitioners and young practitioners aged 18-27. This award allows different construction industry personnel to make a contribution to sustainable construction
The Award is now open for applications. The deadline for submission is 31 May 2018.