Wuxi as a city is known for its scenic lake view and being one of the hottest travelling spots in China The concept of the cinema came from envisioning a journey along the lake shore, and the inspiration by traditional Chinese Gardens in which Chinese theatre was displayed in the architectural form of semi outdoor pavilion This Chinese Garden and Lake Shore inspiration turned into a design concept with a contemporary approach, the design team emphasizes on crisp geometric lines, warm and neutral colors and balance of material tactile expression such as timber and marble with rawness and naturalness.
One of the most striking feature of the cinema entrance is the inspiring moon sculpture illumination the ticketing lobby area, bespoke by designer then by sculptor with fiberglass materials, this gigantic art installation hung above the main entrance hall, with lighting carefully designed to illuminate the moon surface, so that every passers by can experience a full moon experience.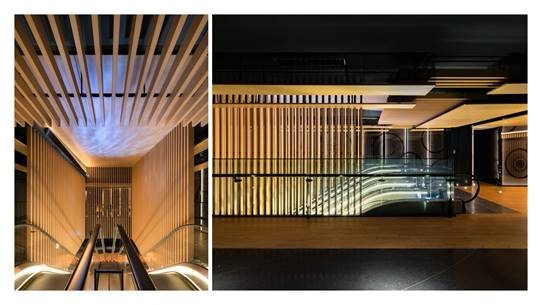 Walking along the corridors pass through various theatres, one of the interesting intermission space is the escalator hall connecting two floors of the cinema complex, in which a temple like timber structures were created with minimalistic geometrical lines, arrays of timber fins were carefully designed and spaced, to create a sacred transactional journey to people who walks through, similar to the amazing excitement and experience one would walk through a traditional Chinese garden.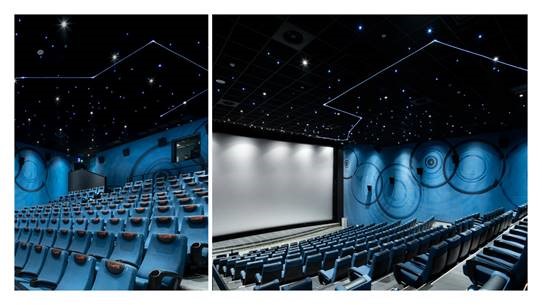 Each movie house is imagined as separate retreats to the lake with entrances designed to become an individual bungalow along the shoreline The spatial design recreate a romantic experience of a open air theatre, where customers sit in the theatre, overall a mimic starry sky made of LED and fibre optic, while reflective water ripple patterns are shown onto both sides of the acoustic walls.