(3 November 2016, Hong Kong) Crestron Asia Limited ("Crestron Asia"), the Asia headquarters of Crestron Electronics, Inc. ("Crestron") being one of the world's leading manufacturers of advanced control and automation systems. Crestron is demonstrating "Technology for every space" to IT professionals and technology providers across the higher education landscape, illustrating how cutting-edge Crestron solutions transform classrooms into dynamic learning environments that are interactive, collaborative, and easy to use.
"We know the modern classroom is highly collaborative, and often doesn't even involve a physical room at all," said Roger Takacs, Director of Education Programs. "Crestron solutions empower educators and students in every learning space by making it easy to present, share, collaborate, and distribute content using any device."
Crestron education solutions for the classroom are easily scalable across the entire campus, enabling educators to:
Easily connect students and teachers so they can share content and ideas – both in-class and by distance learning
Configure learning spaces and easily deploy them across the building or the entire campus
Centrally monitor and manage technology health to maximize usage
Collect real-time and historical device and room usage data to identify trends that drive strategic management decisions
Highlighting the groundbreaking Crestron technology on display will be Crestron, the only end-to-end AV platform that can integrate:
Lecture capture
Digital streaming and distribution of HD content
General room connectivity
Breakout and collaboration sessions
Remote viewing and distance learning
Presentation from wireless devices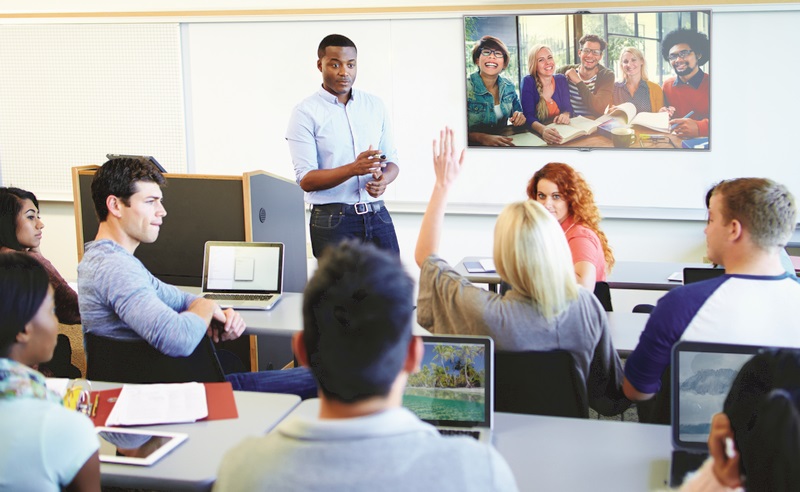 On top of that, Crestron DigitalMedia™ technology provides unparalleled benefits to education technology professionals, including powerful out-of-the-box functionality, simple web-based setup, and network deployment, monitoring, and management via Crestron Fusion® Cloud software.
"We have been working with top academic institutions for more than three decades," said Lisa Mason, Program Marketing Manager at Crestron. "We understand the unique challenges and requirements of the education industry, and have provided powerful, scalable, and easy-to-manage solutions for hundreds of colleges and universities, including seven of the eight Ivy League universities."
Crestron A+ Educational Partner Program
Crestron's A+ Partnership Program was established to support the needs of the academic community. Crestron works closely with colleges and universities to facilitate learning using the latest classroom technology.