(23 June 2022, Hong Kong) Originally scheduled to take place in October, Eco Expo Asia 2022 will now open from 14 – 17 December at the Hong Kong Convention and Exhibition Centre with the last day (17 December) open to the public and with online services running until 24 December.
As one of the celebration events of the 25th anniversary of the establishment of the Hong Kong Special Administrative Region (HKSAR), the exhibition will continue to bring together industry leaders from different sectors to transform Hong Kong into a more sustainable and liveable city.

In China, the government's 14th Five-Year Plan (2021 – 2025) highlights innovations in environmental protection over the next five years with 'Carbon peak' and 'Carbon neutrality' as major policy goals. These policies have also filtered through to local governments, including the country's key strategic city cluster, the Guangdong – Hong Kong – Macao Greater Bay Area. In Hong Kong, where targets have been set to achieve carbon neutrality by 2050, the city is also striving to solidify its role as a global green finance hub. To this end, the government issued the Retail Green Bond back in May, valued at HK$20 billion (US$2.5 billion), along with a comprehensive framework of investment allocation.
The theme of Eco Expo Asia 2022 is "Green Innovations for Carbon Neutrality", focusing on the technological innovations that will help to decarbonise the world. As an important event for the environmental industry, Eco Expo Asia 2022 will provide a platform for showcasing innovative green products and services, learning about the latest trends and expanding business networks.
Across the show floor, Eco Expo Asia 2022 will present a broad spectrum of green products, innovations and services from a variety of industries. These will include green finance and ESG-related services, eco-friendly products, water treatment and quality management, air quality and more. This year's fair will also see the return of the Startup Zone and Eco Asia Conference, promising to introduce new trends and technologies.
Eco Expo Asia 2022 will take place from 14 – 17 December at the Hong Kong Convention and Exhibition Centre, with the online services running until 24December. The fair is jointly organised by the Hong Kong Trade Development Council and Messe Frankfurt (HK) Ltd and co-organised by the Environment Bureau of the Hong Kong Special Administrative Region Government.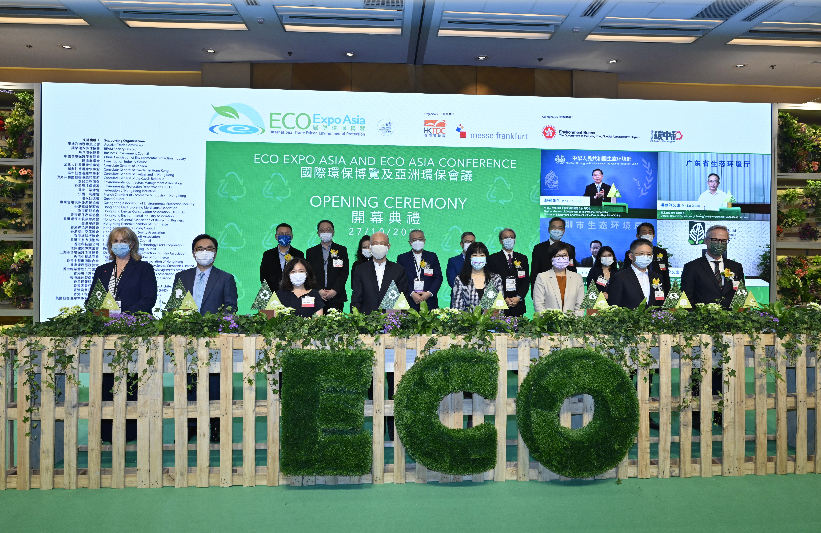 For more information about the fair, please email [email protected]
or [email protected], or visit www.ecoexpoasia.com.
The government convention and exhibition industry subsidy scheme and SME export marketing fund by the Hong Kong SAR Government has also been renewed this year. This means exhibitors can enjoy 50% off their participation fee (subject to a cap of HK$10,000) per booth or up to HK$100,000 in subsidies overall should they decide to exhibit at Eco Expo Asia 2022. Please contact [email protected] for details.