On Monday, 5 March, 2012 Asia Society Hong Kong hosted a panel discussion entitled, "Constructing the Green Building Movement" at their new headquarters in Admiralty. The panel was comprised of leaders from varied sectors of the building industry and was moderated by Mr Ronnie C. Chan, Co-Chair of Asia Society and Chairman of Hang Lung Properties.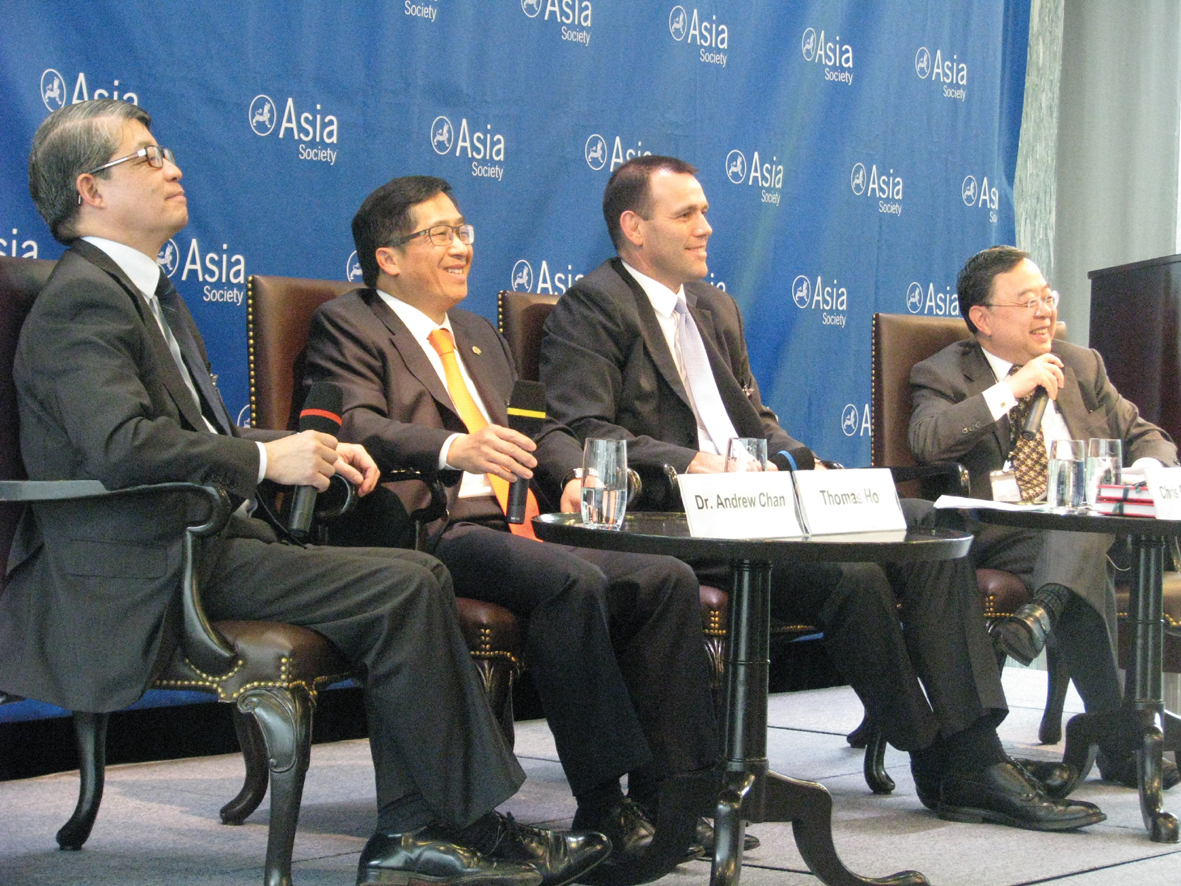 Panellists discussed how property developers are investing in sustainable buildings in Hong Kong and other Asian city centres. The luncheon panel discussion was co-organized by Business Environmental Council and Climate Change Business Forum (CCBF). Panellists were Chris Brooke, President and CEO, China, CB Richard Ellis, Dr Andrew Chan, Deputy Chairman, Arup Group and Thomas Ho, Chief Executive, Gammon Construction Limited.
After an opening statement from Asia Society Executive Director, Edith Chan, the discussion focused on the challenges and optimism surrounding constructing in an international climate where "green" will become the new standard. In his opening remarks Mr Chan said, "Today we have assembled to discuss a topic that is close to my heart, the green building movement in the world today. There are basically three constituencies in the arena of green building: the government, the private sector and others, including NGOs and individuals. Currently in this room we have designers, contractors, builders, owners and managers. We have gathered today with the common goal of making the world a greener place."
A vast majority of the afternoon's discussion centred on the debate of what role government must play in repairing and improving the environment and the green movement at large. Despite many opposing viewpoints the general consensus among the panellists was that there needs to be a shared responsibility among all stakeholders. Chris Brooke expounded, "Responsibility is across the board. My view is that the government needs to start the regulatory framework, guided by policy, through building codes and drive the broader legislative framework. What we are seeing more and more is that the developer is having a responsibility to introduce green building in general practice to drive down building cost, make them more efficient and really look at sustainability".
Benchmarking was a constant topic and the panellists led discussion points that included looking toward other world cities for best practices. However, there is no doubt that Hong Kong is a unique place, in lieu of its dense population and minimally inhabitable land.
Additionally, Hong Kong's topography makes it a challenging place to implement renewable energy sources. There have been discussions on the feasibility of building offshore wind farms as well as increasing the use of clean nuclear power and gas to the region. Andrew Chan explained some of the world's cities varied approaches to green building, "In Europe we have carbon reduction targets which are national commitments. This is where they start. When you look at Asian countries, I would not say they are behind; in terms of regulatory framework, in terms of development they give to the private sector… In the US you would be looking at a system that has the market dictate whether it is financially sustainable to be green."
Throughout the afternoon's spirited debate there was a sense of prevailing optimism surrounding all topics discussed. When asked in the closing whether he felt there was "hope" for the world's environment, Thomas Ho responded optimistically, "I would have to say yes, there is hope. The Green Building Council (GBC) has already trained 1,400 professionals who are now all accredited. There are 140 building projects registered to be certified, so momentum is certainly gathering. I look forward to government setting targets, taking leadership and disclosing their performance. I also look forward to the private sector responding in their vested interest."
Buildings consume 40 per cent of power generated globally and a staggering 89 per cent of the power generated in Hong Kong. Recent research by the Climate Change Business Forum suggests that targeted alterations to a building's lighting and air conditioning can reduce energy use by as much as 50 per cent. The argument has been made that with adequate incentives in place, Asia's town centres have the potential to be the models of sustainable urban development.
The question remains, how long will it take to realise these potential savings?