It is often stated that the true measure of any city's perceived success is based upon three fundamentals: the number of cranes dotting the skyline, an established stock exchange and the size of its airport. China's southern economic powerhouse, Shenzhen, boasts all three in spades and recently unveiled its latest architectural masterpiece with the opening of Shenzhen Bao'an International Airport's new Terminal 3.
Designed by acclaimed architects and founders of Studio Fuksas, Massimiliano and Doriana Fuksas. Studio Fuksas is also involved in two further phases of the airport's expansion set for completion in 2025, and 2035.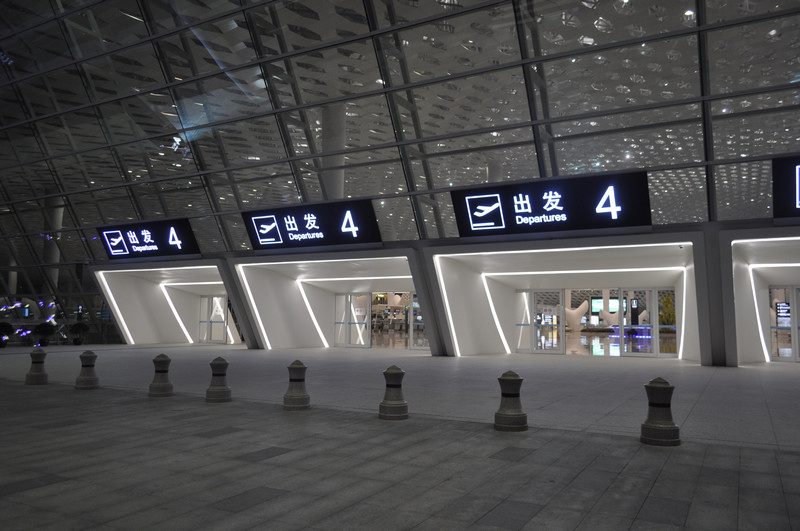 Headquartered in Rome, Studio Fuksas, is an international architectural practice with offices in Rome, Paris and Shenzhen.
With built projects across Europe, Asia and North America, Studio Fuksas is characterised by an innovative approach, as well as interdisciplinary skills and experience consolidated over three decades through the design of master plans, offices and infrastructure projects, to name but a few.
Constructed at seemingly breakneck speed within three years, the Terminal is set to become an iconic landmark that will further boost the economic development of Shenzhen, already acknowledged as one of the fastest-growing cities in the world.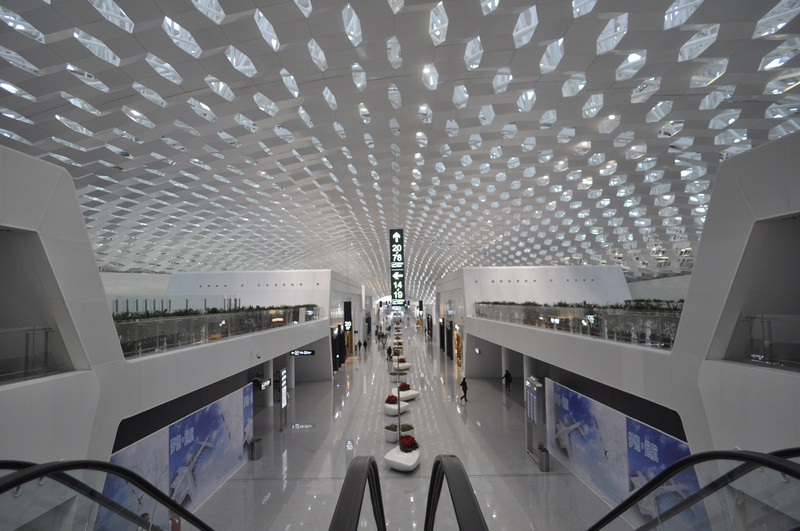 "New Terminal 3 at Shenzhen's Bao'an International Airport is to date the largest single public building to be constructed in Shenzhen," states Studio Fuksas founder and principal architect, Massimiliano Fuksas.
"The Terminal has been designed to increase the airport's capacity by a very significant 58% and will be accommodate 45 million passengers annually by 2020, accounting for 36 million domestic passenger trips and nine million international passengers. It also expects to handle 13,716 visitors per hour during peak periods, with the annual number of aircraft landings and departures estimated to be around 375,000."
Sculptural magnificence of Terminal 3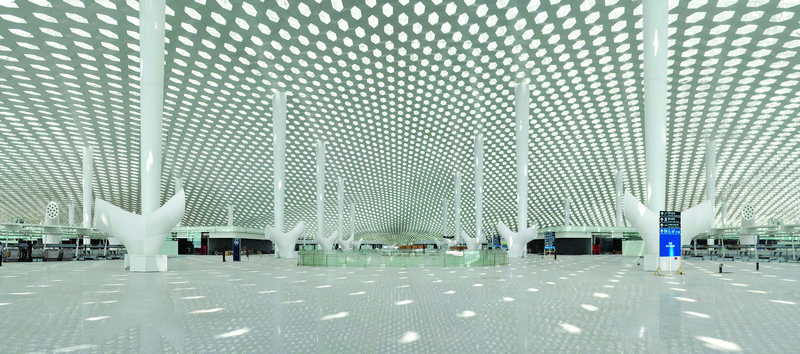 Summoning images of a graceful manta ray (the name "manta" is Portuguese and Spanish for "cloak" or "blanket") with branching ramps and honeycomb skylights, the sculptural 500,000-square metre Terminal features a striking internal and external double 'skin' honeycomb motif that wraps around the structure.
At 1.5 kilometres long and with roof spans soaring up to 80-metres, honeycomb shaped metal and glass panels punctuate the façade of the terminal allowing speckled natural light to filter through. The interior of the terminal is characterised by distinctive white conical supporting columns that rise to touch the roof in cathedral-like scale.
"Studio Fuksas looked at the shapes of various living creatures when planning the layout of the complex," states Fuksas. "The concept for Terminal 3 evokes the image of a manta ray, a fish that breathes and changes its own shape, undergoes variations, and turns into a bird to celebrate the emotion and fantasy of a flight. The interiors have a sober profile and a stainless steel finish that reflects and multiplies the honeycomb motif of the internal skin".
The focal point of the design is the concourse located at the intersection of the building. Consisting of three levels – departure, arrivals and services – they vertically connect to create full height voids, allowing natural light to filter from the highest level down to the lowest.
The main Terminal building comprises two-storeys located underground and four levels above ground (partial five-storeys). The fourth floor is the departure hall. The third floor is connected with the domestic departing passengers channel and the centre of it is the international joint inspection zone, luggage collection and checkpoint, and the office area located on both sides.
Built by Shenzhen Airport (Group) Co at a cost of US$1.4 billion (€734 million/21.8 billion yuan), total construction in relation to new Terminal 3 includes a second runway (opened in July 2011), hotel, commercial complex and freight terminal.
Terminal 3 interior
The design of the expansive Terminal's interiors is as visually striking and elegant as the exterior of the building and includes internet point, check-in 'island', security-check, gates, passport-check areas, shop box, baggage claim 'islands', info-point, ventilation trees, signage, commercial desk and washrooms.
"Studio Fuksas has also created an interior that has an immediate impact and reflects the internal atmosphere resulting from the overall design," states Fuksas. "The spatial concept is one of fluidity and combines two different ideas: the idea of movement and the idea of pause. Carefully considering the human experience within such environments, we purposefully focused on processing times, walking distances, ease of orientation, crowding, and availability of desired amenities, which are all considerations for passengers."
Stand-out interior design features include stylised white 'trees' that serve as air conditioning vents, check-in 'islands', and gates and passport-check areas with stainless steel finishes that beautifully reflect the honeycomb patterns of the Terminal "skin" above. The honeycomb motif further translates through into many aspects of the interior and at different scales – from the larger retail boxes to smaller 3D imprints in the wall cover.
Sustainable features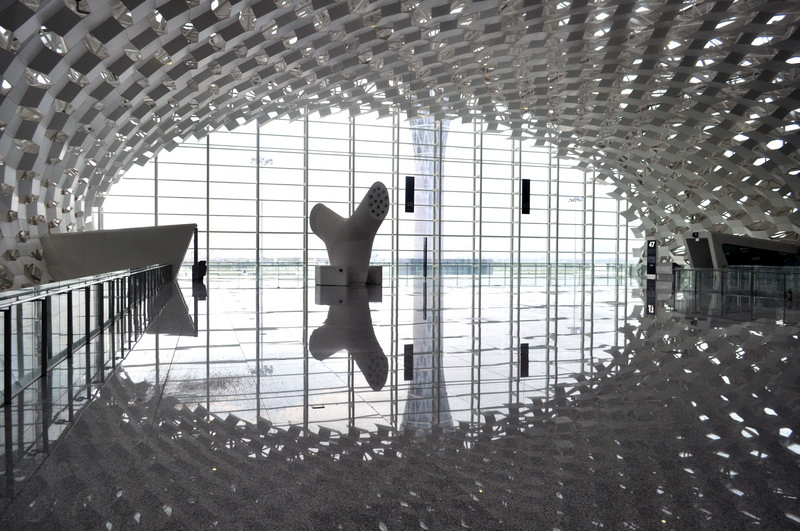 The design of Terminal 3 has been optimised to make the best use of natural ventilation and light. Photovoltaics will meet the electricity demand, producing about 950 million units of electricity each year. Future photovoltaic generation is expected to reach a capacity of 10MW that will be also used to support the electronic devices of the entire airport.
Arup was appointed to provide an holistic sustainable design and performance-based fire engineering consultancy to ensure passenger comfort, safety and resilience. The firm developed a comprehensive fire strategy, conducted computational fluid dynamics smoke extraction and evacuation simulation, and thoroughly analysed the steel structures.
Terminal 3 will also be a "green" aviation building, with a unique double-layer envelope of glass and steel. The weatherproof, sound and thermal insulation embodied outer skin serves as a barrier to resist aviation noise and excessive thermal exchange, while the high-performance glazing unit reduces solar heat gain during summer. The design also incorporates other sustainable concepts and technologies, including chilled water storage, zoned air-conditioning design, heat recovery and a solar hot water system. These will save up to 25% a year on energy costs and make the Terminal building the first National Green Building Star Label (2-Star) certified airport terminal in China.
Shenzhen Airport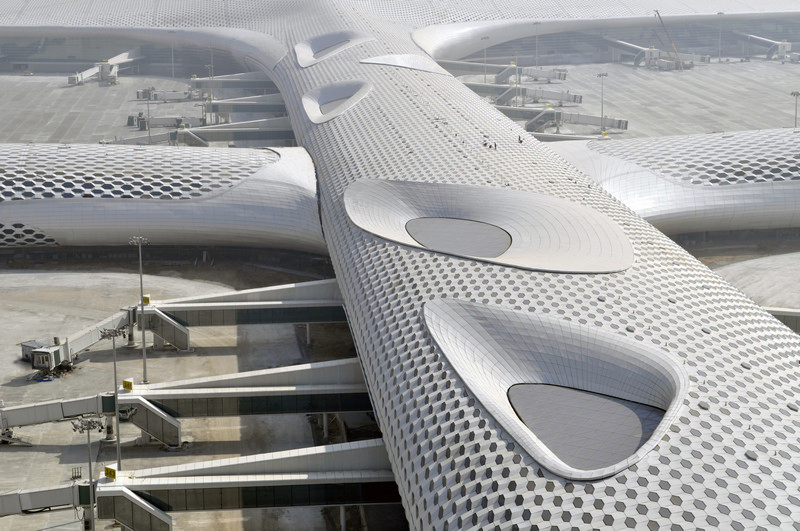 The master plan for Shenzhen Bao'an International Airport intends to offer world-class transportation services The 500,000 sq.m. Terminal will be built in three phases, with the final elements completed in 2035. Achieving this means that Shenzhen airport must be operate at the following levels: Globally, Terminal 3 at Shenzhen Bao'an International Airport must serve as the global aviation gateway between China and the rest of the world, and Nationally, as the fourth largest airport in China after Beijing, Shanghai, and Guangzhou in China, Shenzhen Bao'an International Airport is a trunk of domestic flights and hub of national flights.
Phase 2 scheduled for completion in 2025 is due to commence following the completion of Phase 1 and will be based on the overall master plan. During Phase 2, the first remote passenger concourse will be constructed to add gates, and the satellite terminal with rail stations will be operational. Phase 3 scheduled for completion in 2035 will focus on the development of the airport's west side and upon its completion Terminal 3 Shenzhen International Airport will be fully constructed.
More information at www.fuksas.it