Our carbon woes 
You've read the news – record breaking droughts, polar ice caps melting, sporadic monsoons and hurricanes that increasingly fall outside the usual climatic cycle. You've also seen the films and the increasing list of publicity savvy actors and actresses promoting the importance of fighting climate change. Global warming has prompted governments to ensure the design of more sustainable places that may kerb the negative attributes of development, which currently account for 50 % of global carbon emissions, of which 80% is generated by cities.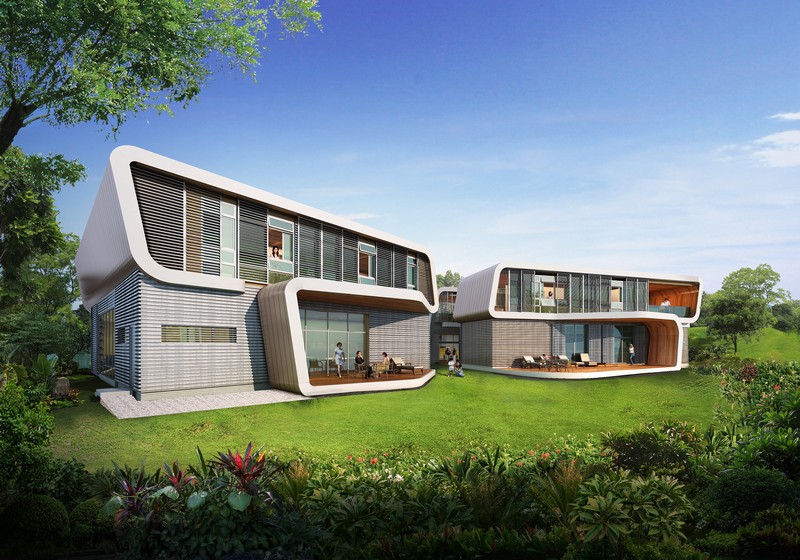 At one end of the green spectrum, you have the nay-sayers, content with burying heads in the sand, and who believe that sustainable design is a passing trend. Then there are those who are convinced that our carbon woes will disappear if we invest in the various green rating systems that arguably reduces sustainable design to a tick-box checking exercise. At the opposite end of the scale, there are those moving towards 'carbon zero' (i.e the ability for a development's energy consumption to be offset by on-site energy production via renewable energy sources, such as solar, wind, hydro, or bio fuel), largely influenced by legislation, though often side-lined given the perception of increased costs. This may be the case if the development is not passively designed in the first place. Incorrect orientation, the lack of understanding in basic building physics and the thermal performance of materials, and a 'business as usual' approach to the design process will hardly yield the results expected. Coupled with an increased quantum of renewable energies to offset a larger carbon footprint, it is no wonder why developers think twice before exploring such an overt green approach. 
Sustainable design – back to basics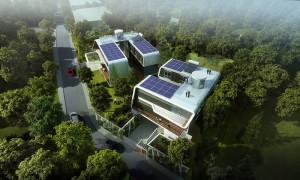 Yet sustainable design is hardly rocket science. Rather, it's about going back to basics. Allow me to use the Caveman analogy. Caveman used to sit by the mouth of the cave for shelter, natural light and ventilation. But the discovery of fire allowed them to move deeper inside the cave. Technological advancement has seen us retreat deeper and deeper inside the metaphorical cave, and thus become more reliant on artificial sources to the detriment of our environment. A return to the mouth of the cave, therefore embracing natural light, natural ventilation, coupled with enhancing water efficiency, incorporating greenery and the utilization of appropriate materials that yield heightened thermal performance can help drive down the carbon footprint, and therefore running costs of development. Buildings of the past embraced such principles before the advancement in building technologies. Whether the townhouses of Europe or the Kampung houses of South East Asia, much can be learned from the past in order to design more sustainably for the present.
Designing to zero energy 

My studio believes in what we call the 3D's – to 'Distil, Design and Disseminate'. We distil the essence of past building traditions and their socio – cultural and environmental responsiveness, in order to be able to design for the present, after which we can learn from such endeavours to disseminate the knowledge for future generations. The kampung house was my source of inspiration when designing the first zero carbon house in Asia for Sime Darby Property several years ago. Called the 'Idea House', the R & D prototype distilled the essence of the Kampung tradition. Its narrow floor plates optimized daylight penetration and cross ventilation, its appropriate orientation mitigated solar heat gain to the east and west elevations, and its deep overhanging roofs provided shade and shelter whilst permitting an outdoor living experience on the extended terrace spaces that were so intrinsic to kampung life of the past. Coupled with a 98 per cent water efficiency through rain and grey water harvesting, and actually a 'carbon negative' position given the photovoltaic array that generated 20.7MWh/m2 / year when the house consumed 17 MWh /m2 / year, the house was ground breaking in nature and the lessons learned was subsequently disseminated through a book I authored.
B house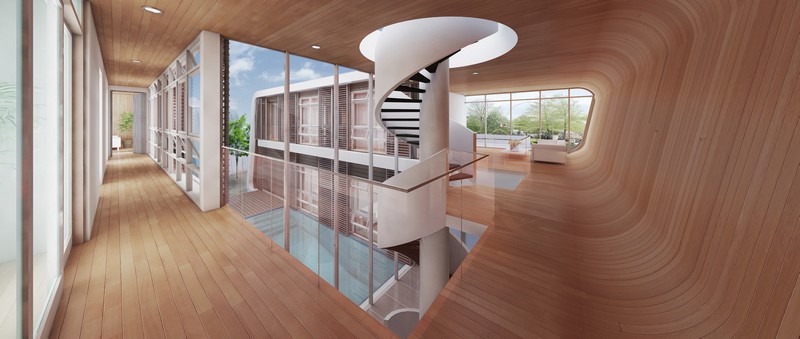 Fast forward a few years and my studio continues the line of development into zero carbon development as one of its research avenues. But these are no longer just prototypes. Instead, we have applied such principles to commercially orientated real estate – thus balancing a creative vigour with an academic rigour. The B houses are a case in point. Our client wanted the benefits of never having an energy bill again, and a greater reduced water bill. The challenge was therefore to create 2 zero carbon houses, each of 500sqm, in an upscale part of Singapore at the same cost of a bungalow of comparable scale. This time we reinterpreted another passive house typology indigenous to Singapore – the black and white bungalow. Courtyards, extended terraces and deep overhangs with narrow floor plates and high ceilings characterize the development that again has been orientated to minimize solar heat gain and maximize cross ventilation.  A modular design that employs a 1.2m planning grid throughout will permit a construction process of just 3 months, with no wet trades on site. And an array of only 100 sqm of photovoltaic cells per house brings this project to a zero carbon position. Planning permission has been granted and we are now finalizing the construction documentation with our dedicated supply chain.
And the cost of construction? 2,600,000 SGD per house – marginally less than a 'business as usual' bungalow in the same area, of which the renewable energies only accounted for 2.3 per cent of the budget (60,000 SGD for 100 sqm that generate a predicted energy output of 16.00MWh/year and is able to cover all of the energy consumed by a family of 5). With the price of energy and water rising, and the cost of renewable technologies decreasing; and with an increasing attunement of developers waking up to the economic benefits of green design, what's not to love about carbon zero development?
Prof Jason Pomeroy is the Founding Principal of Pomeroy Studio: designers and thought leaders of sustainable built environments.
Visit www.pomeroystudio.sg.