The design of the Hisham A. Alsager Cardiac Center in Kuwait exemplifies modern approaches to healthcare architecture to a tee. With the aim of eschewing perceptions of such facilities as clinical or intimidating, AGi Architects have worked towards creating a positive, thoughtful and sensitive space that prioritises patient wellbeing.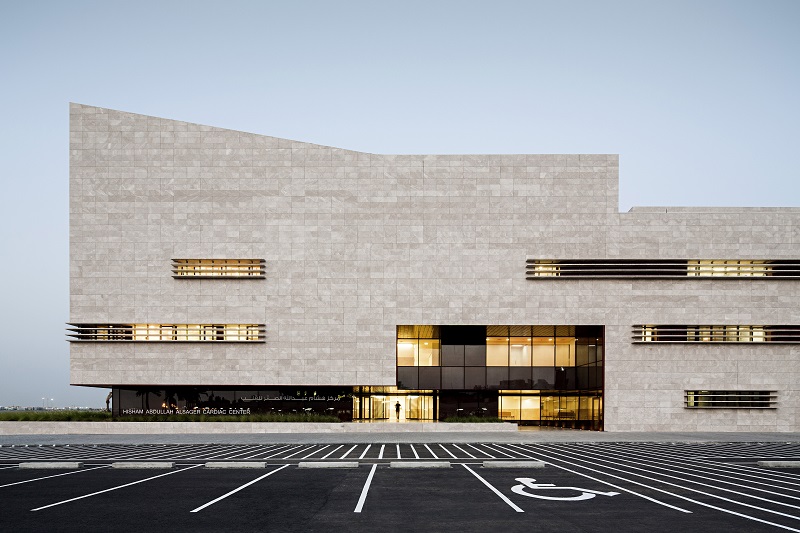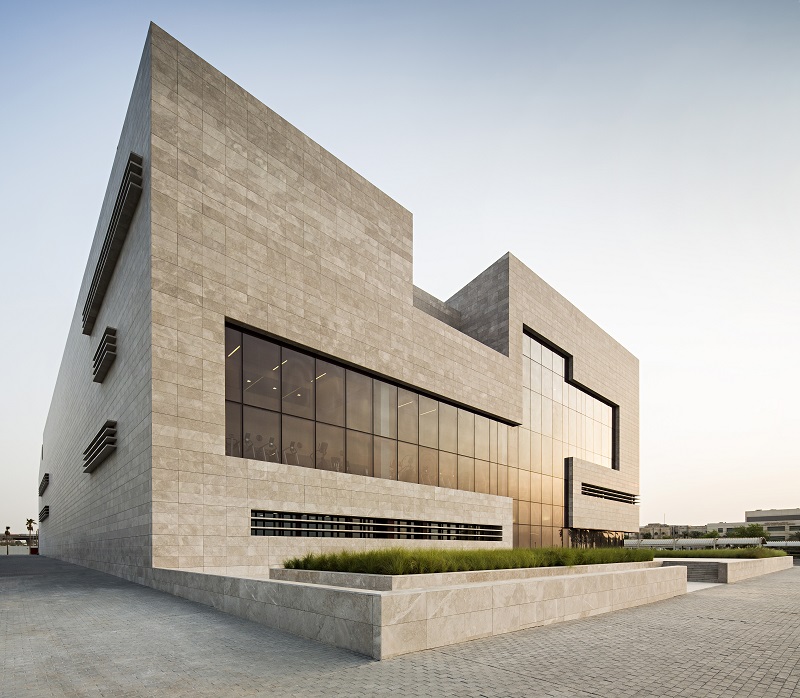 As the first point of connection between the patient and medical centre, the exterior of the centre has been given more than a passing thought as a functional container. The designers have produced a sharp volume that contains two large red openings in the facade to create a dramatic entrance and invite access to the building. The stone clad facade provides the necessary protection from harsh weather conditions and ensures a highly sustainable performance with low maintenance.
The anatomic scheme of the heart and its mechanism within the human body was the defining inspiration for this project. This is clearly visible in the design of the central atrium, with a three storey high scarlet-coloured interior space to which the waiting areas and internal circulations of the building are connected. Patients move to and from this central space just as red blood cells do, and are received in the clinics and different departments to be put back in the circulatory system once "re-oxygenated".
Cardiovascular medicine, its basis, and even the aesthetic of its tools have been used to rewrite the playbook and allow AGi Architects to propose a different kind of healthcare building. With an experiential attitude, this takes into account the specific needs of users and seeks to make their stay in the hospital as stress-free as possible. Clinics are grouped in three levels at the south part of the building, and are disposed as small specialised self-managed cells managed by one doctor and their team. Each clinic incorporates three spaces: two exam rooms and one consultation office, each with their own combined waiting area. Each "cell" is strategically placed between courtyards, providing all rooms with the natural light, ventilation, and privacy that is conducive to making their visit a positive experience.
Patients and workers are able to access the various clinics from different directions, thereby improving circulatory efficiency, in a feature that is once again inspired the composition of the human circulatory system. Specialised rehabilitation areas, including a pool, gym, and running track, as well as the research and administration services, are situated on the Center's higher floors, providing visitors with magnificent views of Kuwait Bay to the north.
Within this cluster, the main physical activity spaces are not limited to the ceiling height of a single storey, but rather are set across two floors, thereby creating an expansive and "oxygenated" experience for patients and workers alike. AGi Architects' conceptualisation of the Hisham A. Alsager Cardiac Centre is wholly indicative of how a build's ultimate purpose can inspire both the functional and aesthetic style of its design.