(13 July 2020, Hong Kong & Macau) JLL has identified Shenzhen as the primary growth node in the Greater Bay Area (GBA) as its concentration of highly innovative and technically-advanced industries could help stimulate economic development in related businesses and industries. Hong Kong is expected to be one of the key drivers to lead the GBA's next stage of growth, which requires the development of financial and professional services, thanks to its global financial hub status, according to JLL's recently published The Greater Bay: the path ahead whitepaper.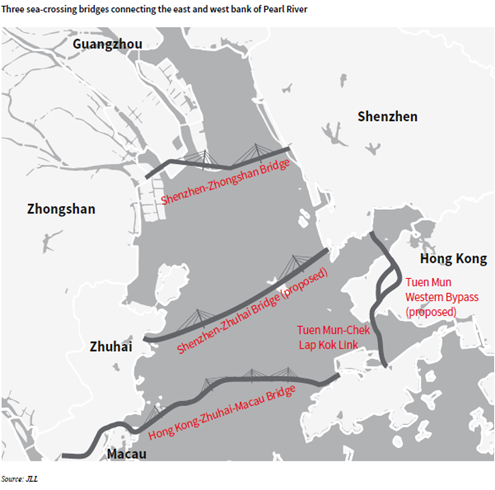 The GBA's next stage of growth will require the development of a strong service sector, specifically financial and professional services. This will be Hong Kong's key role – to provide a gateway to global capital markets for mainland Chinese firms in this region. From September 2019 to February 2020, 17 firms originating from Guangdong submitted IPO applications to the Stock Exchange of Hong Kong (SEHK), versus 15 in total to the Shanghai and Shenzhen Stock Exchanges. This illustrates that the option to launch an IPO via SEHK opens much needed financing opportunities to mainland Chinese firms in the GBA.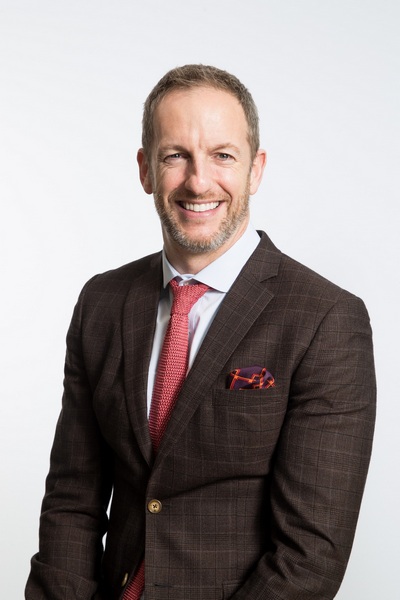 Gavin Morgan, Managing Director at JLL in Hong Kong and Chief Operating Officer in Greater China, says: "The continued role of Hong Kong as a financial hub will support the office demand. Offices near the West Kowloon High-Speed Rail Station are expected to be a new target due to the efficiency of transportation. For GBA companies in the tech and manufacturing segments looking to compete for market share on the world stage, Hong Kong will be a preferred location where essential functions such as finance, research and marketing are housed. The Lok Ma Chau Loop Innovation and Technology Park, located between Hong Kong and Shenzhen, will provide additional accommodation options for entities in the region."
It is also expected that within the next five years, beyond the three core cities (Hong Kong, Guangzhou and Shenzhen), growth drivers will come from three important city clusters: Hong Kong-Zhuhai/Macau-Shenzhen, Shenzhen-Zhongshan and Shenzhen-Dongguan-Guangzhou-Foshan.
"Following the improving connectivity and the deepening of economic ties between cities, we will also see a new round of urban expansion and industrial transfers in the region. It will bring new demand for various property sectors, which will create opportunities for developers and property investors," says Nelson Wong, Head of Research at JLL in Greater China.
Investment opportunities in the GBA
There will be three sea-crossing bridges connecting the east and west bank of Pearl River. JLL expects the construction of the Shenzhen-Zhongshan Bridge will help Zhongshan attract more logistic facility development, which is increasingly unprofitable in Shenzhen due to limited land supply. Meanwhile, some manufactures in Shenzhen will consider moving their factories to Zhongshan, workers will migrate as well. Zhongshan's housing market is likely to experience a boom, indicating great opportunities for developers. The outflow of lower-end manufacturing will free up precious land for Shenzhen to accommodate more high-value activities such as R&D and smart manufacturing.
The retail and tourism markets will also be benefited from the improved connectivity between cities. Shenzhen is on the path to becoming a new and significant source of tourists as it experiences exponential growth of its middle class as well as improved connectivity with Zhuhai/Macau.
"We believe the opening of the Hong Kong-Zhuhai-Macau Bridge in October 2018 has benefited the tourist and retail sectors of both Macau and Zhuhai, as shown by the surge in Macau's visitor arrivals and Zhuhai's overnight visitors in 1H19. In future, with more transport infrastructure like the Tuen Mun-Chek Lap Kok Link completes, Macau and Zhuhai will see more opportunities," says Gregory Ku, Managing Director of JLL Macau and Zhuhai.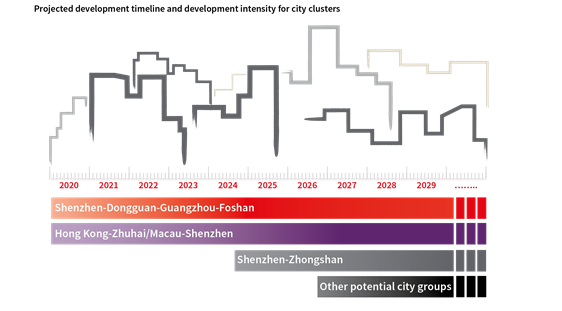 Seeding new districts with TODs
Transit-oriented developments (TODs) are mixed-use projects with office, retail, and apartment components which are tightly integrated with inter-city and local rail networks. TOD projects will likely be promoted by local governments in upcoming areas of the GBA to attract experienced investors, and it will become a preferred mode of entry for foreign or Hong Kong developers and investors, as they have abundant experience and can bring strong branding. In office market, GBA initiatives have helped to drive rapid growth in the TMT and finance sectors, leading to a significant surge in absorption in both the Guangzhou and Shenzhen Grade A office markets in the last five years. In Guangzhou, absorption are expected to rise by 40% or more in the next five years while the rate in Shenzhen may rise as high as 50% over the same period. While the unfolding coronavirus situation means that office demand in GBA may face strong pressure in the short term, medium-to-long-term growth predictions remain favorable.
For more details, please download 'The Greater Bay Area: the path ahead' report here.