(12 April 2019, Hong Kong) Hong Kong maintains its position as the world's most expensive residential city, while Shanghai, Shenzhen, and Beijing, respectively took the third, fifth, and ninth place, according to research released today by CBRE.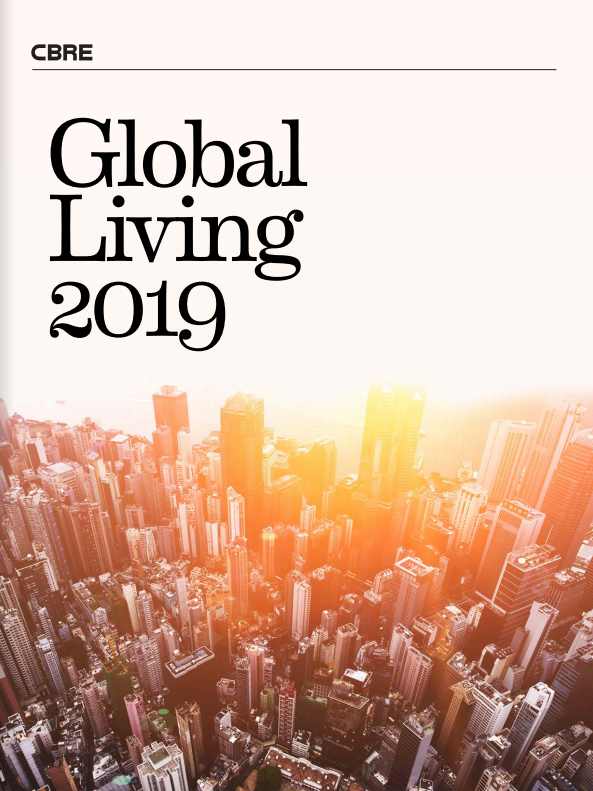 In the fifth annual Global Living report, CBRE profiles the property markets across 35 key global cities. The results highlight that investments in urban areas such as transport infrastructure, connectivity, retail, cultural centres and housing are key drivers of economic growth.
Jennet Siebrits, Head of Residential Research at CBRE UK, comments:
"In the fifth edition of the 'Global Living' report, we have expanded the number of cities we examine from 29 to 35. They include the most exciting cities in the world, from emerging technology-driven powerhouses like Shenzhen and Bangkok through more traditional capital cities such as Rome and Lisbon, to rapidly evolving modern urban centres like Dubai and Johannesburg."
"The world's greatest cities continue to transform to encourage innovation, increase their working and living populations and create new commercial opportunities for businesses."
The top three most expensive places to buy a property are once again in Asia. Hong Kong remains the city with the highest value residential real estate, with an average property costing $1.235m ($2,091 per sq ft). Singapore remains in second place, averaging $874,372 ($1,063 per sqft), and Shanghai is third at $872,555 ($714 per sq ft). As observed in last year's report, all these cities have introduced cooling measures to keep prices under control.
Jennet Siebrits, Head of Residential Research at CBRE UK, comments:
"House prices increased year on year across 30 out of the 35 cities we looked at, although generally at lower rates than previously. In general, we are seeing house price growth slow across our cities as we move towards the end of a long property cycle. We would expect increasing interest rates to be affecting cities in the US, and various cooling measures affecting the Asia Pacific region."
"Six out of the ten cities with the highest house price growth are in Europe. Three of these, Barcelona, Madrid, and Dublin, all suffered severe price falls in prices during the financial crisis and took much longer to recover from the economic downturn that followed. Now they are recovering they are showing significant growth. In comparison, London recovered much faster after the downturn and is now further into the cycle."
The research also highlights considerable rental growth in many European cities, including Lisbon, Madrid, Dublin and Barcelona. Supply constraints and increasing demand were among the factors leading to Lisbon and Madrid's continuing double digit rental growth.
Jennet Siebrits, Head of Residential Research at CBRE UK, comments:
"Six European cities feature in the top ten for rental growth, including London. These cities are all facing increasing demand and a fundamental lack of supply. In addition, three Canadian cities feature in the top ten – Vancouver, Toronto and Montreal – driven by strong employment growth and low vacancy rates."
Read the full report here: www.cbreresidential.com/global-living-2019