(Hong Kong, 6 November 2015) Hong Kong Science and Technology Parks Corporation ("HKSTP") is pleased to announce that Hong Kong Science Park Phase 3 ("Phase 3"), HKSTP's newest facility dedicated to nurturing smart city related technologies, has been recognised again for its excellence in sustainable architectural design. Building 15W in Hong Kong Science Park Phase 3 has garnered Final Platinum rating under Building Environmental Assessment Method ("BEAM Plus") V1.1 Final Assessment for New Buildings, at the highest score to-date among all accredited BEAM Plus Final Platinum projects.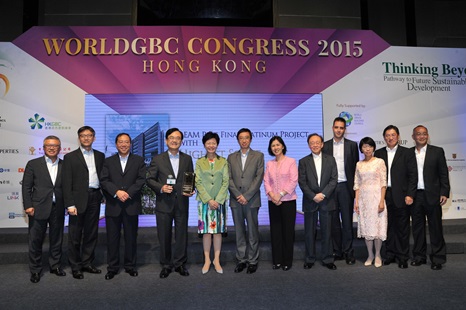 Championed by the Hong Kong Green Building Council Limited, BEAM ratings are among the most esteemed sustainability recognitions for the building industry. The BEAM Plus New Buildings V1.1 assesses and rates buildings on its site, materials, energy and water use, indoor environmental quality, as well as innovations and additions. As one of the first completed buildings of Phase 3 and offering more than 159,000 square feet of R&D offices and laboratory space, Building 15W has scored the highest average ever in the Final Assessment.
Designed with the principles of "reduction, efficiency and generation" in mind, all buildings in Phase 3 embrace the latest green technologies and cost-effective energy-saving measures, making it the largest applications of green technologies in Hong Kong. As Hong Kong prepares for its transformation into a smart city – one of the most significant global technology megatrends impacting today's world-class cities – Phase 3 serves as a showcase of low-carbon, energy-efficient technologies and sustainable building practices that can be applied to smart cities. Smart City is one of HKSTP's three over-arching cross-disciplinary platforms for focused development, alongside with Robotics and Healthy Ageing.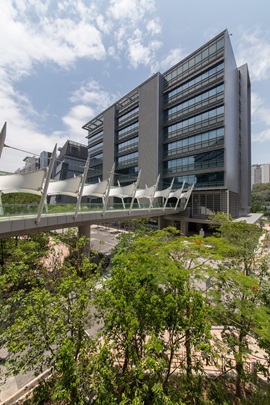 "HKSTP is dedicated to supporting home-grown technological innovations, thus helping to foster the growth of advanced and environment-conscious manufacturing in Hong Kong," said Allen Ma, CEO of HKSTP. "We have acted upon our commitment to a sustainable future by striving to develop a low-carbon and energy-efficient hub that facilitates the development of sustainable and innovative technologies."
"Therefore, we couldn't be happier with our building in Phase 3 scoring top among all BEAM Plus Final Platinum projects," continued Ma. "This is a clear indication that we have served well as an example and to the benefit of those who call Phase 3 home. This coveted industry recognition will propel us forward as we continue to catalyse Hong Kong's development into a smart city."
Hong Kong Science Park Phase 3 development spans 6.24 hectares and offers a total gross area of 105,000 square metres of R&D offices and laboratories to technology start-ups and multinational enterprises alike. By incorporating green features and sustainable designs aiming for overall sustainability, Phase 3 aspires to encourage sustainable construction practices with renewable energy targets. As a green technology hub, Phase 3 serves to aid the development of a roadmap of using renewable energy in Hong Kong Science Park itself and inspire innovation in green technologies in Hong Kong and the Pearl River Delta. As of today, Phase 3 development has already earned nine industrial awards and three green accreditations.