(12 September 2016, Hong Kong) Hong Kong is the third most sustainable city in Asia, trailing behind Singapore and Seoul – according to the Sustainable Cities Index from Arcadis, the leading global Design & Consultancy for natural and built assets. Zurich is the top-ranked city globally. The advanced Asia Pacific cities of Singapore (in second place), Seoul (7th), Hong Kong (16th) and Canberra (18th) join well-established European cities which dominate the top twenty of the overall ranking. No North American cities made it into the index's top twenty.
The index, compiled for Arcadis by the Centre for Economic and Business Research (Cebr), explores three pillars of sustainability – social (people), environmental (planet) and economic (profit) to develop an indicative ranking of 100 of the world's leading cities. The overall index analyses 32 different indicators and is broken down into three sub-indices across each pillar.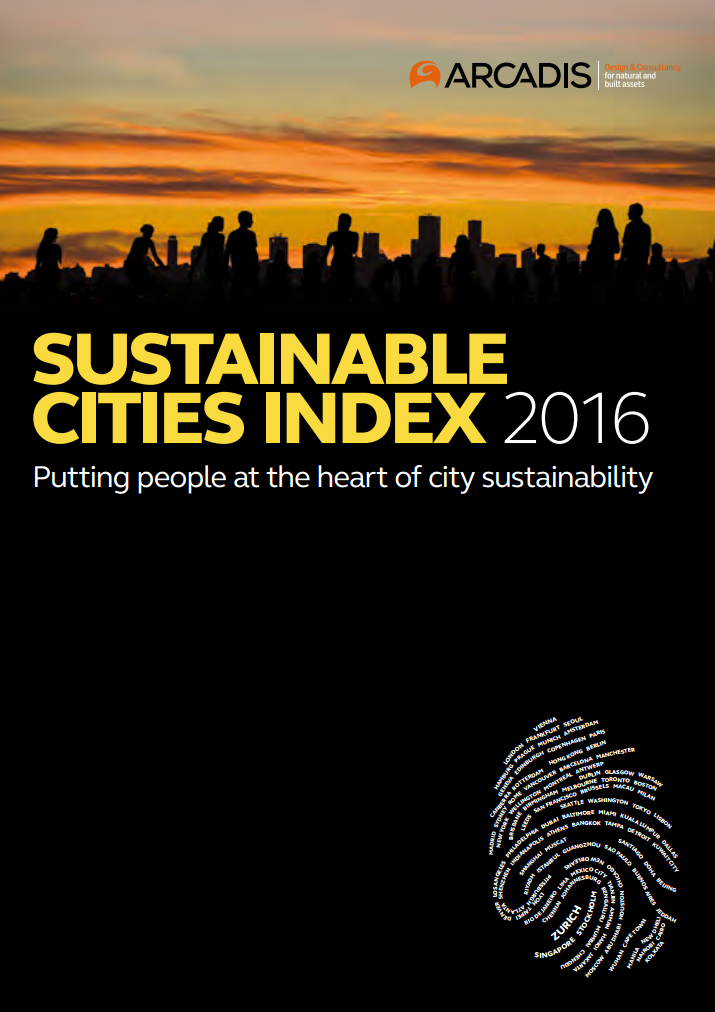 With an overall ranking of 16, Hong Kong scores particularly well in the Profit Sub-Index. With a world class infrastructure, vibrant economy and well-educated talent pool, it's no surprise that Hong Kong is considered one of the world's best places to do business. It ranked 2 in the Profit Sub-Index.
Francis Au, City Executive for Pearl River Delta (PRD) at Arcadis comments: "Hong Kong's achievement of becoming one of the most sustainable cities in Asia is testimony to government and industry successfully working together over the decades. There is plenty which can be used as a model for other PRD cities in their quest to becoming more sustainable. However, Hong Kong is under increasing pressure from regional competitors and, critically, it has to maintain its relevance to China's continued development. Having an environment that makes it easy to do business is essential to maintaining our competitive edge. Yes we can be proud but we shouldn't rest on our laurels as we can do even better in the timeliness of both our decision making and funding. We need to be practical and highly efficient in our administration of policies. These are critical aspects to set Hong Kong apart from our competitors."
With its national parks and islands providing easy access to green spaces for residents, Hong Kong is also one of Asia's leading cities in relation to the environment and the planet sub-index. However, it faces significant challenges in relation to air pollution, urban space and waste management, which hinder Hong Kong from becoming even more environmentally sustainable. The city does substantially less well against global peers in the People Sub-Index, especially in relation to work-life balance and the wealth gap.
Au added: "We've always been excellent at building infrastructure however this won't be enough to ensure the city remains competitive and sustainable in the future. Putting people at the heart of matters is the right way to go and the city's top priority should be focusing on improving quality of life. The city has to be able to attract and retain the best talent. This includes addressing and finding faster, more connected and sustainable solutions to housing, social infrastructure and environmental issues affecting both the young and the increasingly aging population."
At the extremes: Sustainability of global cities polarized
The report also demonstrates that cities around the world are living at extremes and exhibit polarized performance across the three pillars of sustainability. For example, Singapore and Hong Kong excel in the profit arena but have further room for improvement in the sustainable living conditions of people in their cities. They sit in first and second place, respectively, on the profit sub-index, compared to 48th and 81st for people.
The rankings for Asian cities in the 2016 Arcadis Sustainable Cities Index are: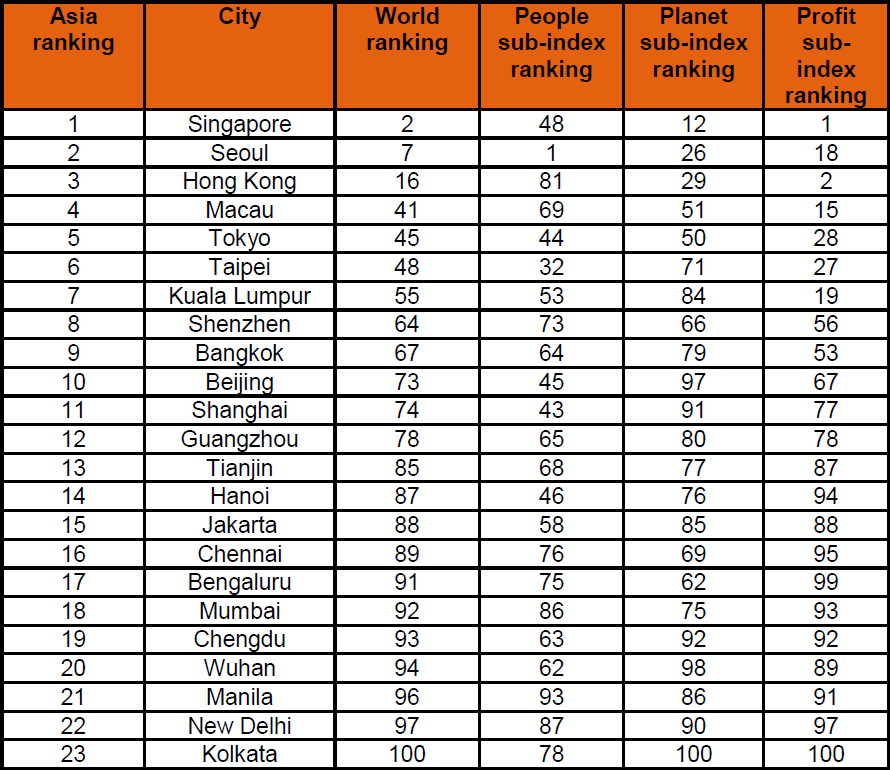 The full findings can be found here:
https://www.arcadis.com/en/global/our-perspectives/sustainable-cities-index-2016/
Graham Kean, Executive Director, Asia at Arcadis comments: "Across Asia there are extremes between both the countries and within the sub-index rankings, suggesting many of these cities have the potential to do even better by balancing their performance across the three pillars of sustainability. Singapore and Hong Kong take the top two spots on the profit sub-index; but long working hours and commutes and high cost of living hamper their social sustainability performance. Meanwhile, South Korea's capital, Seoul, leads on the people sub-index, performing well on social sustainability factors."
Kean continues: "Too many of our Asian cities included in the index sit within the bottom half of the ranking (Over 70%). This clearly demonstrates the gap between the advanced cities and the developing cities in Asia. It also means when it comes to improving the sustainability of a city in Asia, there are plenty of opportunities to adapt and many lessons can be learned from other global city examples. City authorities need to truly understand their own challenges and opportunities to develop effective strategies to improve the sustainability of their cities."