(7 September 2022, Hong Kong) As part of its commitment to climate action and to meet the changing expectations of its tenants, Hongkong Land announces three important sustainability initiatives: the ongoing implementation of a 'Control Tower Concept' that uses machine learning to drive energy savings and efficiencies across its Central Portfolio in Hong Kong; the installation of 159 new solar photovoltaic panels ("PV") in Three Exchange Square and Gloucester Tower by Q1 2023; and the launch of a pilot Green Fit-Out and Operation Recognition Scheme for tenants.
"Hongkong Land has been an early mover in developing a sustainable ecosystem within its property portfolio," said Mr Neil Anderson, Director and Head of Office, Commercial Property at Hongkong Land. "Our success is built on our constant adoption of innovative solutions and being prepared to invest substantially to ensure our buildings meet the highest standards.
"The actions we take today contribute to the fight against climate change. Equally important, we are meeting the growing expectations of our tenants and customers for best-in-class sustainability. This ensures our Central Portfolio is well positioned for long-term sustainable growth," he concluded.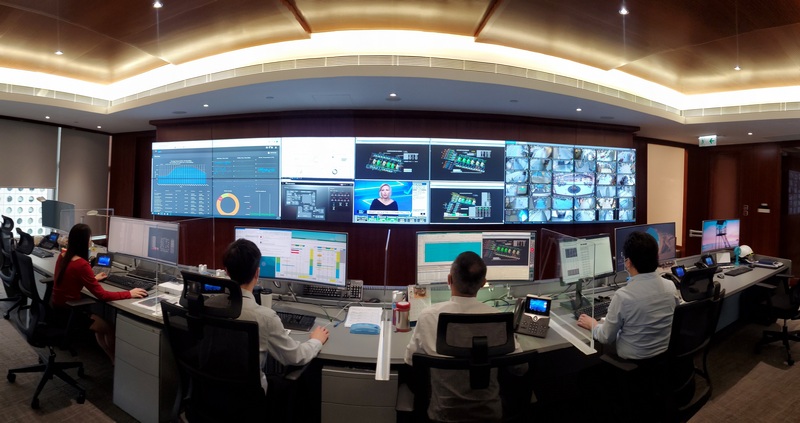 Ambitious climate action targets
To support Hong Kong's transition to a low-carbon economy, Hongkong Land has set itself 35 ambitious targets as part of its Sustainability Framework 2030. Core targets include reducing absolute Scope 1 & 2 GHG emissions by 46.2% by 2030 from 2019 – a saving of more than 90,000 tonnes of CO2; reducing carbon intensity for Scope 3 GHG emissions by 22% from purchased goods and services over the same period; reaching 50% electricity consumption from renewables, including onsite generation; and achieving 50% of debt facilities from sustainable financing.
These science-based targets were approved by the Science Based Targets initiative ("SBTi") in June 2022, making Hongkong Land only the sixth Hong Kong headquartered company to achieve validation.
Leveraging PropTech to drive energy performance
To meet its 2030 targets, a primary goal is to reduce air-conditioning energy use, which currently accounts for 45% of total energy consumption in the Central Portfolio. An important initiative to achieve this includes Artificial Intelligence ("AI") optimisation through JEDI (Jardine Engineering Digital Insights). This has resulted in efficiency gains in chiller usage of up to 14% and annual energy savings of 700,000 kWh.
Additionally, the Group has introduced the ComfyApp that gives tenants personalised control of air temperature and air conditioning and leveraged IoT and the LoRaWAN network to automate indoor environment quality. The ComfyApp will be expanded to cover 1.5 million square feet of the Central Portfolio by year-end.
These innovations, which form part of an Integrated Smart Management System (ISMS), have contributed to the evolution of the Control Monitoring Centre ("CMC") in Exchange Square into a big data analytic hub. In the past 12 months, energy savings of 6.6% have been achieved in the Central Portfolio.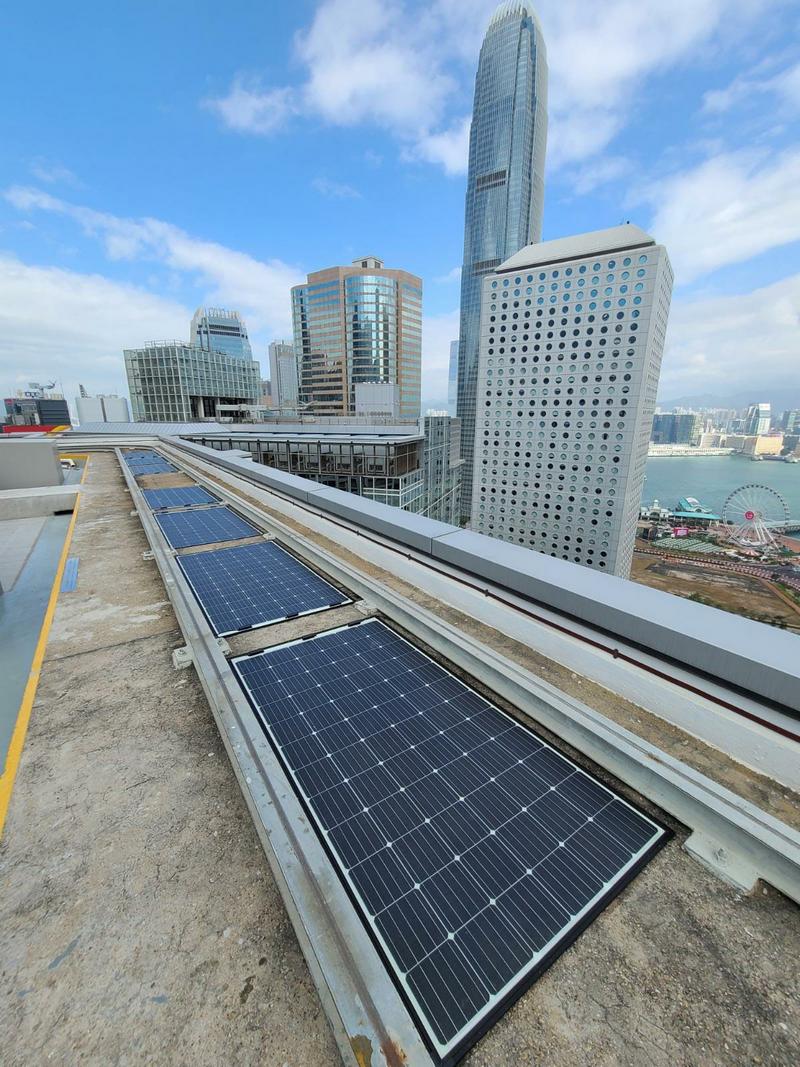 First-of-its-kind 'Control Tower Concept'
To drive further energy savings, the Group is implementing a first-of-its-kind in Hong Kong 'Control Tower Concept' that uses machine learning to adjust the indoor air temperature for the entire Central Portfolio. It achieves this by evaluating significant data, including footfall traffic records, human sensation data, building parameters, outdoor conditions, and IoT sensors data. Integration of this data will drive efficiencies and lead to predictive maintenance and operation.
Other areas where the Group will drive energy savings include enhancing its pioneering seawater cooling system – which uses 20-35% less energy than air-cooled systems – and further investment in chiller units, including the installation of a new unit in Landmark.
Increasing onsite renewable energy generation
To reach its goal of 50% electricity consumption from renewables, Hongkong Land plans to directly and indirectly procure renewable energy. In addition to the use of renewable energy certificates, it will maximise onsite generation opportunities.
Since 2010, the Group has installed more than 700 PV panels across its Central Portfolio, the largest installation of PV panels among any property developer on Hong Kong Island. Generating 30,000 kWh, they are connected to the power grid and the HKSAR Government's Feed-In-Tariff ("FIT") scheme. An additional 159 panels will be installed in Three Exchange Square and Gloucester Tower before Q1 2023. This will increase power generation to 103,000 kWh per annum.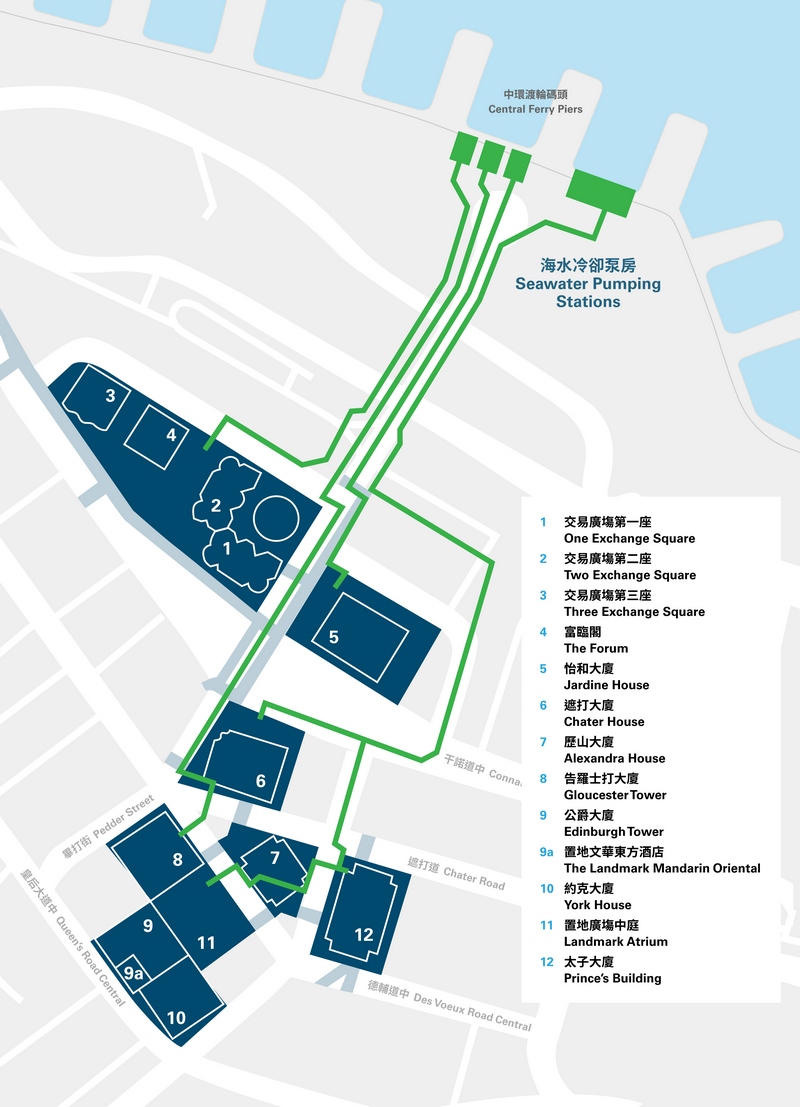 Launch of pilot Green Fit-Out and Operation Recognition Scheme
Over the past 12 months Hongkong Land has seen a significant increase in existing and prospective tenants' sustainability requirements during leasing discussions. During the period, the Group has met those requirements, resulting in long term lease extensions and the securing of a major international asset management firm as a new tenant in Q4 2022.
Hongkong Land has also recently launched a pilot Green Fit-Out and Operation Recognition Scheme recognising tenants that adopt environmental practices during the design and construction of fitting out projects, as well as in the operation of premises. The anchor tenant Hong Kong Exchanges and Clearing Limited is the first company to undergo the pilot.
Reducing waste, recycling and sustainable materials
The Group has also committed to improving its commercial waste diversion rate by 50% and achieving an embodied carbon reduction target of 22% as part of its 2030 targets. Good progress is being made in reducing waste and utilising eco-friendly materials across the Central Portfolio. In 2021, more than 1,100 tonnes of waste was collected and diverted from landfill, representing a 34% diversion rate in the Central Portfolio.
The Group endeavours to use eco-friendly materials in its existing buildings and for new projects. For example, Terrazo, an eco-friendly material, was used in the walls and floors in BaseHall, while metal rods, previously used at Amber in The Landmark Mandarin Oriental were reused as panels in the female and male washrooms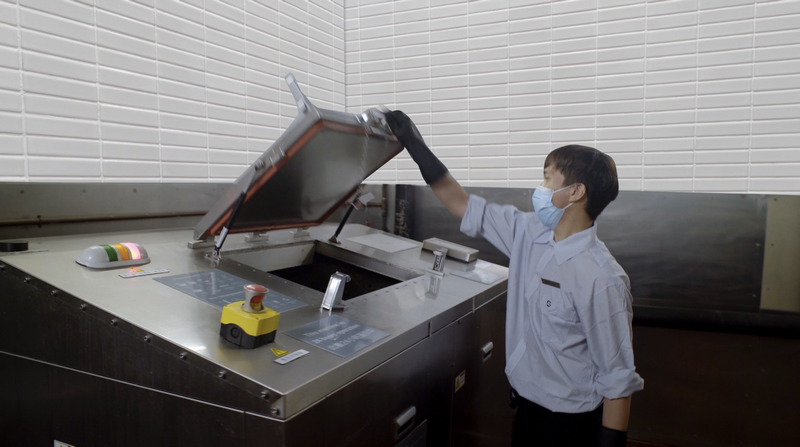 Heritage of green building leadership
The initiatives announced today are an extension of Hongkong Land's long history of operating green buildings. The Central Portfolio was the first set of buildings in Hong Kong to be certified under HK-BEAM for Existing Building Developments (Version 5/03) between 2003-2005, with York House becoming the first commercial building in Hong Kong to achieve a Platinum rating under BEAM Plus in 2007.
As of today, all the Group's commercial buildings in Hong Kong and Singapore have the highest ratings of BEAM Plus Platinum (Existing Buildings Comprehensive Scheme) or Green Mark Platinum certifications. Illustrating the Group's leadership, more than half of the commercial buildings in Central and the Western District of Hong Kong that are BEAM Plus EBv2.0 Comprehensive Scheme A Platinum rated are owned by Hongkong Land. The Group's success stems from consistently innovating and retrofitting its assets to meet the latest standards, with annual capital expenditure averaging between US$50-100 million.