A complex, circular-shaped hub for learning in the 21st century takes aspects of technology, communication and education, combining them in a beehive of industry and modernity.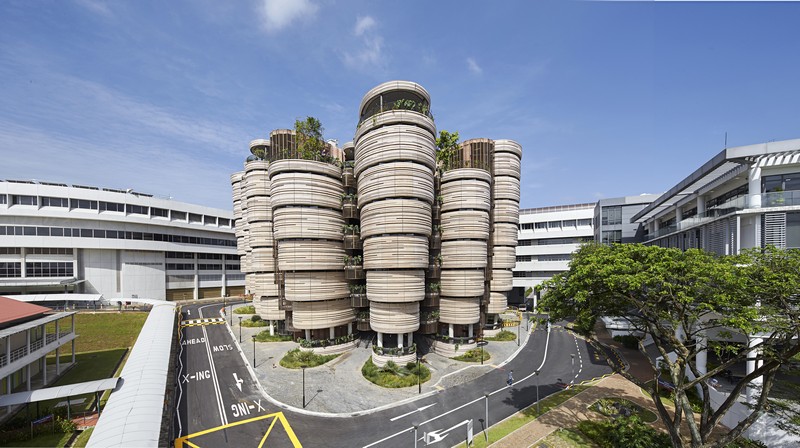 A new building at Nanyang Technological University does away with corridors and classrooms to create a flexible learning environment that is pushing the boundaries of educational architecture.
The Learning Hub in Singapore provides 56 tutorial rooms without corners or an obvious "front" or "back" of the room. The building was opened in March after a three-year build. The project has just been announced as a finalist in this year's World Architecture Festival.
The Learning Hub is 12 towers – built to a height of 8 storeys or 38.3 metres – each a stack of rounded tutorial rooms, tapering inwards at their base around a central atrium. The structure, with a gross floor area of about 14,000 square metres, is designed to interweave social and learning spaces into a dynamic environment that encourages more relaxed interactions between students and academics.
The new spaces support Nanyang's "flipped classroom" theory that sees knowledge transfer from teacher to students online before classes. Contact hours in class are used for engagement in discussion and debate.
And the structure reflects the modern digital reality of education. The multi-function rooms are thought to drive interactive, small group teaching and active learning. Academics can configure them to better engage their students, and there are fewer barriers for students collaborating.
Rethinking Education
"The new Learning Hub provides an exciting mix of learning, community and recreational spaces for NTU students, professors and researchers from various disciplines to gather and interact," says NTU senior associate provost for undergraduate education Kam Chan Hin. "By bringing people and their ideas together, NTU can spark future innovations and new knowledge that increasingly happen at the intersection of disciplines."
The clustered seating in the new rooms is designed for students to discuss their ideas in small groups, before sharing and presenting their ideas with the rest of the class.
The building is part of Nanyang's HK$4.26-billion redevelopment of the university, the first in 20 years.
The work has been designed by Heatherwick Studio and executed by lead architect CPG Consultants as a part of the university's redevelopment plan.
Practice principal Thomas Heatherwick says the most important commodity on today's university campus is space that can used in a social setting. "The Learning Hub is a collection of handmade concrete towers surrounding a central space that brings everyone together, interspersed with nooks, balconies and gardens for informal collaborative learning," he says.
The building will stay opened until late, allowing students to gather, share knowledge and collaborate across disciplines. The Learning Hub is meant to reassert the role of an educational building in the 21st century.
Heatherwick established the practice in 1994 and has gone on to create a number of iconic works, from the British Pavilion at the Shanghai World Expo 2010, to the modernisation works of Pacific Place in Hong Kong, the Bund Finance Centre in Shanghai and the cauldron of the 2012 London Olympics.
Practical Matters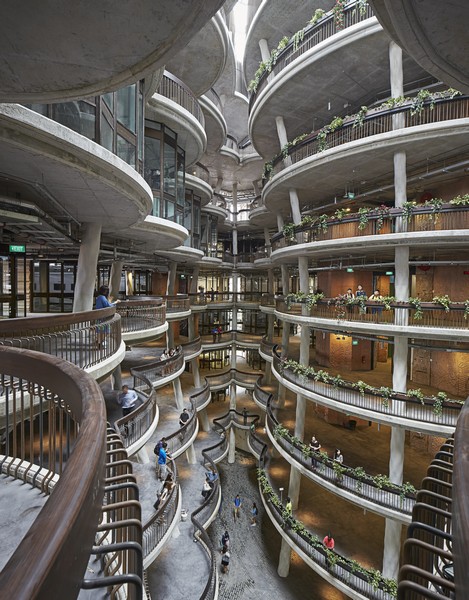 "Heatherwick Studio's first major new building in Asia has offered us an extraordinary opportunity to rethink the traditional university building. In this information age, the most important commodity on a campus is social space to meet and learn from each other.
Singapore's building codes and Nanyang's environmental aspirations meant that a concrete construction was necessary.
To improve the aesthetics, stair and elevator cores have been embedded with 700 drawings cast into the concrete, referencing everything from science to art and literature.
Treatments on the external surfaces of the building lend the appearance of a project that appears to have been handmade from wet clay.
With high year-round temperatures in Singapore, the building's atrium is open and permeable. It is naturally ventilated, maximising the circulation of air around the towers of tutorial rooms. Each room is cooled using silent convection, doing away with the need for energy-heavy air-conditioning fans. Energy-efficient light and motion sensors have been placed in classrooms, toilets and staircases.
GREEN MARK
The design incorporates a generous amount of natural foliage, including internal vertical greenery and rooftop terraces. The reduction in solar glare and heat gain further minimises the need for active cooling. The Learning Hub building was awarded Green Mark Platinum status by the Building and Construction Authority of Singapore, the highest possible standard for a building of this type.
CPG Consultants are the lead architect and sustainability consultants for The Learning Hub. "The most exciting aspect of this project is to see such an inspired design develop into a uniquely contextual and functional building," says CPG project lead Vivien Leong.
CPG is a full service design consultancy that is the modern embodiment of the former Public Works Department of Singapore.
The former government department has a portfolio that includes terminals 1 and 2 at Changi Airport, the National Museum of Singapore and Gardens by the Bay, the striking indoor gardens on the city's waterfront.
CPG was also the architect for Nanyang's School of Art, Design and Media, a building that has been acclaimed for its distinct identity of three intertwining blocks, lush green roof and curtain wall.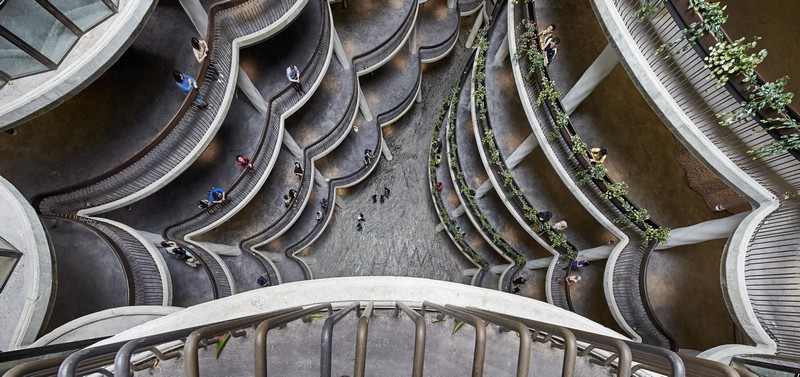 ---