(18 Januray 2017, Macau) – The Macau property market fell to its bottom in 1H16 but rebounded a bit in 2H16 with the launch of several new residential projects, according to JLL in its Macau Year-end Property Review 2016.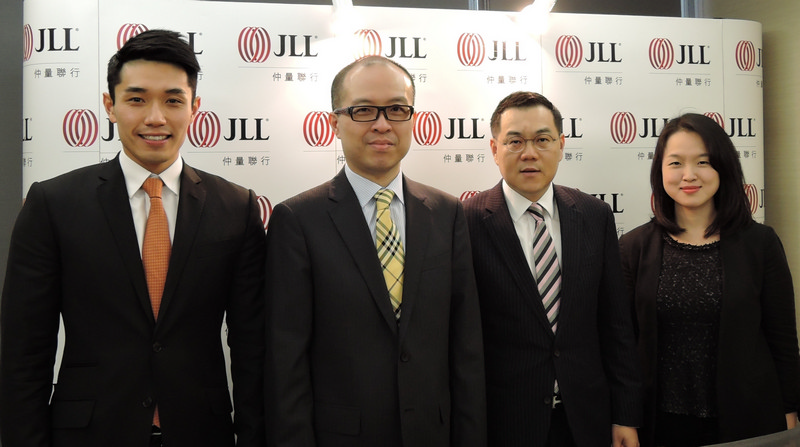 According to the figures released by DICJ, Macau's gaming revenue recorded at MOP 223.2 billion in 2016, with a single-digit fall of 3.3% y-o-y. For the city's gaming revenue in 2H16, it registered growth when comparing with both 2H15 and 1H16. For 2016 as a whole, the gaming revenue from the VIP market declined by 7.0% y-o-y, while the mass market remained relatively stable and accounted for about 46.7% of the total gaming revenue.
In the first three quarters of 2016, Macau's overall GDP recorded at MOP 246.32 billion, down 5.4% y-o-y. With the completion of part of the new gaming facilities in Cotai, the fixed capital formation in Macau fell by 18.1% y-o-y to MOP 54.5 billion in the first three quarters of 2016. During the same period, private consumption expenditure recorded at MOP 66.37 billion, slightly down 1.6% y-o-y.
For the first 11 months in 2016, Macau's visitor arrivals totalled 28,136,000, up slightly by 0.2% y-o-y. Visitors from Mainland China remained the dominant, accounting for 66.4% of the total visitor arrivals, while travellers under the Individual Traveller Scheme (ITS) made up 46.8% of the total number of visitors from Mainland China. At the same time, visitors from Korea saw a growth of 18.5% y-o-y. The total supply of hotel rooms in Macau reached 36,100 and out of which 21,600 are in the five-star hotel segment. With the completion of new hotels in Cotai, the cumulative occupancy rate increased to 82.5% while the average length of stay of guests remained stable at 1.4 nights as of end November 2016.
Macau's labour market was broadly stable in 2H16. According to the DSEC statistics, unemployment rate remained low at 1.9% in November. The overall median monthly income remained stable at MOP 15,000 in end 3Q16. As of October 2016, total resident deposit grew by 7.9% y-o-y to MOP 502.77 billion. The number of imported labour in Macau contracted by 2.4% y-o-y to 177,897 as of end November. The decline is mainly attributable to the reduced demand for imported labour from the construction sector, which fell by 9,111 when comparing with the same period of the previous year. In fact, the completion and opening of new gaming facilities in 2H16 helped offset part of the negative growth in the number of imported labour.
"Most of the economic indicators in Macau saw negative growth in 1H16, while some of which saw improvement in 2H16. The city's economic fundamentals remained largely stable. However, the uncertainties in the global political and economic environment, e.g. the existence of a Black Swan or China's stringent control over capital flows, may still cause impact on Macau's economy. Moreover, the government's arrangement on repossession of land plots upon expiration of the relevant land concessions will directly influence the future setting of Macau's real estate market.," remarks Gregory Ku, Managing Director at JLL Macau.
Residential
The total transaction volume of Macau's residential market rebounded in 2016, albeit remained at the relatively low level. According to the DSEC figures, a total of 7,617 residential sales transactions were registered in the first 10 months of 2016, representing a significant growth of 54.2% y-o-y. Transactions were dominated by residential units worth less than MOP 6 million which made up about 70% of the total residential sales.
On the supply side, 19 new projects providing a total of about 2,990 units or 290,310 sqm of saleable area were granted with presale consents in 2016. Out of the 2,990 units, approximately 60.6% were studio or one- to two-bedroom units. In the meantime, some of the new projects which had obtained the presale consent were launched for presale, such as Oscar Crescent, Sky Oasis by Yoo, Nova Grand and Praia Grande & Praia Peninsula.
The capital values for high-end and mass-to-medium residential properties rebounded by 14.6% and 12.4% y-o-y respectively in 2H16, and rose by 7.8% and 5.3% y-o-y respectively in 2016 as a whole. The yields for high-end and mass-to-medium residential properties contracted to 1.5% and 1.6% y-o-y respectively in 2016.
In the leasing sector, the reduced number of expatriates in Macau coupled with the increased new supply due to the new completions in 2015 continued to exert pressure on the market. The rental values for high-end and mass-to-medium residential properties registered negative growth of 9.0% and 7.6% y-o-y respectively in 2016 as a whole.
"Supported by the launch of several new residential projects in 2H16, Macau's residential property market regained momentum with growth registered in both sales volume and value. The mass-to-medium residential market is expected to be supported by continued demand, however, the sell-through rate will likely slow down due to the increasing competition caused by the ongoing supply," says Jeff Wong, Head of Residential at JLL Macau.
Office
The office market in Macau continued to be subdued in 2016, due to the weak sentiment and cost cut policies adopted by some of the corporates. During the first 11 months of 2016, the total number of new incorporations registered in Macau was 4,042, down 13.4% y-o-y. In fact, most of the sectors saw decline in the number of newly registered companies.
The overall office leasing market saw a negative growth in 2016 due to the fall in office demand from offshore companies and gaming-related operators. According to JLL Macau Office Index, the rental values for the overall office market and Grade A office market fell by 7.5% and 6.9% y-o-y respectively in 2016.
For the sales market, a total of 176 office units were transacted as of end November according to the DSEC figures, down 17.8% y-o-y. The capital values for the overall office market and Grade A office market declined by 14.3% and 15.9% y-o-y respectively in 2016.
JLL: Macau property market remains stable with mild corrections in 2017
Some multinational insurance companies considered acquiring their own office premises for business operation, in view of the tight office supply. As of end 2016, the overall office vacancy rate maintained at about 8%, while the investment yields for the overall office market and Grade A office market rose to 2.9% and 2.7% respectively.
"Both the government and the general public hope to see the central government offices be built soon. According to the information released by the DSSOPT, the construction of the Tribunal Judicial de Base tower is scheduled for completion in 2017. Comprising eight storeys plus four levels of basement, having a total gross area of approximately 14,300 sqm, this building is expected to be able to fulfil the need for office space by the Tribunal Judicial de Base which is currently leasing its office space in The Macau Square. The relocation of the tribunal is likely to lead to a rise in office vacancy rate," says Alison Yip, Associate Director, Office Leasing at JLL Macau.
Retail
According to the statistics released by the DSEC, the total retail sales fell by 9.4% y-o-y in the first three quarters of 2016 to MOP 41.53 billion, with motor vehicles and motorcycles saw the biggest decline of 46.6% and 37.8% respectively. The retail sales of watches, clocks and jewellery fell by 18.5% y-o-y, while cosmetics and clothing grew by 4.3% and 4.8% y-o-y respectively.
Retailers selling luxury items were the most badly hit. Some landlords became softer in asking rentals and were willing to offer tenants with relatively big discounts. In 2016, the overall retail rental fell by 20.6% y-o-y. In the short to medium term, tenants may seize this opportunity to negotiate with the landlords for best leasing terms and conditions.
The sales market was quiet, with the total number of retail units transacted in the first three quarters fell to its 10-year record low to 405, down 23.6% y-o-y. According to JLL Macau Retail Index, the overall retail capital values dropped by 15.2% y-o-y in 2016.
"Macau's retail sector remains weak and may face further impact as the recent depreciation of China's Renminbi may dampen mainland Chinese tourists' spending in Macau. In view of the softening retail sales, high retail rental and weakening consumer spending by tourists from China, we expect Macau's retail sector to remain under pressure and the retail property market to continue to be subdued," says Oliver Tong, Associate Director, Retail at JLL Macau.