(13 June, 2016) KOHLER, Wis.  – KALLISTA, a renowned American kitchen and bathroom designer brand, once again collaborates with Laura Kirar, the noted New York-based interiors and furnishings designer, to create and introduce the geometric Palettabath faucet and brassware collection, and Laura Kirar one-piece freestanding bath and marble console table.
Kirar, who has previously worked withKALLISTA on the popular Vir Stil bath collection, says that in creatingthe Paletta design, she was driven first by applying geometric motif to textures and then creating compelling finishes by hand-selecting two-tone combinations.
"The inspiration behind Paletta was to design a collection based on natural forms that would be both contemporary and timeless," said Kirar. "Throughout all my work, balance, proportion, and thoughtful aesthetics are important in designing functional objects that transcend utility and become art. This is particularly true of this sculptural collection for Kallista."
Paletta brassware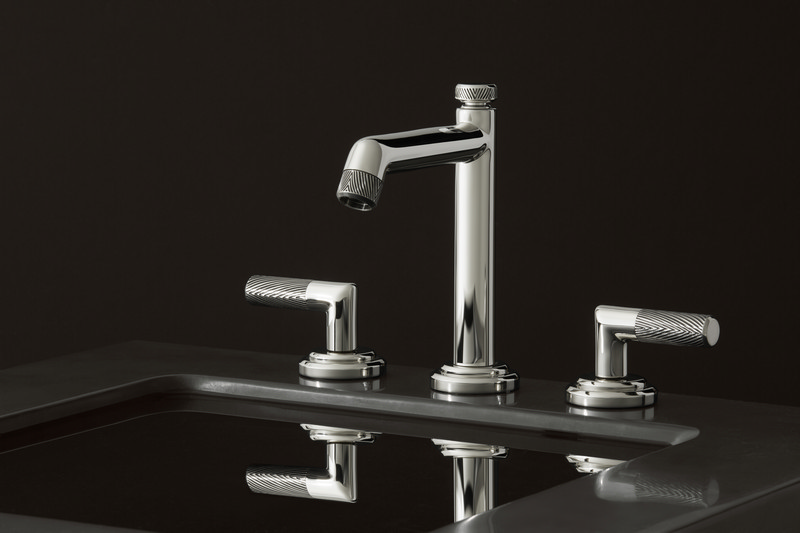 The KALLISTA Paletta line-up includes widespread lavatory faucets, showering components and bath accessories. Paletta means a palette of options that begins with a blank canvas, and the new line reflects just that. It features a classic sculptural form and is available in two distinct versions.
The Pinna Paletta™design best emulates Kirar's vision of personalization by deftly marrying the original geometric form with artisan accents in matching or contrasting finishes. Patterned after a plume, the intricately carved accents are added to the end of the lift rod, the end of the spout, and to the lever ends – where users interact with the faucet the most – providing another decorative dimension with a unique tactile experience. The distinctive detailing is created by using a jewelry machine to make detailed cuts and the delicate feathered design.
Homeowners can customize their powder rooms or master baths by choosing from myriad combinations of finishes. Kirar worked closely with KALLISTA to curate five of her favorite combinations that are standard and offer immediate delivery:  Polished Chrome with Polished Chrome accents, Nickel Silver with Nickel Silver or Antique Silver accents, Antique Bronze with Antique American Bronze accents, and Unlacquered Brass with Unlacquered Brass (soon be launched) accents.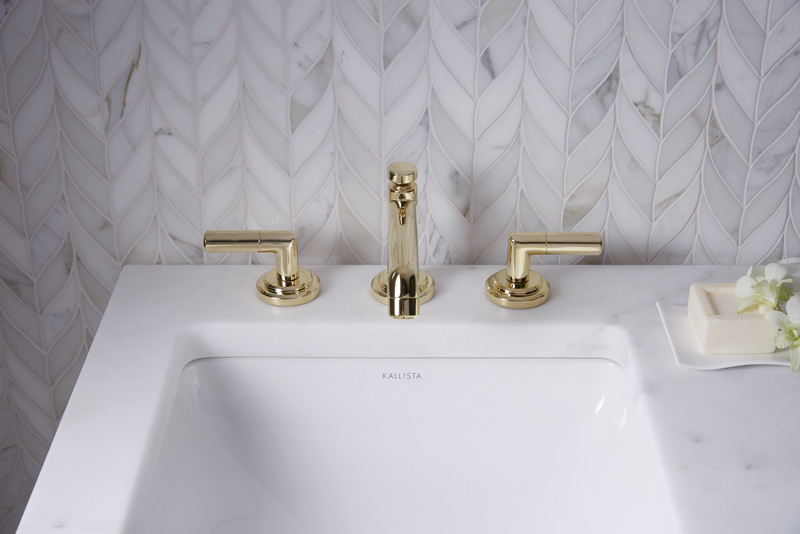 Special order opportunities allow customers to literally mix and match finishes with spout/handle and accents to create a stunning two-tone look that is rich in depth and expression. For a set of up to additionally 15 specialty pairings – such as Nickel Silver with Polished Chrome accents and Antique American Bronze with Unlacquered Brass accents, to reinforce Kirar's drive to weave meaning into each piece she creates
The PurePaletta™design offers a clean streamlined aesthetic to complement a décor where detail and texture are emphasized within other elements of the space or minimized altogether. They are available in standard finishes:  Polished Chrome, Nickel Silver,BrushedNickel, Antique Bronze, andUnlacqueredBrass (soon be launched; and specialty finishes: Gunmental and 24 K Polished Gold.
For both the Pinna Paletta and Pure Paletta widespread faucets, there are two spout heights available, both at a 90-degree cantilever from the neck. Chamfers along the escutcheons catch the light and feel both solid and tactile to the touch. Like the spout, the handles are round for a simple, clean design allowing for a modern but transitional statement. They feature solid brass construction, an intriguing laminar flow for a pristine water delivery without splash, and are also WaterSense® listed at 1.2 gallons per minute as mandated by the Environmental Protection Agency.
Laura Kirar one-piece freestanding bath and marble console table
To create unlimited luxury bath possibilities, Paletta brassware can be paired to stunning effect with other Laura Kirar designs for KALLISTA, including a new one-piece freestanding bath crafted in durable cast stone material and marble top console table with integral basin. The new Laura Kirar fixtures carry through the designer's affinity for geometric design with clean lines. The console table legs mirror the Pinna Paletta design with the textured plume design element and is offered in four types of marble:  Nero Marquina, Silver Wave, Calacatta Borghini and Grigio Limestone.
"We are delighted to collaborate with Laura Kirar once again," says Adam Horwitz, General Manager of KALLISTA. "She is a true visionary. Her designs are always innovative, playful and somehow anticipate what the market is seeking. We see the Palettacollection as adding a vital new dimension to theKALLISTAline – one that delivers a real sense of personalization for our discerning customers. At the same time, we also see itmelding easily with other establishedKALLISTAcollections."