16 March 2015 (Hong Kong) – Knight Frank has received the top real estate awards from RICS for the fourth year in a row. At the RICS Hong Kong Awards 2015, Knight Frank was named Professional Surveying Services Team of the Year for the second time and Residential Team of the Year for the fourth consecutive year.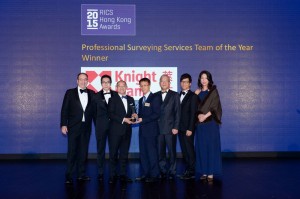 Besides, Knight Frank was also awardeda Certificate of Excellence for the Best Deal of the Year and a Certificate of Excellence for Refurbishment / Restoration Team of the Year. The awards recognise our determination, excellence and professionalism which enable us to provide a comprehensive service.
Colin Fitzgerald, Managing Director, Greater China at Knight Frank, says, "We are deeply honoured to have received these prestigious accolades. Knight Frank is one of the city's most respected and successful property consultancies having an international pedigree of over 110 years. Our professionalism, breadth of services, and highest levels of client servicing have earned our clients' trust and this enabled us to excel and contribute to our best. These awards are a true reflection of our hard work and we are proud that our commitment to excellence is being recognised by our clients and industry peers."
Professional Surveying Services Team of the Year
Knight Frank has advised government, landlords, investors, financers and end-users for more than 40 years in Hong Kong. In 2014, Knight Frank was appointed to undertake Integrated Development Consultancy (IDC) project for the West Kowloon Cultural District Authority (WKCDA) by providing pragmatic solutions for the coordinated implementation of an integrated art, cultural and property development scheme. Knight Frank has been subsequently appointed on different occasions for this signature project. The extensive professional advice given on this very complicated project won the jurors' hearts considering the great impact to the cultural development in Hong Kong.
Residential Team of the Year
Knight Frank has been awarded the Residential Agency Team of the Year for the fourth running year since the award was introduced in 2012. In 2014, Knight Frank rolled out 17 international projects for 13 overseas developers, concluding 210 deals in in excess of £140 million total gross sales value. The jurors were impressed by Knight Frank's comprehensive and well-demonstrated track record, and the ability to bring value-add to clients including new technology.