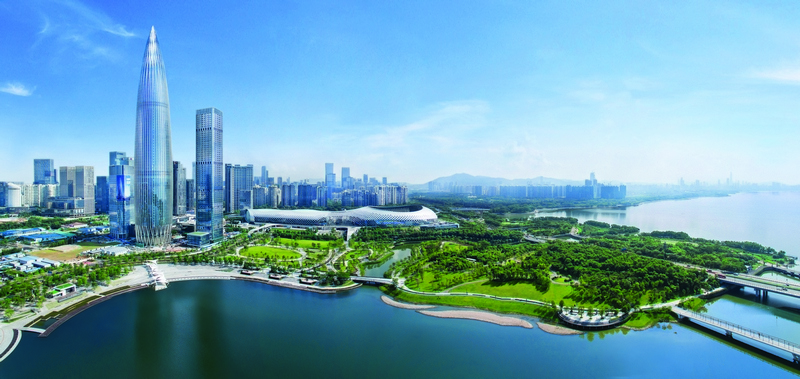 Lead8 is bolstering its international network with the opening of a new design studio in Shenzhen; expanding the firm's footprint around the globe. The new studio will work closely with firm's headquarters in Hong Kong and its team of more than 250 specialists, providing comprehensive services to expand Lead8's presence and platform in Asia and the communities in which it works.
(按此瀏覽中文版)
Building upon an impressive company history, Lead8's expansion coincides with the firm's recent entrance in the world's top 100 architecture firms, the WA100 published by Building Design. As the firm illuminates its presence on the international stage, Lead8's Co Founders share their vision for the future and the projects defining the next chapter in Greater China.
A new chapter in Shenzhen Bay
Shenzhen Bay is familiar territory for Lead8. At the base of the firm's new studio in the China Resources Tower sits the multi-awardwinning MixC development that is a defining portfolio piece for the team.
"To have our studio based next to one of our own award-winning developments helps clients to experience the impact of our designs firsthand.
With our team now on the ground in China, we can further support leading developers to push new boundaries," says Claude Touikan, Lead8 Co Founder & Executive Director.
The expansion will support Lead8 as it prepares to welcome 10 new project openings in Greater China and extend its portfolio to more than 45 cities across the mainland in 2021.
Ideas for the next generation
Across the burgeoning Greater Bay Area, Lead8 is making its mark as it confirms a growing number of high-profile and sector-defining commissions.
The transformation of Shenzhen's 500-year-old 'Old Hubei Village' as part of a major regional, cultural, commercial and tourism destination is one of the most significant undertakings.
The Hubei Coordination Urban Renewal Scheme is one of the largest urban regeneration schemes in Shenzhen. Lead8 was appointed following an international design competition to deliver the connective design for the project. The overall retail planning and retail architecture by Lead8 will link Old Hubei Village with the mixed-activity programme featuring more than 25 towers and five underground metro stations.
"Urban regeneration brings a new perspective to how we are readying and preparing our cities for the generations to come," said Simon Chua, Co Founder & Executive Director at Lead8. "Unlocking historic urban environments, making them more accessible, interconnected and experiential, allows them to survive and thrive."
Design that goes beyond
Within the Greater Bay Area, another development is breaking convention and achieving what no other has done so far. 11 SKIES at Hong Kong International Airport's SKYCITY is the largest Retail-Dining-Entertainment (RDE) hub to be developed in the city. At the cost of HK$20 billion, the mixed-use destination will also be the first to combine wealth management and wellness services into such a scheme.
The destination will feature 2.66 million sqft dedicated to dining and retail outlets and 570,000 sqft for experiential entertainment facilities. There will be over 800 shops, including more than 120 dining concepts together with entertainment never seen before in the region, all under one roof.
"Our perception of 'experience' and how our built environments can deliver it is being dramatically altered. Delivering Hong Kong's most comprehensive RDE destination showcases the creative power of our team and how our designs are addressing the industry's future needs," said Claude Touikan, Co Founder & Executive Director at Lead8.
Fueling by evolving technology, increased competition and post-pandemic aspirations, the next generation of experiential environments are driving the development agenda. Designs may be dominating drawing boards, but Lead8 is ahead of the curve, seeing vision turn to completion.
This year, the firm celebrated the opening of its biophilic retail experience set within a mutli-level living garden. Known as The Ring, the destination is a firstof- its-kind for Chongqing – a place that intertwines retail, nature, culture and experience. Animated by a 42-metre-tall botanical garden, interactive sports and culture programming, and a creative tenant mix, The Ring provides attractions not yet seen before in the city.
"We are all experiencing this change in attitude towards placemaking and the evolution of 'development' to 'ecosystem'. These new slivers of city, like The Ring, are trying to maximise the use of nature and landscape and the power of biophilia as we reimagine the possibilities within commercial developments,"said David Buffonge, Co Founder & Executive Director.
Transforming our future
As they prepare for the next chapter, Lead8 is positioning its team and portfolio to new heights, pushing further into new realms and geographies.
As described by Christine Hau, Co Founder & Executive Director, "The world is changing and the design industry is at the forefront of imagining our future. The post-COVID era is accelerating the adoption of new thinking and innovation, and we are collaborating closely with the developers and city makers that are delivering truly ground-breaking change. From regeneration to wellness, green living, and walkable neighbourhoods; Lead8 is working to push the agenda for a better tomorrow."