(14 July 2016, Hong Kong Macau) – The Macau property market continued to consolidate in 1H16, albeit at a slower rate, following 25 consecutive months of decline in the city's gaming revenue, according to JLL in its Macau Mid-year Property Review and Forecast today.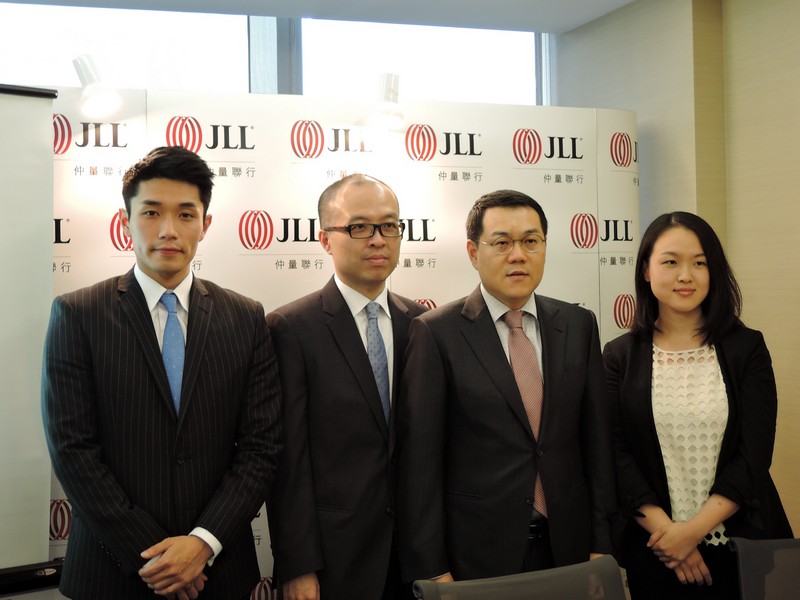 Macau's gaming revenue continued to contract and fell to the 2010 level at MOP 15.88 billion in June 2016.  According to the figures released by DICJ, the decline of Macau's gaming revenue moderated and it totalled MOP 107.8 billion for 1H16 as a whole, down 11.4% y-o-y.  For gaming revenue generated from the VIP market, it fell by 19.3% y-o-y, while the share of gaming revenue generated from the mass market versus the overall market grew from 36.3% in 1Q14 to 45.1% in 1Q16.
In 1Q16, Macau's overall GDP recorded at MOP 79.95 billion, down 13.3% y-o-y.  With the completion of part of the new gaming facilities in Cotai, the fixed capital formation in Macau fell by 31.4% y-o-y to MOP 15.12 billion in 1Q16.  During the same period, private consumption expenditure recorded at MOP 22.31 billion, slightly down 2.3% y-o-y.
For the first five months in 2016, Macau's visitor arrivals totalled 12.406,000, contracted a bit by 0.8% y-o-y. Visitors from Mainland China remained the dominant, accounting for 66.3% of the total visitor arrivals, while travellers under the Individual Traveller Scheme (ITS) accounted for 46.6% of the total number of visitors from Mainland China.  The total supply of hotel rooms in Macau reached 32,000 and out of which 20,500 are in the five-star hotel segment.  Due to the completion of new hotels in Cotai, the cumulative occupancy rate declined to 78.0%.  The average length of stay of guests remained stable at 1.4 nights as of May 2016.
Macau's labour market were broadly stable in 1H16.  According to the DSEC statistics, unemployment rate remained low at 1.9% in May.  The overall median monthly income remained stable at MOP 15,000 in 1Q16.  As of April 2016, total resident deposit fell by 6.2% y-o-y to MOP 451 billion.  The number of imported labour in Macau reached a record high of 182,344 as of end May, up 1.6% y-o-y.  With several gaming facilities scheduled for completion in 1H16 or after 2016, the number of imported labour is expected to continue to grow but at a mild rate.
"Though Macau's economic indicators largely saw negative growth in 1H16, the drop has been moderated while the city's economic fundamentals remain healthy.  We expect the property market in Macau to move forward amid the economic transformation in 2H16," commented Jeff Wong, Head of Residential at JLL Macau.
Residential
The transaction volume of Macau's residential market rebounded a bit in 1H16.  According to the DSEC figures, a total of 3,327 residential sales transactions were registered in the first five months of 2016, representing a significant growth of 39.9% y-o-y.  Transactions were dominated by residential units worth less than MOP 6 million which made up about 80% of the total residential sales.
In terms of supply, 11 new projects providing a total of about 598 units were granted with presale consents in 1H16.  At the same time, some of the new projects which had already obtained the presale consent were launched for presale, such as Doris Garden, Le Jade and Oscar Crescent.
The capital values for high-end and mass-to-medium residential properties fell by 15.4% and 14.7%y-o-y respectively in 1H16 while their yields contracted to 1.6% and 1.7% y-o-y respectively.
For the leasing market, with the decline in the number of blue cards granted to expatriates engaged in the professional sectors, the high-end residential rental values saw a big drop of 29.0% y-o-y in 1H16.  The rental values for mass-to-medium residential properties fell by 24.6% y-o-y during the same period due to the completion of several new residential developments in 2015 that brought new supply to the market.
"Macau's residential property sector saw a rebound in 2Q16, supported by end-users' demand for existing mass-to-medium residential stock.  With the low unemployment rate in Macau and the new gaming facilities scheduled for completion in 2016, we expect the residential prices will remain stable at the existing level with only minor fluctuations in 2H16.  The mass-to-medium residential market will continue to be supported by demand from end-users.  However, the lack of new supply in the mass-to-medium sector may lead to a mismatch between demand and supply in the future," said Jeff Wong.
Office
The office market in Macau continued to slow down in 1H16, due to the weak investment sentiment and cost cut policies adopted by some of the corporates.  During the first four months of 2016, the total number of new incorporations registered in Macau was only 1,476, significantly down 29.3% y-o-y.  In fact, most of the sectors recorded dramatic decline in the number of newly registered companies.
The overall office leasing market saw a negative growth in 1H16 due to the significant fall in demand from offshore companies and gaming-related operators.  However, at the same time some international insurance companies were willing to commit to bigger office space for expansion under the adverse market sentiment. The rental values for the overall office market and Grade A office market fell by 20.3% and 14.5% y-o-y respectively in 1H16.
For the sales market, the capital values for the overall office market and Grade A office market declined by 25.1% and 24.4% y-o-y respectively in 1H16.  As of end June 2016, the overall office vacancy rate edged up to about 8% with office supply remained at a low level.  The investment yields for the overall office market and Grade A office market rose to 2.7% and 2.6% respectively.
"With several major gaming facilities completed in 2H16, we expect to see some gaming operators relocating their operations from the existing offices to the new projects.  This may lead to a rise in office vacancy rate.  Currently the market is in tenants' favour and they are enjoying a bigger bargaining power.  Some companies may consider upgrading their office environment by committing to a bigger space at a relatively lower rental," remarked Alison Yip, Associate Director, Capital Markets at JLL Macau.
Retail
As shown by the DSEC statistics, the total retail sales fell by 11.2% y-o-y in 1Q16 to MOP 14.73 billion.  Out of which motor vehicles and motorcycles recorded the biggest decline.  The retail sales of leather goods and watches, clocks and jewellery fell by 6.2% and 18.3% y-o-y respectively in 1Q16, while cosmetics grew by 8.4% y-o-y.
Retailers selling luxury items were the most affected.  Some landlords became more flexible in rental negotiations and were willing to offer tenants with a relatively big discount in rental. Meanwhile, the cosmetics and sportswear retailers dominated the leasing market.  In 1H16, the overall retail rental fell by 18.6%, while a notable retail leasing transaction was recorded – an international fashion group leased a standalone property in Largo do Senado for a monthly rental of about HKD 1.3 million.
In the sales market, two notable transactions were recorded in 1H16. Bossini sold a G/F shop unit in Avenida do Infante D. Henrique for HKD 350 million while a standalone commercial property in Largo do Senado was sold for HKD 300 million.  During the same period, Shun Tak Holdings sold 50% interest of the shopping centre in Nova City Phase 5 in Taipa to a wholly owned subsidiary of ADIA for HKD 3.15 billion.  The two parties would set up a joint venture for development of this project.  According to JLL Macau Retail Index, the overall retail capital values dropped by 23.6% y-o-y in 1H16.
Despite the recession in the retail property sector, Melco Crown Entertainment partnered with DFS Group to expand and upgrade the retail portion of the City of Dream.  Upon completion of the upgrading project, the size of the entire retail precinct in City of Dream will be tripled.  Phase One that consists of a few distinct shopping zones namely beauty and fragrances, fashion and accessories, a shoe salon and a dedicated men's fashion and grooming area started in June.  Out of which, the expanded beauty and fragrances zone that covers an area of 23,000 sq ft will become the largest beauty hall managed by this group in Southern China.  Macau's retail landscape is expected to become more sophisticated and comprehensive upon completion of the other new major facilities such as Wynn Palace and Parisian Macao in 2H16.
"With the increasing supply of five-star hotel guest rooms in Macau, coupled with the city's edge in guest room sizes, room rates and facilities, it is worth watching whether the current trend of visitors staying in hotels in Hong Kong and using it as a base to visit Macau will reverse in the future.  The new supply of hotel guest rooms can help Macau attract more visitors and maintain the city's competiveness in the tourist sector.  In the past, the overall retail market mainly relied on consumption by visitors.  However, local consumption now accounts for 63.5% of Macau's total retail sales.  Some of the gaming operators and developers have already changed their strategies and started to explore to develop retail projects targeting local residents and families visiting Macau, with an aim to offer the customers with a more diversified shopping experience," commented Oliver Tong, Associate Director, Retail at JLL Macau.