(23 June 2016, Hong Kong) –  Mandarin Oriental, Guangzhou has unveiled its new look Ebony restaurant.  An eye-catching feature of the redesigned dining area and surrounding garden is the new gin bar, JIN at Ebony, which becomes the grill restaurant's focal point.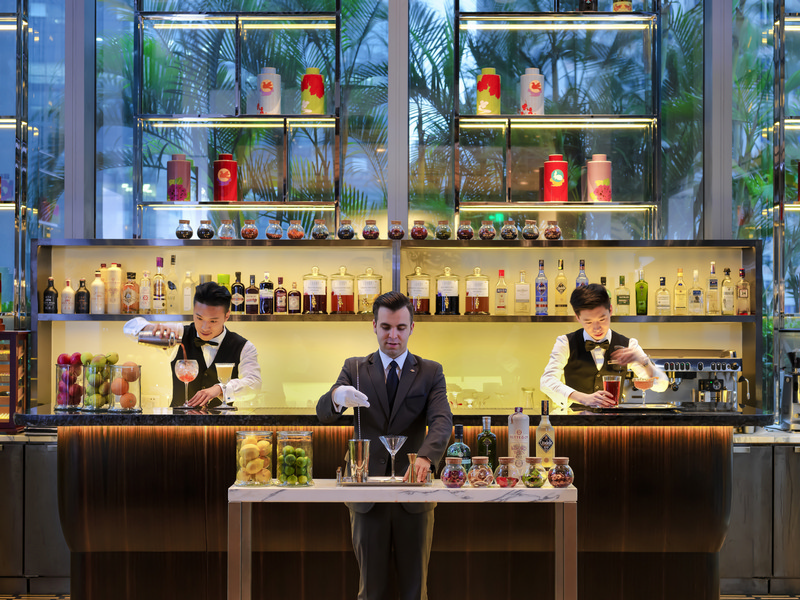 Housed within its own 30sqm glass structure, Ebony's interiors have been transformed by Hong Kong-based Ronald Lu and Partners into an elegant space that connects harmoniously with the garden outside.  The designers converted a service station to create the stylish JIN at Ebony bar.
The first gin bar in southern China, JIN at Ebony features over 37 different gins.  In addition to serving four house-infused gins, such as Ginseng and Mandarin Oolong, the bar offers a range of invigorating cocktails, including signature mixes that guests can enjoy indoors or in the garden. Among other drinks options on offer, guests can try the Ginless Gin Tonic that tastes very similar to gin and tonic, but without the alcohol, or enjoy free flow gin cocktails, which come with two snacks, during the bar's 'Happy Hours' from 5.30pm to 7.30pm.
For extra wow factor the open kitchens have been extended, so diners can see the restaurant's skilful chefs at work. New furniture has been installed for diners' comfort and the restaurant space reorganised so it can be used more efficiently. The garden dining area has been fitted with a new barbeque and towering white parasols to give it a resort feel.
Prime cuts, fresh seafood and other classics are served at Ebony. Diners can visit Guangzhou's chicest grill for weekend brunch, Friday night barbeque buffet dinners and Churrasco nights on Saturdays. A semi-buffet lunch is available on weekdays.