The Hong Kong MIPIM Asia Summit gathers top-level real estate professionals from all sectors to build partnerships and discover outstanding projects involving property investment, regional development opportunities, and retail real estate. Taking place on 26-27 November, the Conference gathers 300 most influential real estate professionals in the MIPIM Asia Gala Dinner.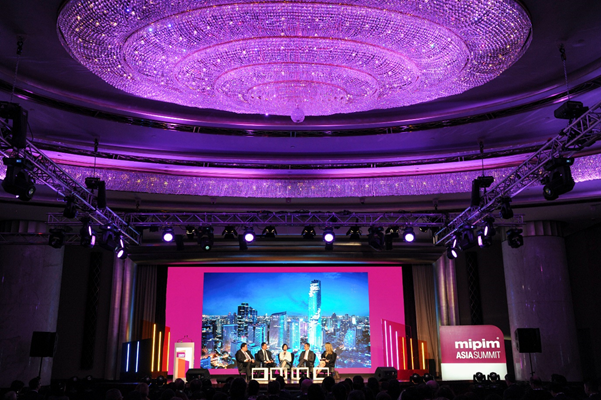 Asia Real Estate Markets at a Glance
As the capital flow within the APAC region surges up by 23% year-on-year, the APAC region has the fastest-growing rate as compared to the World. As 2020 progresses, the notable market trends and sentiment lie in the industrial and logistic sectors, where they often outperform. The office sector remains the most popular asset class. Interestingly, more investors are now seeking excess returns in market subsectors, such as cold storage or last-mile warehouse.
Singapore is the top place recommended in APAC for real estate investments in 2020. The country is ranked first in city investment projects and 2nd for development prospect. The top 5 markets (in the order of potential market growth) are Singapore, Tokyo, Ho Chi Minh City, Sydney, and Melbourne. Nevertheless, the impact that recent movements in Hong Kong have resulted in attracting inward investment in real estate.
Barriers from Overseas
The US-China trade war has affected the real estate with a drop in Asian inbound and outbound capital flows. Throughout the Southern China cities, tenants' retrenchment is prominent where some tenants are tempted to close down to minimise loss. On the same boat were venture capitals, private equities, and M&A deals which faced a critical hit.
Although both sides had agreed to remove additional tariffs in phases once their leaders signed an interim deal toward ending the costly trade war, the US has not decided to rollbacks of US tariffs sought by China. The trade war is expected to sustain in 2020, at least for the first quarter.
With regards to Brexit's effect towards the Asia Real Estate Market, MIPIM Markets Managing Director Ronan Vaspart expressed, "Practically the only thing that people are sure about concerning Brexit is that they are not sure about the impact! Nevertheless, while it is unlikely to trigger a global recession, it has slowed down inward investment in UK real estate coming from Asian investors. As a general rule, the business does not appreciate uncertainty and Brexit has generated uncertainty."
Taking a Sustainable Approach to Investment
According to the Global Sustainable Investing Alliance, the market for sustainable investments grew by 34% between 2017 and 2018 with three approaches in achieving green targets. These include: building a green bond, focus on natural capital accounting and tapping into discounted green loans. Investing in these areas can shift the entire business to become more purposeful.
Investors Attraction and Major Changes
The step down in APAC growth forecast is likely to accelerate in the first quarter of 2020, with China's potential sub 6 per cent growth being a huge drop. Global growth outlook has significantly deteriorated as a result of technology and trade war not merely on the US-China trade war but also US tariff threats on major economies.
Regional central banks are likely to use an accommodative monetary policy to support economic activities. Looser financial conditions will be in favour of real estate pricing in the first quarter of 2020. Office sector fundamentals are likely to remain sturdy with positive net absorption across most regional markets. Still, the going forward path seems uncertain and the sector may face a pullback in occupier demand. While long term structural trends are favourable for the regional office sector, investors may focus on markets such as Sydney, Melbourne and Tokyo where it can withstand cyclical headwinds.
The significant disruption in the Asia markets comprises of three prominent fields, including technology, healthcare, and industrial and logistics markets. The rising technology includes mobile commerce, 5G network, prescriptive analytics, AI, mid-market technology growth. Healthcare has continued to improvised, especially in hospitals, electronic medical records, telemedicine, digital imaging systems and medical tourism. As for industrial and logistics markets, e-commerce growth will likely sustain until 2025, with China moving up the value chain. The Belt and Road Initiative will shift manufacturing markets, while India's tax changes help modernise the logistics sector.
Emerging Classes Outlook
Office markets across APAC will operate within a stabilised pace of expansion. Technology companies and flexible space operators are expected to lead the demand for office space. Real estate assets are like to become more agile with the use of flexible space will supplement core portfolios in lowering cost and minimising liabilities.
Online and offline sales channels have been used to maximise brand experience across the retail sector, incorporating enhanced service offerings. Rental growth is expected to remain soft in the first quarter of 2020. Growth will mainly be driven by prime locations, with lower quality assets expected to struggle.
With the increasing demand in urban logistics spaces, the logistic sector is expected to have an uptick in activity, especially in supply chain operational efficiency. Logistics rental growth is expected to increase by 3% in leading regions in Melbourne, Shanghai and Beijing.
MIPIM PropTech – The Way in Moving Forward
MIPIM PropTech is the world's leading real estate technology event. We gather critical real estate decision-makers from all the value chain to connect with cutting-edge startups and technology companies to take their business to the next level and build the future of the property. "People ignore the impact and development of PropTech at their peril. MIPIM Asia is a business catalyst, and as such, we are bound to provide the real estate leaders who attend with a privileged look at trends in PropTech.
Ronan Vaspart further added, "The international real estate sector has been slow to take up the benefits of new technology and what is called PropTech. That is changing. Building occupiers want innovative solutions to their requirements, and these are often tech-driven. Connected offices will develop in connected cities. Ignoring new technology is no longer an option."
MIPIM Asia 2019 takes place at the Grand Hyatt Hong Kong on 26-27 November. Read more at mipim-asia.com.