(9 June 2023, Hong Kong) MTR Corporation's brand new community landmark, The Wai, situated atop MTR Tai Wai Station, will have its soft opening on 22 July 2023 and a grand opening ceremony in the 4th quarter this year. The newly constructed complex spans 4 retail floors, covering a total of nearly 650,000 square feet with around 150 merchants. The mall will fully launch to provide a unique and exciting experience for both residents and customers.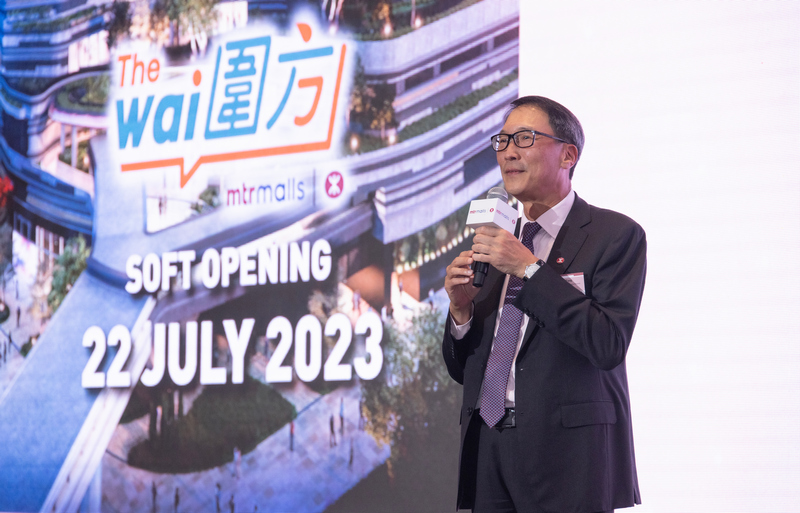 (按此瀏覽中文版)
MTR Corporation has been deeply rooted in Hong Kong for over 40 years and has been upholding the 'Rail plus Community' development concept to build sustainable and livable communities that prioritise people's needs. The Corporation connects communities with railways and integrates various elements including railway stations, residential blocks, shopping malls, and diverse community facilities to construct convenient and comfortable livable environments.
"The Corporation has gradually expanded its portfolio of shopping malls to 14 over the years and is set to add a new one. The brand new community landmark, The Wai, will fully launch and have its soft opening on 22 July. The Wai is located atop MTR Tai Wai Station, which is a key railway hub with the convergence of Tuen Ma Line and East Rail Line, offers high connectivity to different parts of the city. The mall is seamlessly connected to the station, fully embodying the 'Rail plus Community' development concept, which utilises railways as a backbone for building communities, and adds an array of facilities such as schools, community centres, and recreational spaces in the surrounding areas to serve residents' daily needs," said Mr David Tang, Property and International Business Director of MTR Corporation. Located atop MTR Tai Wai Station, The Wai has multiple entrances and newly constructed pedestrian footbridges that connect to the MTR station, the public transport interchange, and major estates in the area. The mall has a prime geographical location as it is situated atop Tai Wai Station which connects two railway lines and near major tunnels such as Tate's Cairn Tunnel, Shing Mun Tunnels, and Lion Rock Tunnel, providing convenient access to Hong Kong, Kowloon, and the New Territories. The Wai, connecting to the cycle track network linking East to West in the New Territories, also features Hong Kong's largest indoor bicycle parking lot, measuring approximately 13,000 square feet with 330 bicycle parking spaces and various bicycle-friendly facilities. The mall's indoor parking lot provides 390 parking spaces and 39 motorcycle parking spots. Additionally, the mall incorporates over 50,000 square feet of outdoor green spaces across its floor, providing customers with a holistic leisure experience and transforming Tai Wai into a more convenient and comfortable livable community.