Construction of the Shanghai Landmark Centre, designed by Aedas, is now complete.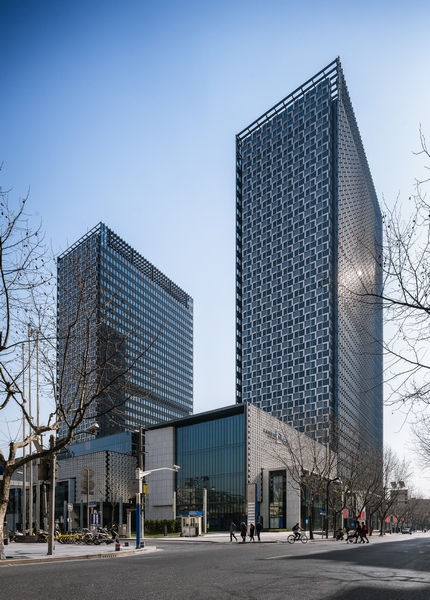 The development sits on the north bank of Suzhou Creek in Shanghai, looking out over the northern stretch of the Bund and the Huangpu River. It is surrounded by low-rise housing and a number of historical buildings, which gives the area a distinct urban fabric.
The need to reflect the qualities of historical Shanghai in a new development and the need to ensure the development is adaptable for as many present and future purposes as possible were the biggest challenges for the designers.
In response, the clean lines and rectangular form go well with the surrounding cityscape. The design of the façade is inspired by the traditional Chinese windows in the old buildings nearby. The twin towers of the complex make it seem like a gateway to the Hongkou district.
The Shanghai Landmark Centre has a gross floor area of 161,000m2. The complex retreats from south to north, the two towers sitting on the southern side of the site and shops occupying the northern side. An open plaza in the middle has places to eat and drink, and space for outdoor activities. The effect of the whole is to accentuate the history and identity of Shanghai in a new landmark on the skyline along Suzhou Creek.