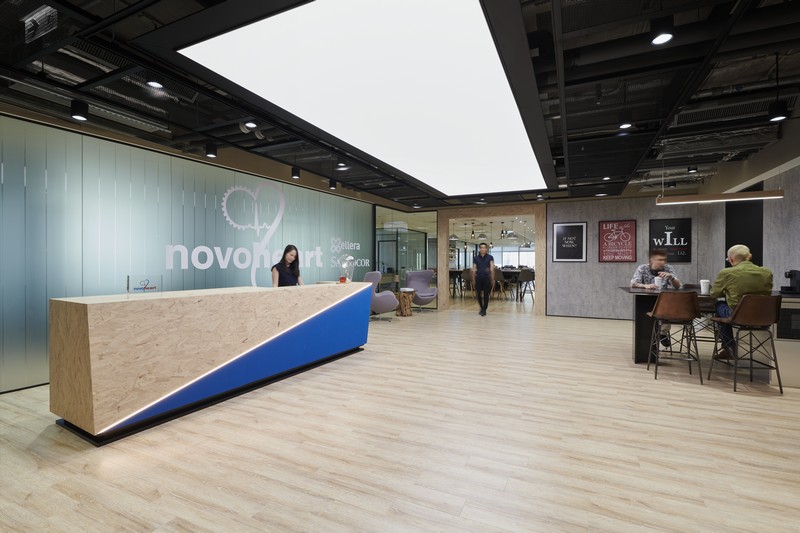 Project Name: Novoheart Headquarters
Project Owner: Novoheart Hong Kong
Location: Millennium City 5, Kowloon, Hong Kong
Area: 13,000 sft (reception, conference room, museum, workplace, breakout space, laboratory)
Design: Team4N design
Fit-out Contractor: Winsmart Contracting
Completion: Q2 2020
The corporation is a global stem cell bio technology company dedicated to engineering bioartificial human heart prototypes. Occupying a location in the hearth of Kowloon Hong Kong, this headquarter house its Asia headquarters with a compact spatial setting that house its first corporate museum and experience center, large workspace, boardroom, breakout space and pantry, and its stem-cell technology laboratory.
The over all design concept was inspired by the bio-chemical technology and cardiac science in which red blood and blue vessels play an important role in the overall system, while science technology is not only a innovative discovery and innovations, it means a lot in 'respect tonature'. In the overall design, lots of 'natural' materials are employed in juxta position with the corporate color of red and blue.
The reception space is a large concierge counter, with waiting area and the combination of a open pantry space, its color tone and materials reflects the nature with timber flooring, natural plywood board that forms the reception counter with a glimpse of blue, ceiling was cladded with black metal mesh surrounding a large monolithic lightbox, a oversized 'Novoheart' logo is in place on the striped glass wall, while on the other side of wall are natural concrete panels with director's pick of inspirational quote posters.
The museum and experience center can be entered through a secret doorway, that is the large-sliding black timber bookshelves in the main reception. The museum is called The Red Room, which is obviously be decorated in red, with predominantly red paint finishes on wall, large LED screen is in place for large presentation, trophy wall on one side, with exhibits be arranged in chorographical order that showcase the history cardiac and heart technology development, that lead to the latest stem-cell heart technology by the corporation.
Breakout space include an open space with a 10-people communal high table of natural timber and metal legs, adjacent to it are three small break-out cum chit-chat rooms, each equipped with blackboard, TV screen and furniture to mingle or relax .Another window-side break outs pace has a set of lounge chairs and benches to provide ample space for colleagues to hang out and host casual discussions.
Please visit 4n.com.hk for further details.