(20 February 2018, Hong Kong) With a tradition of pioneering designs that continue to leave their mark around the world, P&T Group has developed a reputation for realising innovative and iconic solutions to managing space and people. At the heart of the P&T ethos is the interaction between architecture and the people who use it, and a belief in structures that can improve quality and sustainability for future generations. This reputation has been further strengthened with two recent wins for the practice at the International Property Awards presented in London, U.K., for pioneering works in Lagos, Nigeria and Foshan, China.
(中文简体版请按此)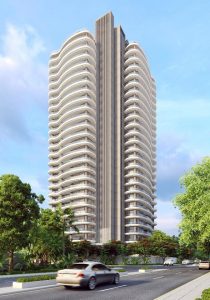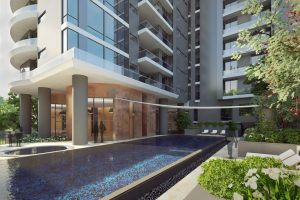 New standards of living in Africa
Set to become an icon of Lagos, Nigeria, Bourdillon No4 was awarded in the category Best Residential High-Rise Architecture, Africa, adding to the increasing international recognition for the yet-to-be-completed building. Bourdillon No4 is an emblem of the African boom, a thoughtful, modern design that will set new standards of high-rise, luxury living in the continent, featuring lush green spaces and resort-like amenities. The property forms part of P&T's expansive presence on the Belt and Road Region, just one of the practice's many designs that aims to raise living standards through the re-imagining of urban design.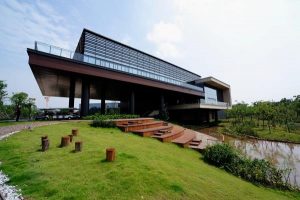 Integrated ecological design for China
In Foshan, in the southern Guangdong Province, P&T's Canton First Estate was named as the Best Mixed-use Architecture Asia Pacific at the International Property Awards. The large-scale project covers both building and landscape design, encompassing residences, serviced apartments, a golf course, recreation centre and exhibition hall, set among 1,100 acres of stunning green space and an additional 700 acres of natural forest, with a natural lake of nearly 500 acres and a 20-kilometer green path encircling its perimeter. Canton First Estate has been designed with a focus on minimising overall energy and water resources consumption while maintaining an aesthetically pleasing living environment, bringing together green architecture as well as thoughtful ecological engineering and restoration. A truly world-class ecological community, Canton First Estate reflects the increasing Chinese demand for maintaining the original ecology while enhancing the quality of life in the communities.
Both projects encapsulate the P&T ethos, each in its own superb way – the pursuit of excellence through high-quality, forward-looking architectural projects.
For more information on P&T, see www.p-t-group.com.