(27 June 2018, Hong Kong) – Co-organised by The Hong Kong Institute of Surveyors (HKIS) and The Hong Kong Association of Property Management Companies (HKAPMC), the Quality Property & Facility Management Award (QPFMA) 2018 is now officially open for nominations. With the theme "Smart Buildings, Smart Management" (樓宇管理智能化,物業管理齊優化), the award presents golden opportunities for learning and observing in the property and facility management sector, and encourages smart city development in Hong Kong.
The QPFMA is a biennial award which aspires to honour and recognise outstanding developments and professionals in the property and facility management industry in Hong Kong. An Award Briefing Session was held successfully with more than 100 attendees on 13 June 2018. During the session, the QPFMA 2018 Organising Committee introduced the overview of the event, and provided detailed explanations of the judging panel and award categories.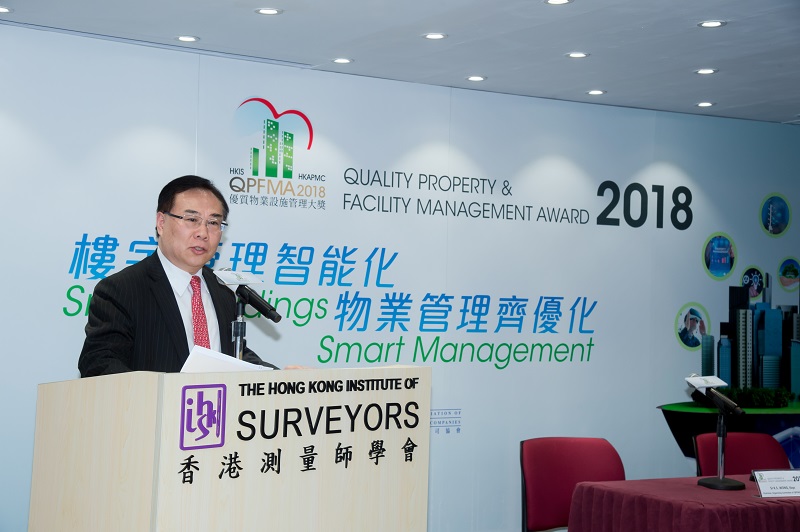 QPFMA 2018 introduces a new award category, International Innovative Strategic Management, which is open for local and overseas properties to showcase their innovative strategies in property and facility management.
By combining two award categories from QPFMA 2016, Tenants Purchase Scheme (TPS) & Public Rental Housing (PRH), and Home Ownership Scheme (HOS) & Private Sector Participation Scheme (PSPS) & Sandwich Class Housing Scheme (SCHS), a new award category has been established, titled Subsidised Housing Property Management to attract more diverse nominations. In addition, the Office Building Management Award under the Non-Residential category has been divided into two awards: Small- & Medium-Scale Office Building and Large-Scale Office Building.
"The QPFMA encourages and inspires industry professionals and companies to employ innovative technologies and creative ideas to improve property and facilities management while upholding the highest professional standards." said QPFMA 2018 Organising Committee Chairman, Sr Kays K.S. WONG.
"This is the industry's premier showcase in Hong Kong; 32 companies and professionals were awarded and more than 100 nominations were received at the 2016 event," said QPFMA 2018 Head Juror, Dr CHEUNG Tin Cheung, JP." "We anticipate even greater enthusiasm for the 2018 edition, and we are look forward to uniting property and facility management specialists to help promote and advance the industry."
Quality Property & Facility Management Award 2018 Award Categories:
Residential Category
Non-Residential Category
International Innovation Strategic Management Category
Large-Scale Residential Property Management
Shopping Centre Management
International Innovation Strategic Management
Medium-Scale Residential Property Management
Office Building Management

(Small- & Medium-Scale Office Building)

Small-Scale Residential Property Management
Office Building Management (Large-Office Building)
Subsidised Housing Property Management
Industrial & Car Park Building Management
Institutional Facility Management
Quality Property & Facility Management Award 2018 Judging Panel:
This year, we are honoured to invite an esteemed judging panel of industry leaders and diversity advocates to undertake the judging role:
Head Juror
Dr CHEUNG Tin Cheung, JP
Director of Buildings, Buildings Department, HKSARG
Jurors
Dr Johnnie C K CHAN, BBS, JP
President, The Hong Kong Association of Property Management Companies
Ir Prof Albert P C CHAN
Head, Department of Building and Real Estate, The Hong Kong Polytechnic University
Sr Dr Edmond CHENG Kam Wah
President, The Hong Kong Institute of Facility Management
Sr Prof Daniel HO Chi Wing
Associate Dean, Faculty of Design and Environment, Technological and Higher Education Institute of Hong Kong
Sr Dick KWOK
President, The Hong Kong Institute of Surveyors
Dr T M KWONG
Head, College of Humanities and Law, The University of Hong Kong, School of Professional and Continuing Education
Mr SIT Wing Hang, Alfred, JP
Director of Electrical and Mechanical Services, Electrical & Mechanical Services Department, HKSARG
The Hon Sr Tony TSE Wai Chuen, BBS
Chairman, Property Management Services Authority

Legislative Council Member, Architectural, Surveying, Planning and Landscape FC

Sr Kays K S WONG
Chairman of Organising Committees, QPFMA 2018
Ms WONG Lai Ping, Rosaline
Deputy Director (Estate Management), Housing Department of HKSARG
Sr Marco WU Moon Hoi, GBS, SBS
Chairman, The Hong Kong Housing Society
Prof YIP Ngai Ming
Professor, Department of Public Policy, City University of Hong Kong
Ms YU Chun
Vice President, Hong Kong Institute of Housing
Quality Property & Facility Management Award 2018 schedule:
| | |
| --- | --- |
| Nomination Period: | 27 June to 24 August 2018 |
| Site Visits: | 13 and 14 October 2018 |
| Finalists Presentation to Judging Panel cum Conference: | 10 November 2018 |
| Award Presentation Ceremony cum Dinner: | 8 January 2019 |