A comfortable outdoor space, at one with the architecture
The Skye is the most exclusive type in Renson's range of terrace coverings and it offers comfortable outdoor living at the highest level. In a double recessed-mounted module, the roof structure, with its tiltable and sliding blades, can be up to 11.75 m by 4.5 m, and it integrates perfectly into any structure. The Skye Eclipse is more than just a terrace cover; it integrates seamlessly into architecture and offers a wide range of possibilities for architects, designers and planners who see a terrace as an additional outdoor space that can serve all year round.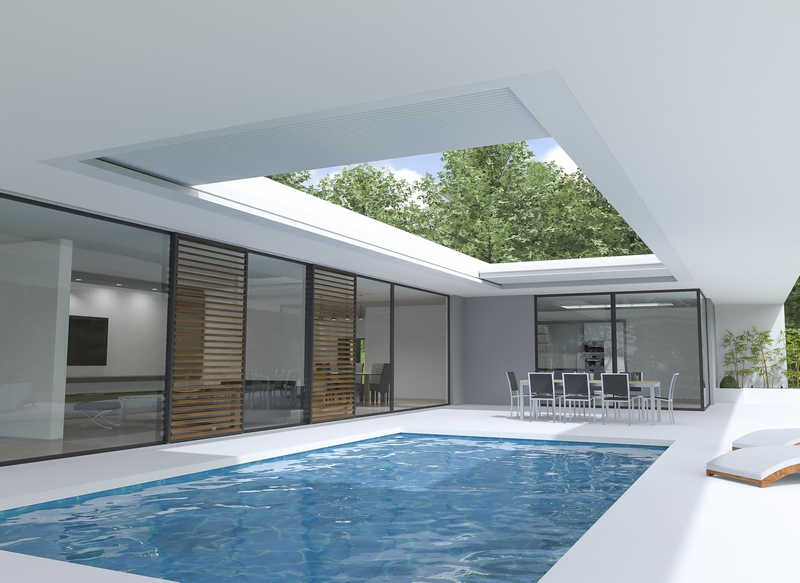 Recessed, sliding blade roof up to 11.75 m, without Intermediate beam
Renson launched the Skye terrace covering with a great deal of fanfare at the 2015 R+T, as a 'summum' of comfortable outdoor living. This model now comes with tilting roof blades that can slide open and closed. In addition to freestanding and lean-to constructions, the Skye now offers a new application as an integrated roof element. Imagine it with no columns and you have sleek and firm roof structure that can be mounted on any construction, from steel profiles to concrete beams or a wooden framework.
The Skye's unique feature is the capability to install an integrated roof structure in a coupled dual-configuration up to 11.75m by 4.5m, which is twice the maximum for the original detached Skye terrace covering with vertical columns. In this setup, the roof blades open from the centre outwards towards each side. Although previously unknown with bladed roofs, this means that there is no disturbing intermediate beam, and you have a completely uninhibited view of the open sky.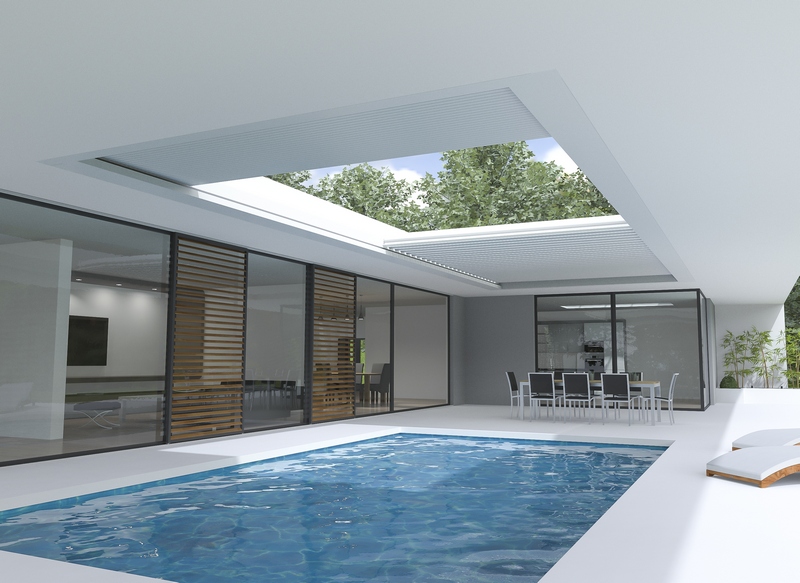 Conversely, the blades on both roof sections close perfectly watertight in the centre during rainy weather. LED lights in the span or pivot beams of this integrated roof make it possible to create an extraordinary atmosphere in the evening.
The Skye's tilting blades protect you from both sun and rain. When the blades are slid back, it as good as being outdoors, and you have an open sky to enjoy the sun in the daytime and have the pleasure of star gazing at night. A remote control app on a tablet or smart phone opens and closes and rotates the blades. That technology offers the option to programme various scenarios, which allows you access to a perfect setup and experience for each time of day. The sideways water drainage connections, all the Skye Eclipse's fixations, cabling and anchors integrate invisibly.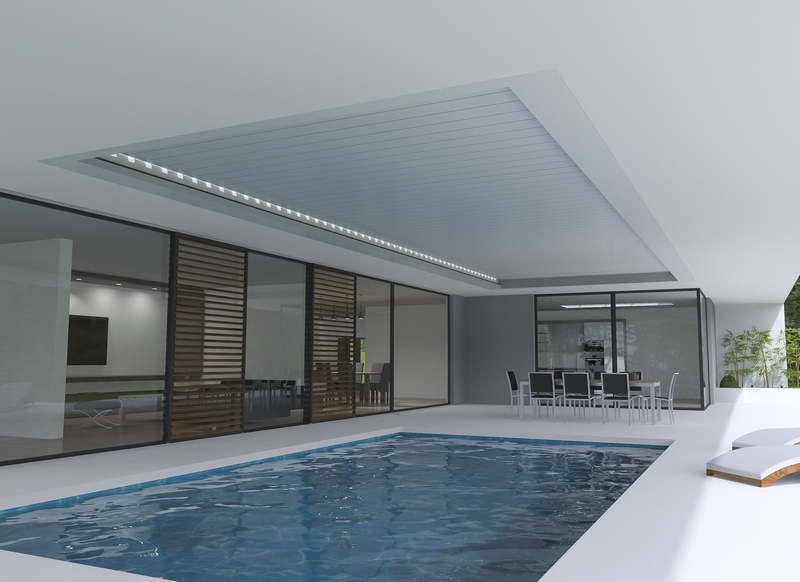 Patented S-Drive Technology
Renson's patented and unmatched rotation and sliding technology, specifically developed for this terrace cover, ensures reliable and durable blade rotation, opening and closing. A synchronous drive at both ends of the roof blades ensures that the roof opens and closes in one smooth motion, even with an asymmetric load.
Skye Eclipse Technical Specifications:
The roof blades rotate through 145° • The roof blades slide open from the centre towards each side (and take up a maximum of 1.5m per part in the closed position) • Patented S-Drive technology ensures that the blades move perfectly parallel when sliding open or closed • Maximum dimensions: 11.75 m ( on the pivot side) x 4.5 m (on the span side) • Integrated water drainage connects invisibly to the roof drain pipes • App controlled roof blades • UpDown LED lighting, for functional and atmospheric lighting in a customized ambience • Designer beam with options for integrated heating and/or loudspeakers.