For years Kowloon's Kwun Tong area was known as an industrial zone famous for its manufacturing buildings and warehouses. Today, the area is alive with renewal and revitalization projects. KOHO is one such scheme: a wholesale building conversion project that is part of a government initiative to revitalize dilapidated industrial buildings in Kwun Tong and give them a new lease on life through new uses.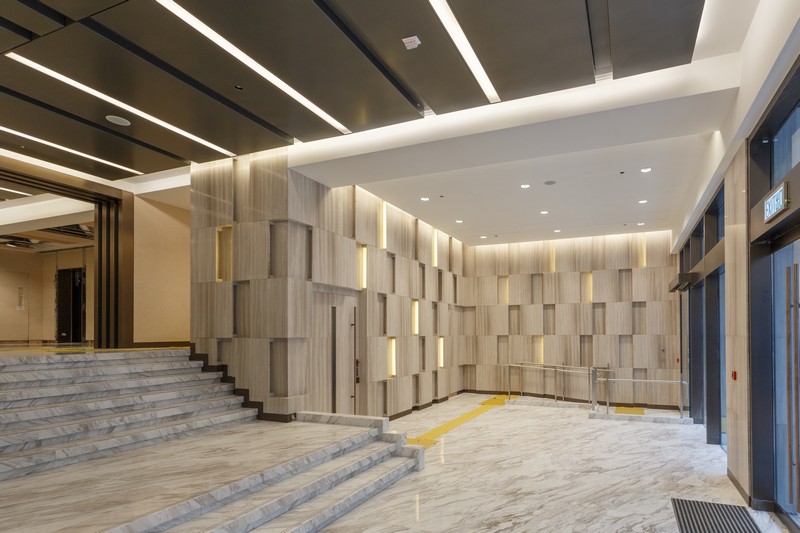 The existing building began its life as the Kian Dai Industrial Building, built in 1980 as a wool factory. The new building is based on the existing bulk, but will be transformed into an office tower that sits upon a podium with retail space on the ground floor.
The remarkably wide frontage of KOHO, spanning approximately 47 metres along Hung To Road, allows natural light to penetrate the new offices. The principal elevation is revitalised by a "window wall" system with panels clad in glass and tile, and full-width windows that use natural light to create a "loft office" environment. To reduce the bulk and enhance the building's exterior, the elevation design asymmetrically breaks down the façade, and embellishes it with vertical architectural features.
The combination of the rejuvenated façade and podium makes KOHO a significant visual link for those approaching from Hoi Yuen Road. At street level, the main entrance lobby is highlighted by a metal panel-cladded canopy which contrasts with the glass canopy along the remaining portion of the elevation. To align the theme throughout the building, bronze and earth tone finishes are carried through from the elevation to the interior.
Inside, the original lightwells are conserved as an homage to the building's past. No changes were made to the existing floor-to-floor height of the building, allowing the existing lift cores to be used by refitted lift cars, whisking workers up to the new office tower. Layout changes were made to the office floors above, in order to satisfy the current building planning regulations and upgrade bathrooms with new fixtures.
The 13-storey KOHO building has a total gross floor area of around 19,000 square metres. The podium runs from the ground to the third floor, with each storey having a floor area of approximately 1,850 square metres. The office floors are located between the fourth and twelfth storeys and are roughly 1,280 square metres each, with the fourth floor opening onto a rear flat roof. A total of eight loading and unloading and 20 car parking spaces are provided.
Construction of this new Kwun Tong icon commenced in February 2014 and is due for completion in January 2015.