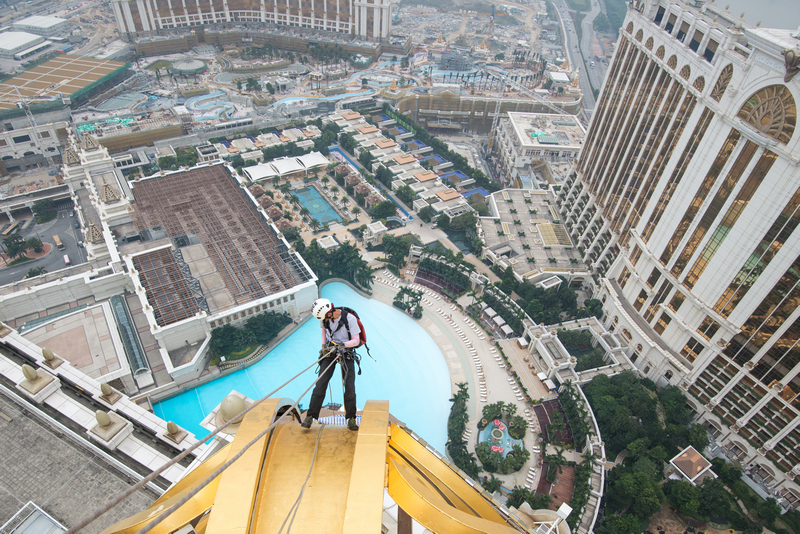 Born from the fiery collision of two great civilisations, vibrant, dynamic, industrious Hong Kong, Asia's World City, has championed the rise of countless titans of industry. First the traders and fortune hunters and eventually the Fortune 500s drawn in waves as the city grew relentlessly into one of the world's preeminent business centres. However, few individuals have ever made quite the splash upon their arrival as one Mr Brendan Kendell, the CEO of Altitech Limited.
As Two International Finance Centre neared completion in 2004, Kendell was engaged by an Australian firm to "wrap" fifty floors, on two elevations of the building's façade into a giant simulation of the Financial Times newspaper as part of the largest outdoor advertisement installation the world had ever seen, importantly, completed using "industrial rope access" as the method of façade access.
High altitude technical specialists
Kendell established Altitech in 2010. "The ability to expertly, safely and efficiently access facades and other complex work site targets is the essence of our business," he says.
Given the diverse and highly specialised nature of the projects undertaken, a variety of specialist site access methods are integrated that may include motorized and non-motorized industrial rope access and bespoke, tensioned work positioning nets to safely mobilize technicians to a location on a structure considered difficult and / or cost prohibitive to access.
Altitech currently employs a team of 25 technicians with diverse backgrounds, skillsets and trade qualifications ranging from welders, non-destructive testing inspectors, corrosion engineers, electricians, glazers and specialist riggers. As "specialist access" technicians, all staff are trained and qualified according to the strict code of practice and guidelines of the global benchmark Industrial Rope Access Trade Association (IRATA).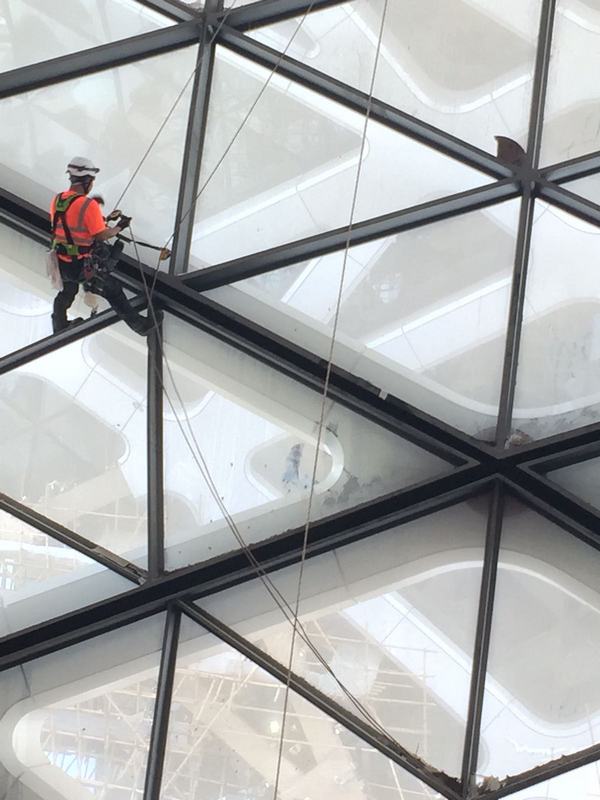 "Given the nature of our typical worksites we also consider ourselves specialists in site risk management and deploy a robust safety and quality management framework on each and every project we take on, regardless of the "objective task".
Projects are preceded by the development of detailed site and task specific risk assessments and method statements," states Kendell. "Strict operational procedures, audited annually by a third party, are followed by all project staff to guarantee maximum safety, compliance and quality control throughout the entire life cycle of our projects" Altitech's "specialist access assisted" technical services have expanded organically to include advanced inspections, surveys, installation, remedial repairs and construction and maintenance capabilities … working almost exclusively on structures and facades that are likely to be physically unreachable by traditional means of structure access such as scaffold or mechanized cradles, complicated and famously, elevated.
Technical services market leader
At the heart of Altitech's business, it is the provision of what Kendell refers to as "niche technical services" that defines the core brand and much of the scope of services that marks Altitech as a unique technical specialist in the market associated with the some of the region's most iconic projects.
Kendell elaborates, "Altitech's "technical services" projects utilising innovative façade and structure access methods have included curtain wall façade refurbishment and installation, structural integrity surveys, retrofit installations and complex glazing remedial repair campaigns … on diverse and complex structures including infrastructure projects such as communications towers, stay cable bridges, wind turbines and a waste treatment plant. Multiple projects in the entertainment and tourism industries include a cruise ship terminal, resorts, landmark hotels, atriums and aerial theatres." Working in parallel with affiliate company, Altisafe, suppliers of "work at height" equipment and systems, the company's expanded business profile now includes a combined consultancy, engineering and fabrication division for the design, supply, installation and commission of façade access systems.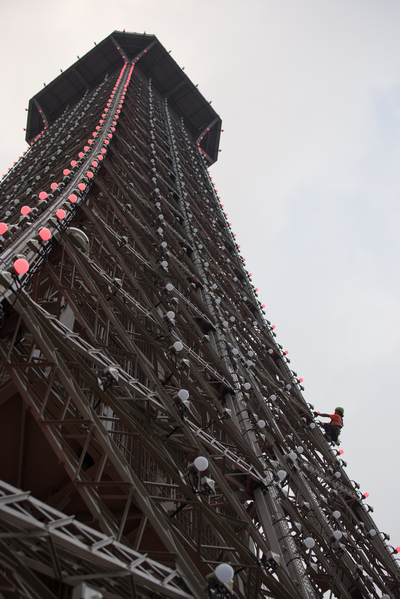 Façade access systems
The designers of building envelopes are constantly pushed by their clients to wrap new buildings in ever more complex facades. Utilising computational designs, new materials and technologies engineers are able to realise these sometimes unimaginable design challenges.
But Kendell points out that as facades become more complex there is often an associated, increased challenge to design and integrate mechanized building maintenance units or "BMUs" that are capable of accessing the entire façade envelope of such buildings.
"With this lag of BMU technology we are able to offer an alternative yet proven form of façade access system that integrates, predominantly, rope access systems … which can and do provide a much more flexible, efficient and…more often than not … commercially attractive and reliable solution for accessing such façades," explains Kendell.
Altitech has established a solid reputation in the field of façade access systems, designing, integrating and commissioning systems on structures that include Macau's Fisherman's Wharf Legend Palace and Harbourview Hotels and the half-scale Eiffel Tower inspired structure at The Parisian on the city's "Cotai Strip". With the successful integration of solutions for these projects recent contracts awarded to Altitech even larger in scale include Sands Cotai's ongoing rebranding development to deliver "The Londoner", which includes a replica "Big Ben" style clock tower, mock Crystal Palace atrium and Westminster Houses of Parliament.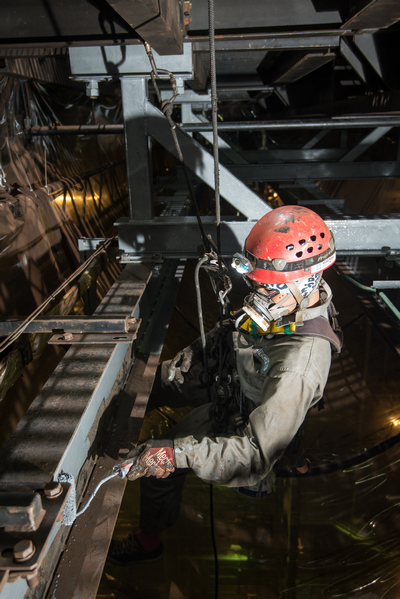 Integration of their access systems requires Altitech's team to engage with key stakeholders throughout the full life cycle of any given project "The design and integration of rope access and alternative, non-mechanized façade access systems is a rapidly expanding division of our business. Our remit is often to design or refine, install and eventually commission a system and method that guarantees access to 100% of the building envelope to allow standard façade maintenance activities that include cleaning, lighting maintenance and glazing replacement. Essentially we are able to offer lightweight façade access systems that replace slow moving, sometimes unreliable, mechanized BMUs."
"Any system must address the technical specifications detailed by the façade consultant, which ultimately will mean compliance with the relevant local and internationally recognized engineering, construction, safety standards. Our engineers will provide key design input where required and coordinate the structural interface of our system's fixtures with the superstructure of the building or façade.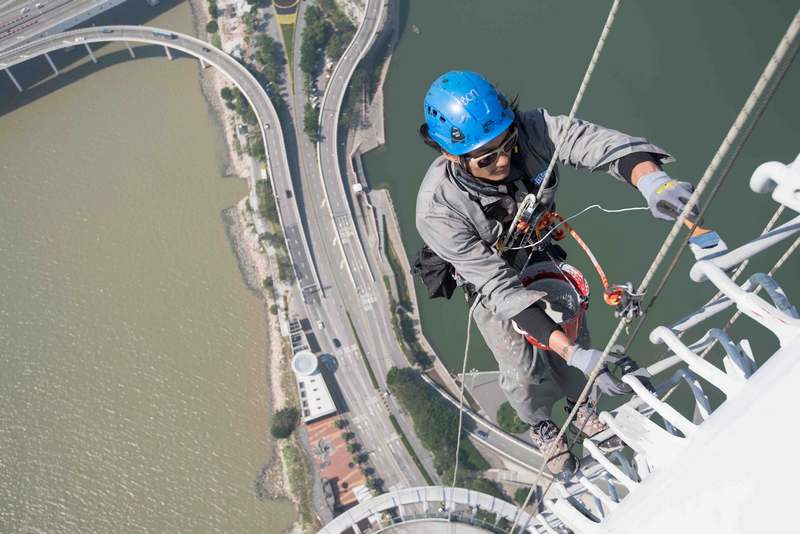 Focused on the future
Altitech is now offering their clients a market leading nanotechnology façade treatment. The treatment takes the form of a titanium dioxide based transparent product, applied to facades via an electrostatic process, that is able harnesses sunlight to breakdown dirt, grit and pollution at the façade surface.
"As the urban habitat extends further skyward, new technologies and systems designed to integrate with the vertical real estate of facades, meshes well with the company's existing service profile. Vertical living "green" walls, flexible power generating solar panels and lightweight, energy efficient façade lighting solutions, for example, are technologies that Altitech has already gained significant experience with. We're technical services experts," Kendell concludes. "We're ready for the future!"