(20 June 2017, Hong Kong) Sino Group presents the inaugural 'Sino Group Robotic Architecture Series' in collaboration with the Faculty of Architecture of the University of Hong Kong as part of its continuous support to the development of arts, culture and technology to build a better community. An architectural structure, made of robotically-manufactured components and constructed by university students under the tutelage of lecturers Donn Holohan, Holger Kehne and Christian J Lange, is on exhibition at North Atrium of Olympian City 2 for public viewing from now to 4 July 2017. Students of the university will also host tutorials to explain the process of robotic architecture, a growing trend globally, to the public.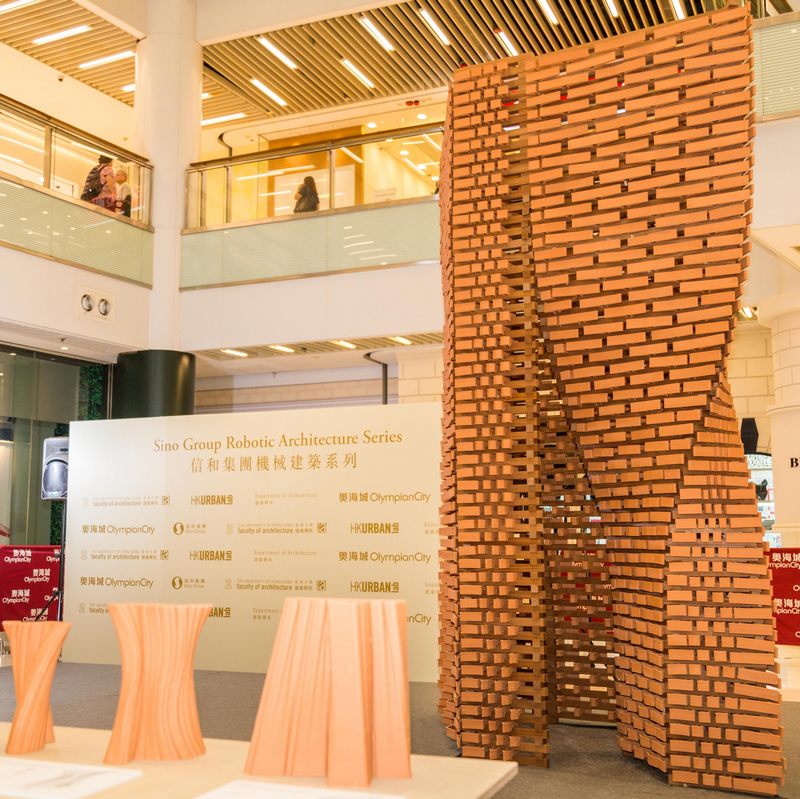 The Robotic Fabrication Lab workshop culminates in a structure that illuminates the role of architecture within public space and the growing global trend of robotic architecture. The inaugural workshop explores clay, a soil material that is found almost everywhere around the globe, and has a significant tradition in Asia. It studies revitalising ceramic material systems for architectural purposes today and how to generate new technologies, material systems and craftsmanship with the aid of the robot.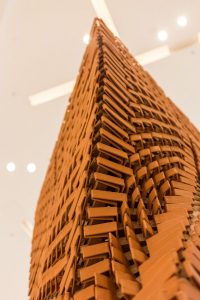 Robotics has gained traction in architecture globally in recent years with the staggering technological advancement. Extremely precise and good at iteration, pioneers in the architectural profession see the opportunity to utilise them for non-standardised designs.
Architects working with robots have become material innovators rather than just material specifiers. Professionals from around the world are experimenting with robots to utilise them to lay bricks, 3D-print building components, assemble partial structures and investigate with many more novel construction techniques.
'Robotic architecture will have a profound impact on construction as well as costs and efficiency in the decades to come. Facilitated by building information modelling, robotic application will give architects more control in the building construction process. Some architects are moving ahead from using robotic systems as reconfigurable spaces or "smart furniture" to applying robotic fabrication to the design and construction of high-rise buildings. We hope that young architects can gain an exposure to this exciting technology and let their creativity shine through in architectural and building designs,' remarks Mr Christian J Lange, Project Lead of the Robotic Fabrication Lab and Senior Lecturer at the Faculty of Architecture of the University of Hong Kong.
Set up in February 2016 and fully fitted in October 2016, the Robotic Fabrication Lab of the HKUrbanLab, the Faculty of Architecture's research arm is the first specialised research centre in Hong Kong, leveraging robotics to invent, inspire and innovate building design. The combination of robots and digital design tools enable architects to build novel, complex shapes and patterns that would otherwise be difficult to achieve.
'We are glad to have the opportunity to partner with the Robotic Fabrication Lab to support institutional research and the development of architecture in the age of digitalisation, virtualisation and computerisation. Robotic fabrication has the potential to achieve diversity while remaining efficient and cost-effective. We look forward to supporting the development of architecture in the age of digitalisation, virtualisation and computerisation with the academia and industry players,' adds Mr Gordon Lee, Executive Director, Sino Group.