Swire Hotels is delighted to announce the launch of their restaurant division Swire Restaurants to manage the company's stand-alone restaurants. The restaurants include Plat du Jour, Public and Ground Public in Quarry Bay and The Continental in Pacific Place and the forthcoming Mr & Mrs Fox.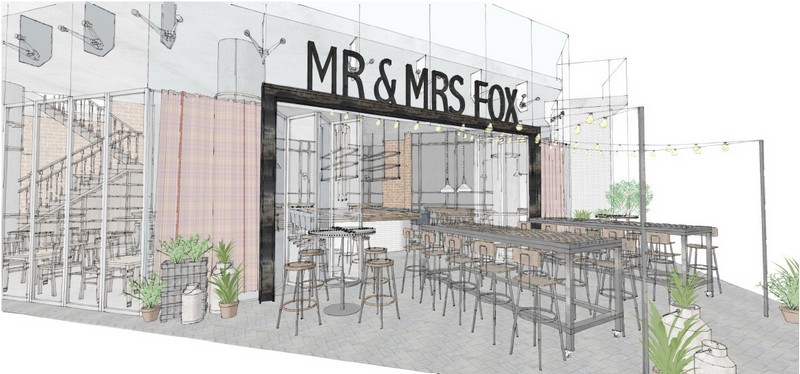 Mr & Mrs Fox is Swire Restaurants' newest stand-alone restaurant targeted to open in August. It is a modern steakhouse and neighborhood hangout, located over three floors in the recently launched Taikoo Place Apartments on 23 Tong Chong Street, Quarry Bay, Hong Kong.
Designed by Charlie & Rose, a Hong Kong architectural and interior design company, Mr & Mrs Fox is a 250-seat multi-level bar and restaurant with a craft beerhouse at street level, raw bar and steakhouse on the first floor and private dining room with its own terrace in the attic.
Joey Sergentakis takes on the role as head chef for Mr & Mrs Fox. The well-loved chef was previously Chef de Cuisine at Café Gray Deluxe, where he served for five years. Chef Joey has also worked in respectable New York and European fine dining empires with acclaimed chefs including Daniel Boulud, Gray Kunz and Philippe Rochat.
About Swire Hotels and Swire Restaurants
Swire Hotels has been created to manage soulfully individual hotels in Hong Kong, Mainland China, the United Kingdom and the USA, providing a characterful experience for well-travelled individually minded travellers who seek originality, style and personalised service.  We create distinctive hotels with a sense of place that break with convention.
The company's first hotel, The Opposite House in Beijing, opened in 2008 and was followed by The Upper House, Hong Kong, and then by EAST, Hong Kong and EAST, Beijing. The Temple House in Chengdu is due to open in Q2 2015 and EAST, Miami in Q4 2015.
Swire Hotels has also created a stylish collection of locally inspired hotels in the UK: the first Chapter Hotel, The Montpellier Chapter, opened in Cheltenham in 2010 and was followed by The Magdalen Chapter in Exeter.
A restaurant division was set up in 2013 to manage the company's stand-alone restaurant operations.  Our first restaurant Plat du Jour opened in November 2013 followed by Public and Ground Public in Quarry Bay and The Continental in Pacific Place which opened in October 2014.