(28 September 2023, Shanghai) Swire Properties is pleased to announce that it will continue its partnership with Lujiazui Group to develop two new mixed-use landmarks in the heart of Shanghai's Pudong New Area.
(按此瀏覽中文版)
The investments were announced today after Swire Properties entered into Equity Transfer Agreements to acquire equity interests in the two companies that own the Yangjing and New Bund plots, at a total price of RMB9,709.97 million. Swire Properties will hold a 40% equity interest in each of the projects. These two projects will be the Company's ninth and tenth large-scale developments in the Chinese Mainland. The two sites will be developed into large-scale, mixed-use projects, including retail, office and premium residential components.
"In line with our HKD100 billion investment plan, we are very pleased to have secured these two major investments in Shanghai, which will significantly scale up our presence in this important city," said Tim Blackburn, Chief Executive of Swire Properties. "Following the success of Taikoo Li Qiantan, we are delighted to be working with our partner Lujiazui Group again."
"Pudong is undergoing a remarkable transformation under the Shanghai Master Plan 2017-2035. We see significant development potential for these two sites, supported by a wide range of growing infrastructure, including schools, hospitals, sports facilities and transportation networks. In particular, the Yangjing site, with its prime waterfront location, presents an exciting opportunity to introduce our residential brand into the Chinese Mainland market. Together, these two investments mark a new chapter for Swire Properties' growth in Shanghai, and are testimony to our long term commitment to developing iconic landmarks in the Chinese Mainland."
Xu Erjin, Chairman of Shanghai Lujiazui Group, said, "Swire Properties has a proven track record in creating long-term value by transforming urban environments, and has accumulated over 50 years of experience in designing, developing, and managing influential, large-scale commercial projects. Our first joint venture project, Taikoo Li Qiantan, has become a landmark in Shanghai, and we are pleased to join hands with Swire Properties again. We believe this partnership will give full play to our strengths, and allow us to shape these projects into outstanding new destinations for Pudong."
Located within Shanghai's inner-ring road and spanning a site area of 151,934 sqm, the Yangjing Plot offers expansive views along the Huangpu riverfront. The site also has a deep historical significance for the Swire Group, as the location of the Taikoo Wharf in the early to mid-1900s, alongside several warehouses that were once the largest grain storage facilities in Asia. The historical significance of this site marks an exciting opportunity for the Company to rejuvenate the area and create a new commercial landmark in Shanghai. The Yangjing project has an expected gross floor area of approximately 389,934 sqm (including a retail floor area of 20,000 sqm below ground). The development will debut Swire Properties' signature upscale residential brand in the Chinese Mainland.
The New Bund Plot is situated within Shanghai's middle-ring road and spans a site area of 63,804 sqm. Located at the intersection of three Shanghai Metro lines, the site is directly opposite Taikoo Li Qiantan, Swire Properties' first joint venture development with the Lujiazui Group. Following its launch in 2021, Taikoo Li Qiantan has rapidly become a lifestyle and retail landmark, and the strategic location of the New Bund Plot will enhance the Company's efforts to transform the area. The expected gross floor area (aboveground and below ground) for the New Bund project is approximately 602,431.47 sqm.
The two investments in Shanghai mark a new milestone in Swire Properties' HKD100 billion investment plan, which is driving the Company's growth over the next decade. Under the investment plan, approximately HKD50 billion will be invested in the Chinese Mainland, with an aim to double the Company's attributable gross floor area in the region. Swire Properties currently has three developments in Shanghai – HKRI Taikoo Hui in Jing'an District and Taikoo Li Qiantan in Pudong New Area, as well as Zhangyuan, a shikumen-style, heritage restoration project in Jing'an District, which is jointly operated and managed by the Company. Swire Properties has also announced new, retail-led developments in Xi'an and Sanya, and has been exploring two potential retail-led investment opportunities in Liwan District, Guangzhou and Futian District, Shenzhen as part of the Company's Greater Bay Area strategy.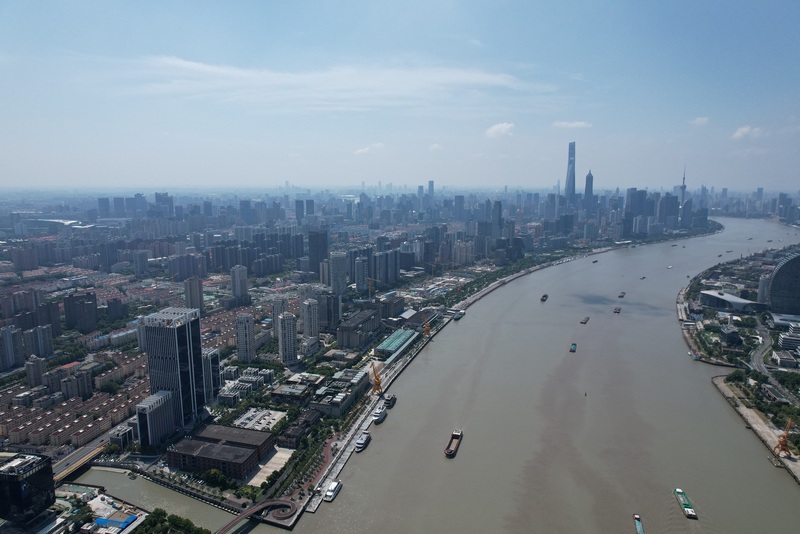 Visit Swire Properties' website at www.swireproperties.com.