(3 December 2021, Beijing) – Swire Properties is pleased to announce that Taikoo Li Sanlitun West, an innovative urban regeneration project in Beijing's Chaoyang District, officially launched today. The new complex, situated to the west of the existing Taikoo Li Sanlitun retail development, is another significant step towards establishing Taikoo Li Sanlitun as a world-class, lifestyle landmark in the capital, in addition to being an exciting milestone in the continued upgrade of the Greater Sanlitun Business Circle.
(按此瀏覽中文版)
"As Swire Properties' first retail-led mixed-use development in the Chinese Mainland, Taikoo Li Sanlitun has set a solid foundation for the Company's continued development in the Mainland. Since its opening in 2008, the transformation of Taikoo Li Sanlitun has closely mirrored Beijing's own urban regeneration journey, in which we are immensely proud to have played a part," said Han Zhi, Director, Retail at Swire Properties. "The opening of Taikoo Li West not only marks a new chapter in Taikoo Li's development, but is also an example of Swire Properties' continued efforts to support Beijing in cultivating Sanlitun into a world-class business circle."
The ten-storey (two-storey underground and eight-stories aboveground), approximately 27,500 sqm building that makes up Taikoo Li Sanlitun West was transformed from the former Yashow Building – previously a clothing market owned by Beijing Kuntai Group. In 2017, Swire Properties entered into a long-term lease agreement with the Group to renovate the Yashow Building, which has been repositioned as a trendy lifestyle destination that features a mix of chic fashion outlets along with F&B, health and fitness, lifestyle and entertainment elements.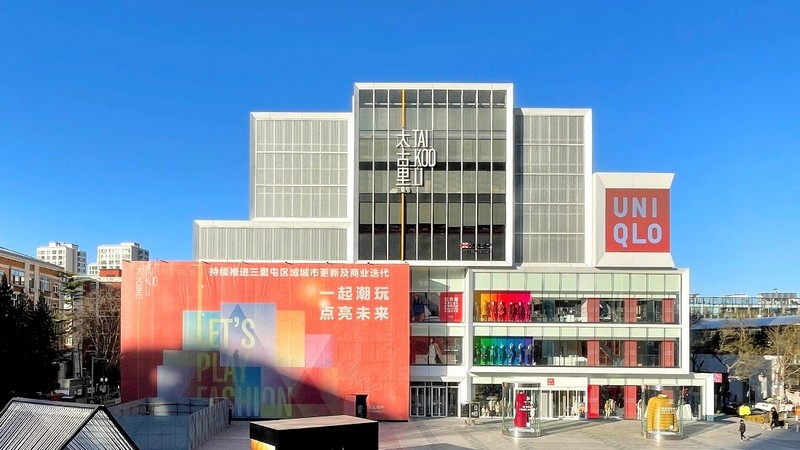 Echoing the city's 14th Five-Year Plan, which emphasises the revitalisation of old areas, Swire Properties has demonstrated its commitment to "creative transformation" and to placemaking throughout the renovation process. Designed by internationally-acclaimed architects ARQUITECTONICA, the renovation project involved a major reconfiguration of the building's existing layout into an expansive floor space, a complete makeover of the exterior into a mega-sized glass façade, and the upgrading of facilities such as lifts, elevators and lighting to enhance the visitor experience.
The surrounding streetscape has also been enhanced, with works including an upgrade to Yaxiu East and West Roads, improved accessibility via a multi-level circulation and additional landscaping making the area more pedestrian-friendly and suitable for the staging of arts and culture-related activities. The renovation has been undertaken to improve connectivity, add vitality and to further upgrade the commercial ambience of the entire Sanlitun area.
"After decades of development, Sanlitun has become Beijing's trendiest landmark, playing a leading role in innovation and international exchange, as well as being one of the best destinations to experience the internationalisation and diversified lifestyle of Chaoyang District," said Sun Shuguang, Party Secretary of Sanlitun Sub-District Work Committee. "In recent years, Taikoo Li Sanlitun, together with the surrounding business circle, has become one of the signature areas representing Beijing's urban regeneration. As Beijing evolves into an international consumption hub with local characteristics and a global influence, besides Chaoyang District being the leading area, Sanlitun Business Circle is the hub where many brands choose to open their first stores. We believe the opening of Taikoo Li Sanlitun West will help to contribute to the Greater Sanlitun Business Circle layout, which is of great significance, and will further enhance urban vitality and quality within the area. We look forward to the many more surprises that the new shopping complex will bring to the district's development."
Since its opening in 2008, Taikoo Li Sanlitun has partnered with more than 100 brands to open their first, often flagship, stores in Beijing or in the Chinese Mainland, and has gained recognition as Beijing's "Harvester of First Stores". Taikoo Li Sanlitun West will continue this trendsetting vision and first-store strategy, providing more space to bring in high-quality uplifting integrated experiences.
The key tenants at Taikoo Li Sanlitun West include the city's first UNIQLO global flagship store, which incorporates technology, art, culture, creativity and sustainability. Spanning three levels, the store features the first UNIQLO FLOWER in the Chinese Mainland, Beijing's first special UT floor where the power of pop culture and creativity are expressed through T-shirts and other lifestyle items, including Beijing's first UTme! customisation workshop. Other key tenants include the first NIKE RISE concept store in Northern China – a bridging of digital and physical to create immersive store experiences with an identity that is inseparable from Beijing, the global flagship store of sportswear label DESCENTE, and the first store in Beijing from longtime-favourite Guangzhou restaurant chain Tao Tao Ju. In August 2021, Swire Properties signed a framework cooperation agreement with the People's Government of Chaoyang District and Beijing Public Transport Corporation to jointly transform a maintenance plant situated to the north of Taikoo Li Sanlitun into a new cultural and commercial destination. With the launch of Taikoo Li Sanlitun West, alongside upcoming urban regeneration projects, new vitality will continue to be injected into Taikoo Li Sanlitun, providing a platform for innovative first stores and flagship concepts, raising consumption levels and increasing the overall influence of the Greater Sanlitun Business Circle.