International engineering consultancy Buro Happold is opening its first office in Mainland China in May. Based in the Kerry Centre in the CBD, the office will initially offer Structural Engineering, followed swiftly by Façade and Sustainability consultancy. The office hope to capitalise on the growing Mainland market. A recent project win for a redevelopment of Jin Bao Street for the Fu Wah Group will provide additional impetus to the growth of the new office.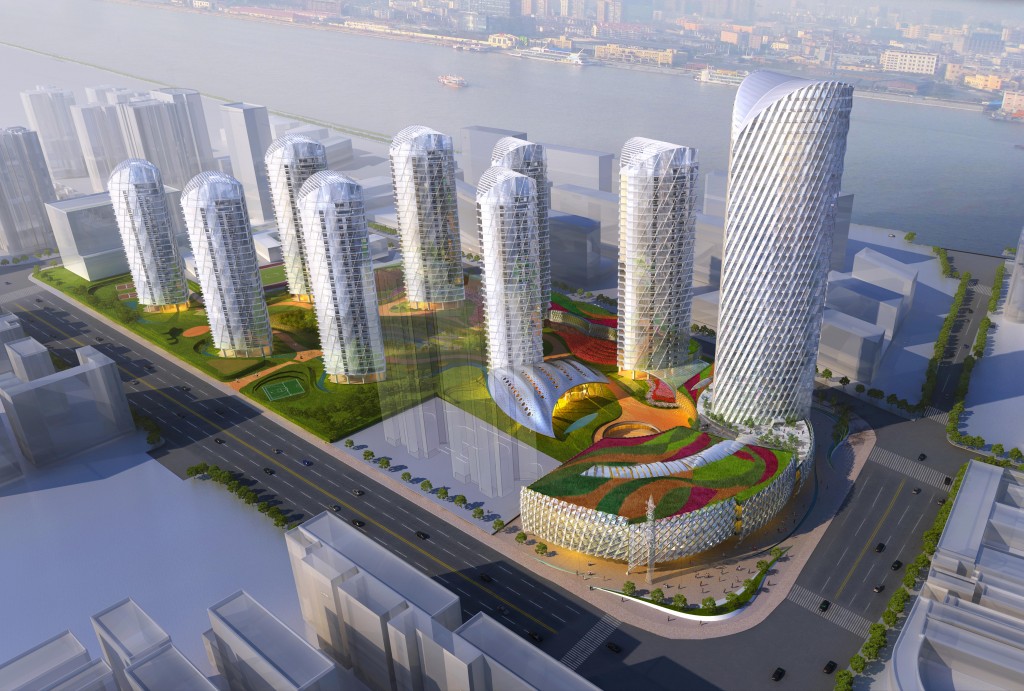 Buro Happold's incoming CEO, Paul Westbury, explained that, "We took the important decision three years ago to open a Buro Happold entity in China, and our Hong Kong office was the first step that we took. Our unique approach to delivering holistic, sustainable and multidisciplinary engineering and consultancy has been well received and we wanted to further prove our commitment to our Chinese clients by opening our Beijing office, a new base that will allow us to deliver better services and provide opportunities for us to further invest in this important market."
Buro Happold – engineering excellence

Established over 30 years ago by visionary engineer Sir Edmund 'Ted' Happold, Buro Happold is an international multidisciplinary engineering consultancy with 27 offices located around the globe.
The consultancy is renowned for delivering environmentally, economically and socially sustainable engineering to provide high quality, innovative solutions that help to minimise our impact on the planet.
The practice works at all scales from strategic regional plans, to urban masterplanning, to building engineering. Core engineering disciplines of Structures, Building Services and Infrastructure are supported by a wide range of specialist disciplines with expertise and experience in many sectors including rail, education, health, sport, commercial, cultural and civic.
The practice is particularly well known for its portfolio of some of the world's most acclaimed and inspiring projects including the Aga Khan Award winner Wadi Hanifah (KSA), the O2 Arena (London), Al Faisaliah Center (KSA), Arsenal's Emirates Stadium (London), Genzyme HQ (USA), Aviva Stadium (Dublin), Royal Shakespeare Theatre (England), South Denmark University Campus and Concert Hall in Sonderborg (Denmark), the Alexandra Arch Bridge (Singapore), Dresden Main Railway Station (Germany) and the recently completed London 2012 Olympic Stadium.
Buro Happold in China
In 2009 the consultancy opened its first China office in Hong Kong to extend its global reach and spearhead its new strategic push into the Asia Pacific region.
The office's first appointment was working with the AECOM-Aedas joint venture for the West Kowloon Terminus of the Express Rail Link (XRL) project. Buro Happold's ongoing role is to provide structural engineering and sustainability consultancy services for the above-ground station, including its roof, and associated structures. The project is currently out to Tender, and substructure work on site is well underway.
The Hong Kong office has proved a real success story: the team lead by China Director Matthew Smith and overseen by Steve Brown, Managing Director for Middle East and Asia Pacific, has seen a steadily increasing demand for its services, and more and more commissions are now in Mainland China. Consequently the practice has taken the strategic decision to open an office in Mainland China, and the Beijing office in the heart of the CBD will open its doors for business on 01 May, 2011.
Smith and the directors of the Hong Kong office Chris Sparrow, David Littler and Roger Liu, are very positive about the new office and the increased opportunities it will bring to work closely with the mainland government as it implements the twelfth five year plan, which strives towards a more sustainable model of urbanisation than that adopted in the Western economies.
Smith has a keen interest in the challenges posed by rapid urbanisation. He notes: "As engineers working in China today we have a unique opportunity to establish new blueprints for sustainable urban development. Urban sprawl and the associated increase in car dependency, growth of suburbia, and decrease in social engagement needs to be controlled. Commitments in the new five year plan to create stronger edges to cities, to deliberately over-stress urban centres, and focus strategic growth on the major cities are exactly in line with current thinking on urban design. Creation of walkable cities, an end to Zoning-Plan led urban design: these are key issues for which we need to find creative solutions. I can't think of a more exciting area to be working in right now."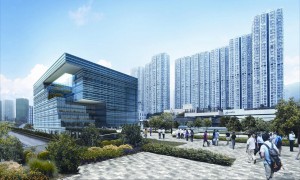 Leading the environmentally responsible approach to building In the Asia Pacific region, rapid growth has led to an increasing demand for high performance buildings and environmentally responsible urban development. Buro Happold's holistic and innovative approach, combined with an enviable expertise in sustainable design solutions differentiates the consultancy from other engineering practices and enables them to deliver a more considered response to the issues of creating new urban environments responsibly.
Environment friendly city planning
Buro Happold's global expertise in regional planning encompasses both masterplanning of new cities such as the Jeddah Strategic Development Plan (KSA), and analysis and regeneration of failing cities such as Detroit in the USA, for which we have developed a reconfigured land use plan to address the city's declining density in a post industrial economy.
The Municipal Government of Jeddah is faced with a population that is likely to double in the next 20 years and faces the challenge of managing the city's growth sustainably. Happold Consulting, Buro Happold's strategic consulting arm, has been appointed to develop a strategic plan, Jeddah 1450, to support the government in their aims. This comprehensive plan includes policies on city region strategies, the built environment and transport planning as well as other aspects of spatial development.
Happold Consulting was commissioned by the World Bank to develop a Rapid Assessment Framework (RAF) to evaluate the sustainability of developing world cities. The RAF features an energy benchmarking module that enables city leaders to compare their energy use against a range of peer cities. The benchmarking component of the tool is the first of its kind. Following successful testing of the module in Quezon City in the Philippines the tool is now being deployed in cities across the world and applied in varying contexts as part of World Bank initiatives and those of its partner organisations.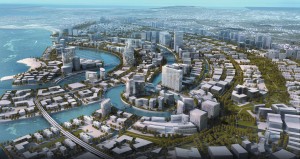 Intended as the north western gateway to China, the new city in Xinjiang province poses a number of imposing challenges, in particular its harsh, dry climate and remote location. This resulted in Buro Happold's Masterplanning team developing innovative solutions for water, energy and transport. This includes an integrated transport system that allows phased introduction of light rapid transport with the interim period serviced by public and private vehicles and dedicated cycling and pedestrian areas. The city, which is set for a population of 250,000 is now under construction.
Creating sustainable communities
In our overcrowded cities, available land for building commercial, retail and housing space is at a premium. Increasingly, mixed-use developments are perceived as a practical and sustainable way to optimise land use and serve the city's population, while creating dynamic new urban communities.
The consultancy's portfolio includes mixed use commercial developments in the Middle East, Europe and America. One of the Middle East's most iconic tall towers, the Landmark Tower in Abu Dhabi will be over 72 storeys high with a total gross floor area of 215,000 square metres and will feature office space, residential accommodation, retail space and basement parking over five levels.
In Shanghai, the Chinese developer Vanke has commissioned Buro Happold to provide structural, building services, facade and sustainability consultancy on a major new residential and hotel development on Tongshan Street in the centre of the city.
Situated within the Pudong 'Huangpu River Complex Development Area' Tongshan Street is a prestigious project which comprises a series of high rise buildings for commercial, hotel, residential and retail use. the new build development includes eight residential towers of 700 luxury apartments, and an iconic tower housing a hotel and serviced apartments . The project is being designed to meet achieve a LEED Platinum rating with sustainable features including a centralised energy plant, grey-water recycling, a green roof to reduce storm-water run off, a high performance façade with built-in solar shading and natural ventilation.
Delivering green buildings
Buro Happold's international portfolio of low energy buildings includes a number of top scoring LEED or BREEAM accredited buildings (such as University of Edinburgh Potterrow, and BBC White City, London). The practice adopts a Mean: Lean: Green approach to design that Littler explains as follows, "First we use a passive design approach, looking at building orientation and form in conjunction with the local climate context, to design out mechanical systems wherever possible; then we ensure the installed plant is operating efficiently (for example replacing boilers and electrical generators with Combined Heat and Power engines) to reduce demand for power and fossil fuels; then once the total energy demand has been reduced to a minimum (perhaps 50 per cent of a standard building), we look to provide a proportion of that energy through on-site renewables. This could be wind turbines or Photo-voltaic panels, (although we need to avoid the token 'windmill' on the roof), as well as ground source heat pumps, solar collectors, sea or river water cooling or even marine energy in the right context".
This approach was recently applied to the competition winning scheme for the Nanjiao Valley region outside Beijing. This old mining region is looking to develop tourism andmodern agriculture to replace the dying coal industry. The proposal included a regionwide waste-to-energy plant, and a mining museum where the principle summer cooling was provided by circulating air through the redundant mine shafts.
Buro Happold has a world leading portfolio of timber structures including the largest green timber frame in UK (Loch Lomond and Trossachs National Park HQ in Scotland) and the innovative timber gridshells of both Great Windsor Park and the Weald and Downland Museum. Smith explains that the Chinese market is not yet fully accepting of timber as a sustainable material, and the historical deforestation has left a perception that using timber is environmentally harmful. He believes "there is a growing awareness that managed forestry is a great resource. Timber structures have a very low embodied energy and, with appropriate engineering and detailing, can be designed to withstand fire, earthquake and typhoon loading. And the added bonus is that they are also beautiful to look at!" Buro Happold is also promoting the use of shipping container and other pre-fabricated technology. Working closely with the CIMC group in Southern China, they have developed the Verbus System for prefabricated hotels and residential blocks. These are particularly appropriate for low cost housing, and with the current focus in the mainland on developing better quality housing for low income families, these and other systems could have very wide application.
Working on both a micro and a macro scale, Buro Happold apply their holistic, multidiscipline engineering approach to reduce environmental impacts, and to promote an environmentally friendly built environment. Brown notes that, "The practice is committed to becoming a truly global practice, and to developing a significant presence in China. I firmly believe that the new Beijing office is the just the next step in the development ofour business in China. An office in Shanghai will follow in the near future. I can't help but feel very optimistic about the future."